Fogbank May Impact Views Of San Francisco's July 4 Fireworks Show
SAN FRANCISCO (CBS SF) -- For the first time since 2019, thousands were expected to gather along San Francisco's waterfront Sunday evening for a July 4th fireworks show, but Mother Nature will play a major role in just how well the crowd will be able to see the colorful display.
A thick marine layer was forecasted to begin flowing through the Golden Gate Bridge around sunset just as it has the last few days.
After clear skies during the middle of the day, the fog bank will roll in and be rather thick with several layers. The lower ceiling of the bank likely will hover around 900 to 1,000 feet -- about the height of a Golden Gate Bridge tower.
"By 9 p.m., the marine layer will be covering much of the sky for the entire city and into the East Bay," KPIX 5 meteorologist Darren Peck predicted. "Question is how low will the ceiling be? That's still an open question. We should still plan on the clouds playing a significant role in the fireworks."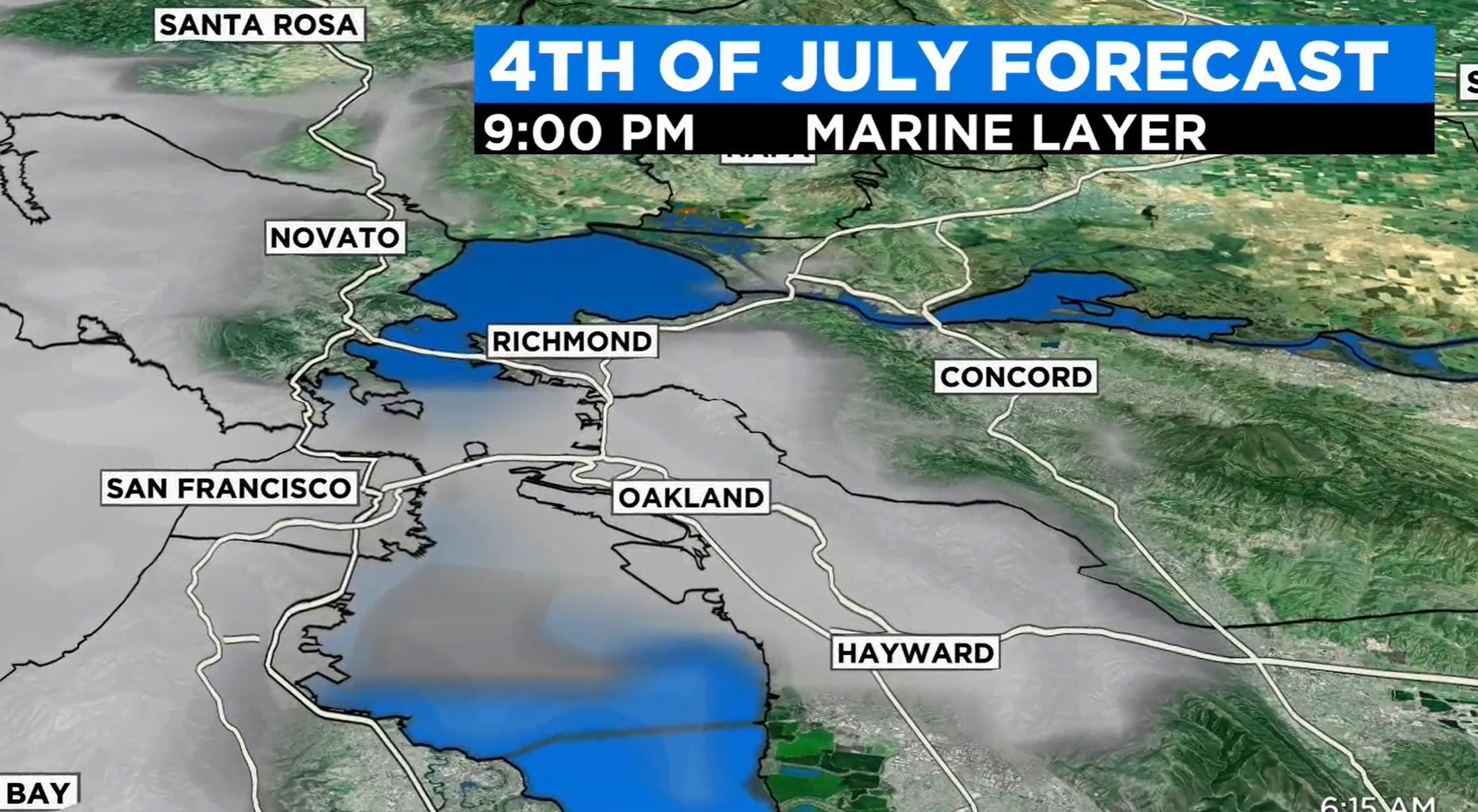 If you want to catch a fireworks show elsewhere in the San Francisco Bay Area, here's a list to check out.
Bay Area Fireworks Shows
Antioch Fireworks at downtown Antioch riverfront at 9 p.m. Event info
American Canyon Fireworks at sundown Event info
Concord Drive-in fireworks show held at Concord Pavilion Event info
Cloverdale Fireworks around 30 minutes after sunset at Cloverdale High School football field
Gilroy Fireworks at 9:30 p.m. at Gilroy High School Event info
Morgan Hill Fireworks show at 9:45 p.m. with live music near Outdoor Sports Complex on Condit Road Event info
Petaluma Fireworks show at the Sonoma-Marin Fairgrounds Event info
Pleasant Hill Fireworks show at College Park High School at approximately 9:15 p.m., but residents are asked to watch from their homes or other areas; no gathering at school grounds Event info
San Francisco Fireworks at approximately 9:30 p.m. at Pier 39 Event info
Santa Clara Fireworks at California's Great America above Flight Deck at 8:45 p.m. Event info
Sonoma Fireworks at dusk above General Vallejo's field Event info
Vacaville Fireworks show following live music at Andrews Park at 9:30 p.m. Event info
Vallejo Fireworks show at 9:45 p.m. at Six Flags Discovery Kingdom along with earlier festivities including live music Event info
Thanks for reading CBS NEWS.
Create your free account or log in
for more features.