UPDATE: 3-Alarm Fire Rips Through West Oakland Victorian, Heavily Damages 2 Neighboring Homes
OAKLAND (CBS SF) -- A three-alarm fire erupted inside a two-story Victorian home in West Oakland early Monday, racing through the structure and spreading to two neighboring houses.
A massive column of smoke soared over the blaze, visible for several miles, even across the bay in San Francisco.
Oakland fire officials took to social media around 5:30 a.m. posting that crews were responding to the calls reporting a fire near 9th and Chester in the Lower Bottoms neighborhood of West Oakland near the BART station.
Upon arrival, firefighters found the heavy smoke streaming out of the home and immediately began an aggressive attack to prevent it from spreading in the densely-packed neighborhood. Still, flames did jump to two neighboring homes, heavily damaging them.
The response was quickly elevated to three alarms as approximately 50 firefighters battled the flames.
The intensity of the blaze inside the initial home -- which authorities said was vacant -- forced firefighters out of the building. They had to dump hundreds of gallons of water on the blaze from the outside.
"The main fire building increased in it's fire size and growth very quickly," said Assistant Fire Chief Robert Lipp. He also said there was some evidence of accelerant at the home that first ignited.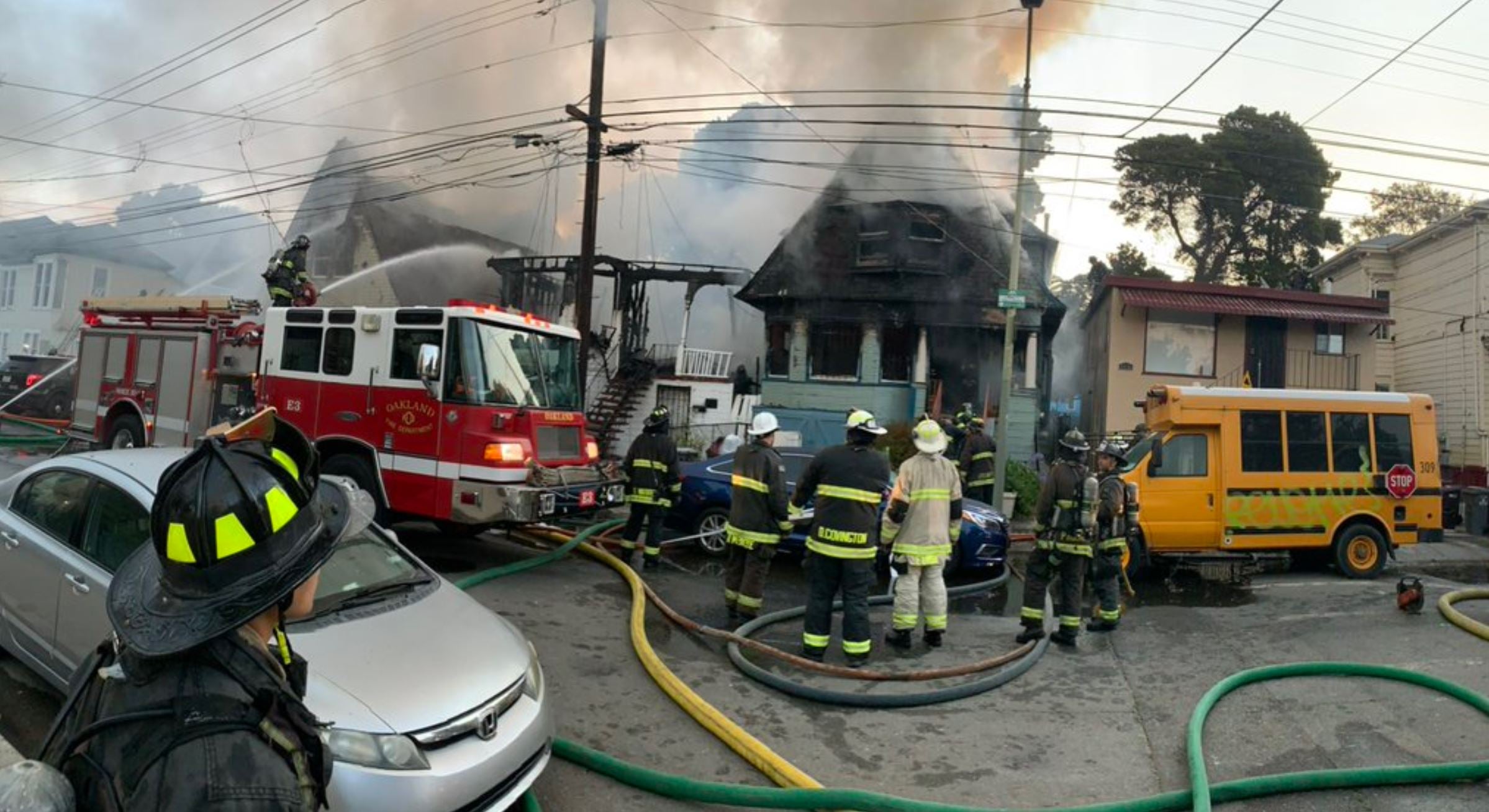 The fire department said the fire was under control shortly after 9 a.m. and crews would remain to monitor for hot spots.
A resident told KPIX 5 he was awakened by Oakland police officers pounding on his door, telling him he needed to get out now.
Neighbors said they have complained about squatters living in the home where the fire started.
There were no injuries reported. Seven residents have been displaced. The fire also triggered a power outage to the surrounding neighborhood.
Kwame Grant, the owner of one of the houses, is one of seven people now left without a place to live. After crews battled the flames, that homeowner said this all could have been prevented.
"I lost everything. I'm a musician and I literally lost my whole studio," said Grant. "So I'm out of my career, I'm out of a home and now I have to make sure I can make it to work tomorrow."
Early Monday morning, a loud knock on Grants door woke up. It was an Oakland police officer telling him to get out.
"I literally grabbed my stuff and I walked outside. I turned to the left and the house next to me was literally engulfed in flames," said Grant.
Grant told KPIX he had reported the squatters in the neighboring home to police multiple times.
"Because there was a homeless man squatting in that house where it caught fire, and I've called not once, not twice, but three times to please remove this homeless man from this place, explained Grant.
The cause of the fire remained under investigation, but firefighters voiced surprise at how quickly the flames spread in the vacant home. A fire investigator was at the scene.
This could become a police investigation if authorities find out the fire was intentionally set.
Justin Andrews contributed to this story.
Thanks for reading CBS NEWS.
Create your free account or log in
for more features.