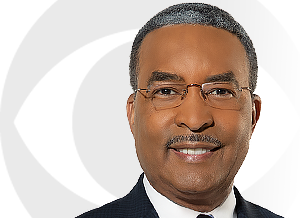 Ukee Washington is co-anchor with Jessica Kartalija of CBS 3's Eyewitness News at 5, 6 and 11 p.m. and Eyewitness News at 10 p.m. on The CW Philly 57. Ukee also hosts CBS 3's popular Brotherly Love segment profiling people who have had a positive impact in their communities.
Ukee (born Ulysses Samuel Washington III) joined the Channel 3 news team as a sports anchor in July 1986. In 1996, he moved over to the news desk as early morning and noon anchor. In July, 2015, he was promoted to anchor of the evening editions of Eyewitness News.
Since that time, Ukee has been front and center anchoring some of the region's most memorable stories including Super Storm Sandy in 2012, the 2016 Democratic National Convention in Philadelphia and Pope Francis' historic visit to the City in 2015. In addition, the versatile anchor's assignments have run the gamut from hosting the 2015 Philadelphia Mayoral Candidates Forum to going behind bars to interview a high school classmate on death row. Ukee has even guest co-hosted on the popular CBS network talk show, THE TALK three times, in 2013, 2014 and 2016.
Ukee was raised in West Philadelphia and attended Dover High School in Delaware where he was a celebrated athlete. As a youngster, his other love was music. As a member of the Philadelphia Boys Choir's "elite," he traveled to Russia, Sweden, Finland, Poland, Denmark and Mexico to perform. Both experiences proved helpful in his broadcasting career as host of the station's live telecasts of the Philadelphia Orchestra and his live coverage of the 1998 Winter Olympic Games from Nagano, Japan.
Prior to coming home to the Philadelphia area, Ukee was a sports anchor at WBBH-TV in Fort Myers, Florida and at WSB-TV in Atlanta. He is a graduate of the University of Richmond. Today, he makes his home in Wilmington, Delaware.
Among his honors, he was named to both the Pennsylvania Association of Broadcasters Hall of Fame in 2015 and the Philadelphia Broadcast Pioneers Hall of Fame in 2008. In February, 2017, Philadelphia's City Council confirmed what most of us have already known – it named Ukee a "Living Legend" during its special Black History Month observance.
Connect with Ukee Washington on Twitter: @UkeeWashington; and on Facebook: Ukee Washington.
Thanks for reading CBS NEWS.
Create your free account or log in
for more features.