Philadelphia Area Residents Wait In Long Lines For COVID-19 Tests As Cases Rise In Delaware Valley
PHILADELPHIA (CBS) -- Lines for COVID tests are long in our region, and supplies are falling short. New Jersey sets a new single-day record of confirmed cases with 20,000 on Tuesday.
Pennsylvania also reached a new daily high with 17,000 new cases Tuesday, including 2,6oo in Philadelphia.
The city health department says the number of COVID-19 cases is higher than its ever been and we're not at the peak of this wave just yet. Meanwhile, the demand for testing is at a high.
"A lot of our family ended up getting sick over Christmas," Port Richmond resident Kimberly Ball said.
A health department spokesperson says due to the rapid spread of the omicron variant, the demand for testing isn't like anything they've seen since the start of the pandemic.
Some locations are running out of testing kits and having to turn people away.
"I went to a different place yesterday. I came like 20 minutes after they opened and I was not able to," North Philadelphia resident David Brownstein said.
On Wednesday, Brownstein showed up before the Oak Street Health mobile testing site opened. He was able to get tested after a three-hour wait.
The Ball sisters may be out of luck.
"The lady in pink is the last in line so it's a hit or miss if they have any tests left," Brittany Ball said.
There were about 10 people behind the person slated to get the last test. But they're hoping it'll work out. They both have symptoms.
"It's mainly like headaches, chills, stuff like that," Brittany Ball said.
And no taste or smell.
This rush is all too familiar. In 2020, local testing sites saw an influx of drive-thru vehicles.
Health officials say the federal government denied a request for testing supplies. The city is still waiting to find out if a federal mobile testing unit will be approved, saying this is becoming the most critical stage of the pandemic.
The PCR tests used by most testing sites are very reliable, but hard to come by. People lined up at 7 a.m. on Wednesday at a testing site in Port Richmond, where testing began at 9 a.m.
COVID-19 testing is a hot commodity right now. Eyewitness News has been checking testing sites in the Delaware Valley for the last two days, and one thing's for sure, there's no shortage of people wanting and waiting to get tested.
At the mobile testing site in Port Richmond on Aramingo Avenue, there has been a steady stream of people lining up in the parking lot.
Rapid or PCR testing is available. PCR test results take up to three days, but the test is considered to be more accurate than the rapid test.
Also, there are no out-of-pocket costs. You don't need to make an appointment. It's first-come, first-served. You register when you get to the front of the line, and you administer your own test.
People at the site are getting swabbed for different reasons, whether it's because someone tested positive in their family or they're making sure everything is fine after a large Christmas gathering, the list goes on.
"Real bad cough and then at night she has the chills and shakes," Alexis Lloyd, of Northeast Philadelphia, said. "Last night I had to pick her up real fast. She almost threw up in her sleep."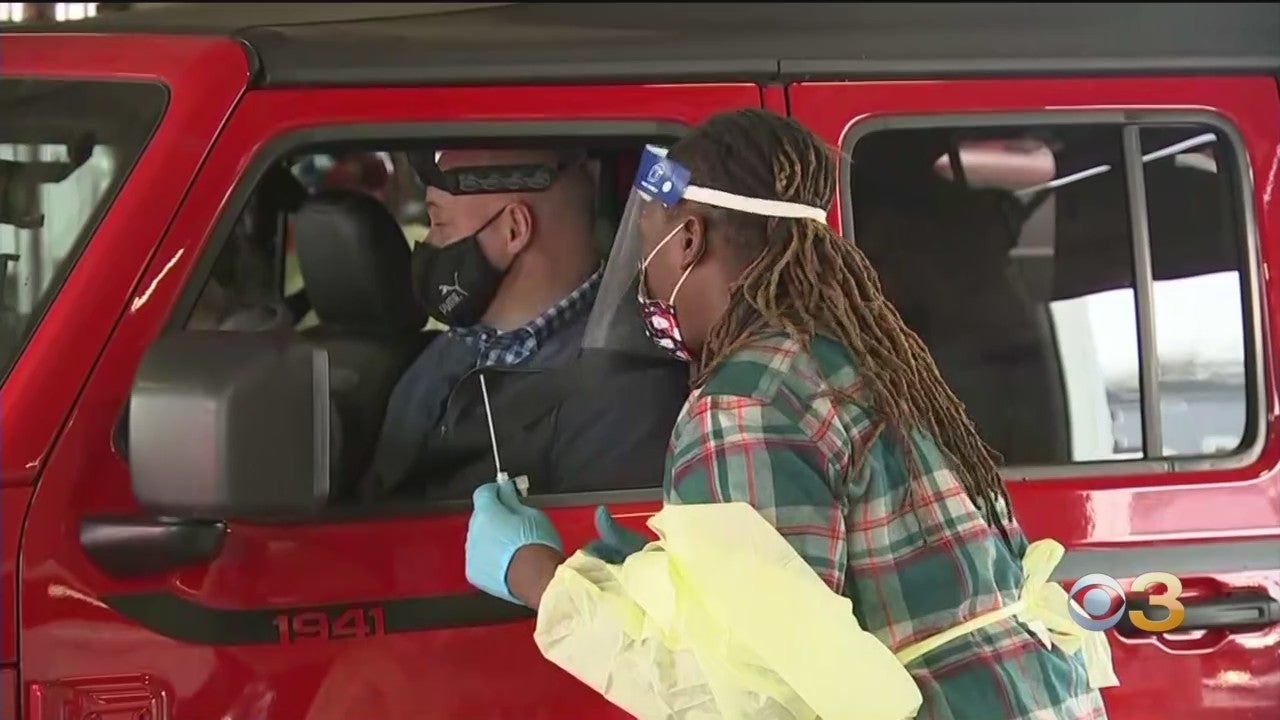 "People still go out and party," Jeremy Aviles, who is also from Northeast Philadelphia, said. "To each his own but when you're around other people you need to be cautious, didn't think this many people would have to get tested."
As a precaution, people are walking away with instructions to stay away from other people, wipe down surfaces and eat at different parts of the house until they receive results.
The Black Doctors COVID-19 Consortium will be vaccinating Thursday and testing again on Friday.
Eyewitness News reporters Howard Monroe and Alecia Reid contributed to this story.
See below for a list of locations testing in Philadelphia Thursday.
PDPH Mobile Testing Unit - Community COVID-19 Testing Event
9:00 AM to 1:00 PM
The Grace Center Church and Wellness Center, 2821 Island Ave, Philadelphia, PA 19153, USA
PDPH Mobile Testing Unit - Community COVID-19 Testing Event
9:00 AM to 1:00 PM
Greater St Matthew Baptist Church, 1538 W Wingohocking St, Philadelphia, PA 19140, USA
Eyewitness News reporters Howard Monroe and Alecia Reid contributed to this story.
Thanks for reading CBS NEWS.
Create your free account or log in
for more features.