Pennsylvania Gov. Wolf Tours Tornado Damage In Montgomery County As Cleanup Is Underway
UPPER DUBLIN, Pa. (CBS) -- Pennsylvania Gov. Tom Wolf toured the devastation left behind by a deadly EF-2 tornado in Montgomery County Friday as the cleanup process got underway. Thousands of people remain without power after that tornado ripped through the area.
Eyewitness News walked alongside the governor Friday as he assessed the damage, asking him how the state plans to help an area that has lost lives, livelihoods and has seen historic destruction.
"Devastating, it's devastating," Wolf said.
Wolf got his first glimpse of damage in Horsham, where a tornado swept through for the first time in its history Wednesday night, spawning massive flooding in its wake.
It was the governor's first stop as he toured hard-hit areas of Montgomery County.
"We have 500 homes either damaged by the tornado or damaged by flood," a Montgomery County official said.
"Loss of livelihoods, loss of homes, loss of lives, it's just really tragic," Rep. Madeleine Dean said. "We have to got to bring the resources in to help people."
The governor, flanked by local and state officials, navigated around downed power lines, mangled cars and downed trees.
"At this point, the state can bring different agencies together and help," Wolf said. "One of the things people have issues with obviously insurance issues, also bringing resources local municipalities have."
The tornado knocked down trees, causing damage to many homes. The trees also knocked down power lines and blocked streets off. Many of the trees have been removed, but the work will be extensive.
The tornado, which swept through Fort Washington, Upper Dublin Township and Horsham, had estimated peak winds up to 130-mph. At least three people died in the county. Two died due to a flooding, while the third was a woman who died due to a tree that toppled into her home.
Wolf, local, state and federal officials and PECO walked by downed power lines and mangled traffic lights near Simmons Elementary School on Babylon Road.
The governor was peppered with questions on his second stop in nearby Upper Dublin, where the township building was majorly damaged, and a cell tower toppled under tornado force winds.
Many asking for more immediate state funding in the wake of unprecedented destruction.
"There's no question that we're doing everything we can at the state level and I know the county and the township is doing everything they can to make sure they respond as quickly as possible," Wolf said.
The cleanup will likely take weeks as the county waits for state and federal assistance.
Meanwhile, there are at least 3,000 homes without power in this area alone. PECO says it has brought crews in as far away as Canada, Mississippi and Tennessee to help restore power as quickly as possible.
Meanwhile, in Mullica Hill, New Jersey, an EF-3 tornado touched down there. The tornado there ripped off roofs from people's homes and caused other serious damage to property.
One homeowner describes to Eyewitness News what it was like.
"There is no roof upstairs at all. You can see the sky. It looks pretty, but you know, that's not the view I want to have," the resident said. "And, yep, water was pouring down into the basement. Thank God they shut it off now because I do have a few things down there that are boxed up that I want to try to save. I'll come back one more time because I'm afraid they're going to condemn it, nobody can live here."
As we know from other systems that run through the area, restoring power after a powerful tornado takes some time, so it is not exactly clear when people will be allowed back in their homes.
CBS3's Jasmine Payoute and Natasha Brown contributed to this report.
Get the latest on Ida's Aftermath on CBS3, CBSN Philly and CBSPhilly.com. Learn more on how to watch and stream CBSN Philly for free, here.
You can also download the CBS Philly Weather App for the most up-to-date weather forecast and to receive severe weather alerts. The app is free on Apple and Android devices.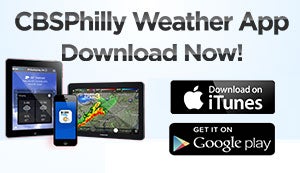 Thanks for reading CBS NEWS.
Create your free account or log in
for more features.