Joe Biden Believes He's 'On Track To Win This Election' Over President Trump
WILMINGTON, Del. (CBS) -- Speaking from the Chase Center in Wilmington, Democratic nominee Joe Biden said he believes he is "on track to win this election." Biden spoke to a crowd in socially distant vehicles as votes continue to be counted in the presidential election.
In his speech, an optimistic Biden said he was "feeling real good about Wisconsin and Michigan," before proclaiming "we're gonna win Pennsylvania."
"Your patience is commendable. We knew this was going to go long but who knew it was going to go into maybe tomorrow morning, maybe even longer. But look, we feel good about where we are, we really do," Biden said. "I'm here to tell you tonight we believe we're on track to win this election. We knew because of the unprecedented early vote and the mail-in vote it was going to take awhile. We're going to have to be patient until the hard work of tallying votes is finished and it ain't over until every vote is counted, every ballot is counted, and by the way, it's going take time to count the votes but we're going to win Pennsylvania."
Biden also preached patience as votes in those key battleground states could take days to tally.
Biden watched results roll in with his family from his home in Wilmington before speaking to supporters early Wednesday morning.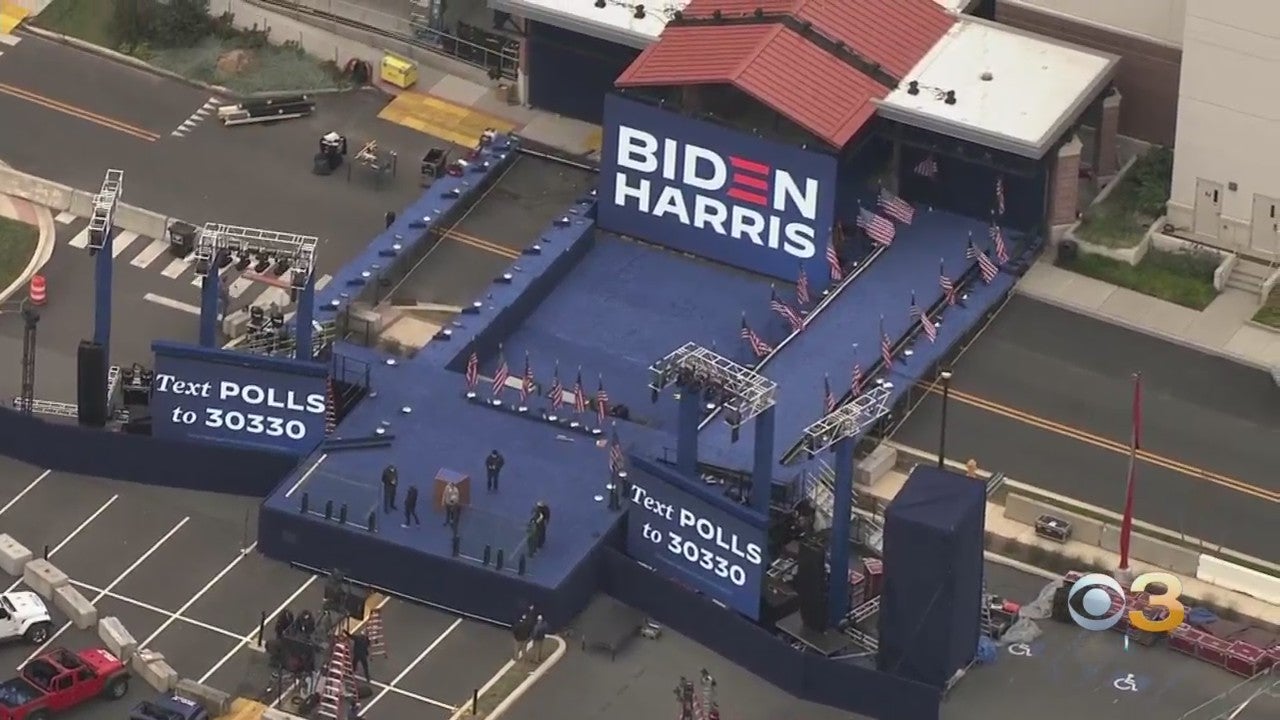 'I Feel Good About Pennsylvania': Joe Biden Makes One Finals Push For Votes In Philadelphia
Campaign officials said Tuesday afternoon that 200 to 300 cars were expected at the Chase Center. Supporters received a text message two hours prior to the former vice president's speech to notify them to arrive.
There were three statewide races in Delaware as well. The Associated Press has declared Democrat Gov. John Carney, Democrat Sen. Chris Coons and Democrat Congresswoman Lisa Blunt Rochester as winners of their respective races.
CBS3's Greg Argos and Howard Monroe contributed to this report.
MORE ON CBS PHILLY:
President Trump Threatens Legal Action To Stop Counting Of Pennsylvania Ballots Arriving After Election Day
'I Got A Jail Cell For You': DA Larry Krasner Issues Warning 'If You Are Planning In Philadelphia To Steal Our Votes'
2 Civilians Rescue 26-Year-Old Woman From Attempted Abduction In Center City, Police Say
Thanks for reading CBS NEWS.
Create your free account or log in
for more features.