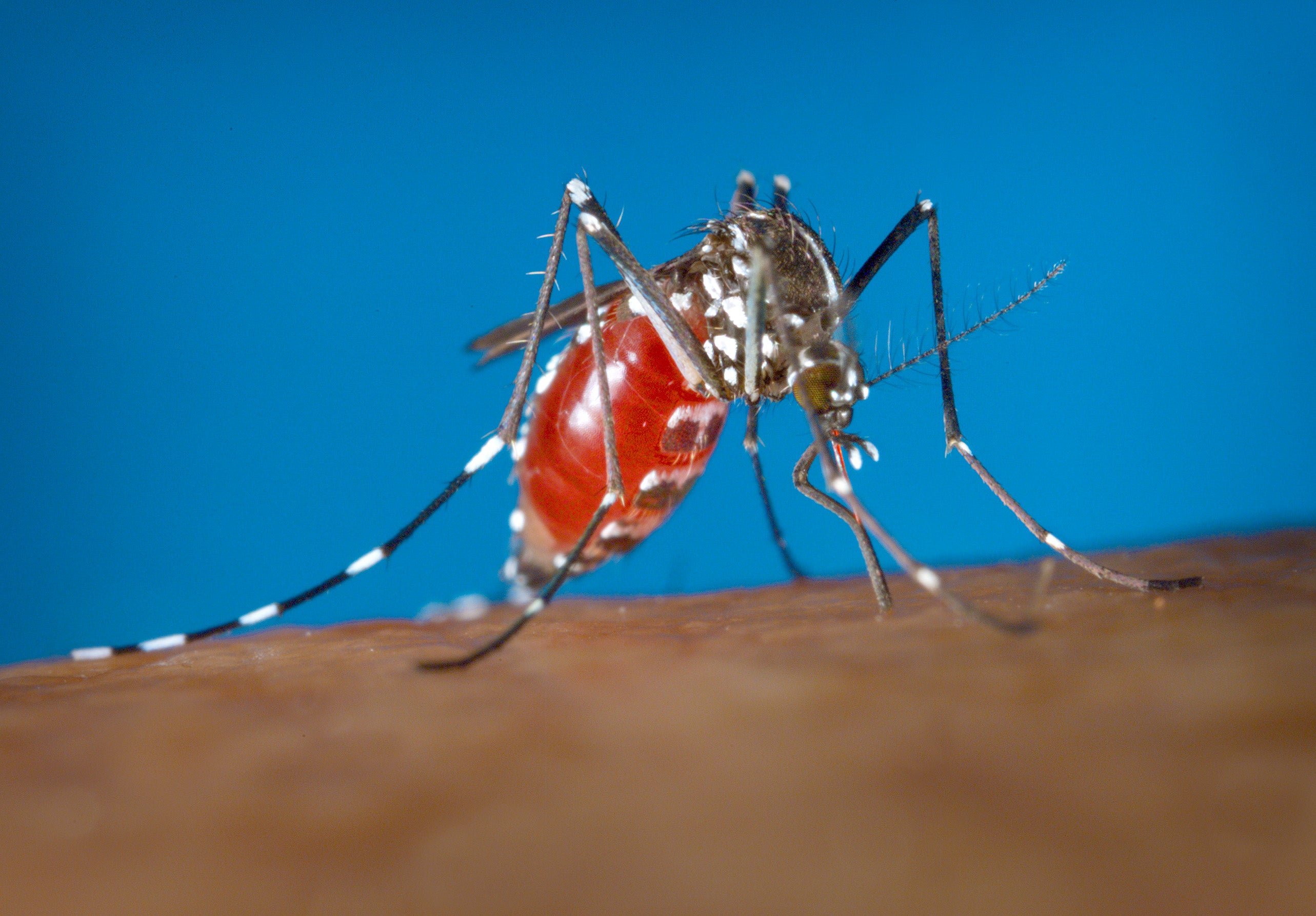 Mosquitoes could spread Zika in dozens of U.S. cities
Images of babies with Zika-linked birth defects and stories about paralysis related to the mosquito-borne illness have many Americans on edge as the warmer spring and summer months approach -- the time of year mosquitoes become more pervasive.
Where and when are the mosquitoes that transmit Zika likely to emerge in this country?
New research estimates that 50 U.S. cities may be at risk for potential Zika virus outbreaks, but experts say there's no need to panic. The living habits of Americans will keep outbreaks of the virus smaller than those in Latin America, mosquito scientists and global health experts predict.
The most at risk are cities in the southeast, especially Florida; up the East Coast as far north as New York City; and a swath across the south stretching as far west as Phoenix and Los Angeles, according to the National Center for Atmospheric Research (NCAR), in Boulder, Colorado.
Computer simulations created by researchers at NCAR and the NASA Marshall Space Flight Center crunched data on climate, mosquito breeding patterns, air travel, and socioeconomic status to predict which areas would make for a hospitable environment for a Zika virus outbreak.
"The Aedes aegypti mosquito, which is spreading the virus in much of Latin America and the Caribbean, will likely be increasingly abundant across much of the southern and eastern United States as the weather warms," a statement from NCAR said. The research appears in PLOS Current Outbreaks.
Miami and Orlando, Florida, were two of the cities that came up at highest risk. Houston was also cited because of its large volume of travelers from affected regions.
In addition to Aedes aegypti mosquitoes, mosquito expert Phil Lounibos, a distinguished professor in the department of entomology at the University of Florida said there's concern that the virus could also be carried by the related Aedes albopictus or tiger mosquito, which can live in cooler climates.
The study notes that some cities that don't currently have Aedes aegypti mosquitoes, such as St. Louis and Denver, have summer weather conditions that could support the species if it arrived through a shipment of used tires, for example.
Harry Savage, a research entomologist with the Centers for Disease Control and Prevention, who was not involved with the study, made similar projections, telling CBS News states at risk may include Florida, Texas, California, New Mexico, Arizona, "and secondarily Louisiana."
A recent survey conducted by the Annenberg Public Policy Center of the University of Pennsylvania, found that half of Americans are concerned that the Zika virus will reach their neighborhoods.
But experts say outbreaks in the U.S., if they happen, won't be on the scale of what's happened in Brazil. They'll most likely occur at a local level and not become widespread, said Lawrence Gostin, a professor at Georgetown Law and director of the World Health Organization Collaborating Center on Public Health Law & Human Rights.
"I don't think that in the United States that we'll see a major epidemic the way we have in Latin America and the Caribbean," Gostin told CBS News. "We have more effective mosquito control, more air conditioning, more screens on windows. But I do think we'll see cases and I think there will be a lot of public fear."
Gostin predicts there will be some cases of birth defects among pregnant women, but not in the large waves seen in Brazil.
When it comes to higher risk areas, he said, "You will see a divide between the rich and the poor. The poor areas of New Orleans and other similar cities will be at far, far greater risk. Many don't have air conditioning or appropriate screens on their windows. Many can't afford insect repellent or will be uneducated and won't have knowledge of it. You'll see a divide between the haves and the have-nots."
Lounibos said it's more common in lower economic neighborhoods for standing water to collect in containers such as trash, where mosquitoes live in their larval stages. "As a consequence people are exposed much more often."
"In Central and South America mosquitoes are actually living in houses. People get bitten all day long," he said.
The typical Zika-carrying mosquito can't travel very far, only about 50 to 100 meters, said Lounibos. That's why he believes transmission of the disease in the U.S. is expected to remain local to certain neighborhoods. Lounibos said areas such as Key West, where there's more of "a Caribbean lifestyle" -- homes without window screens or air conditioning -- are more at risk.
He said attending a barbecue or kids' soccer game in the suburbs, or even a hike in the Everglades, are less risky activities. Lounibos also mentioned that the Aedes aegypti mosquitoes are daytime mosquitoes, not evening feeders.
Only about 20 percent of people infected with Zika virus show symptoms, and most who do have only mild symptoms, including a fever, red eyes, a rash and joint pain.
The virus has become feared because it of its link to a birth defect called microcephaly that causes some babies to be born with small heads and often brain damage, a condition seen in newborns in Brazil in the months following the Zika outbreak there. It's also connected with Guillain-Barre syndrome, a rare type of temporary paralysis.
The CDC's Savage said the fact that Zika's been found to be sexually transmitted is a concern, too.
Gostin said the federal government needs to step up funding for Zika prevention efforts. "I think we could do a much better job than we are doing in preparation," he said.
"One of the things that's dismaying me and making me quite angry is Congress's refusal to approve Obama's supplemental funding of Zika. I gave testimony last week. They want to take leftover Ebola money and use it. That is the height of irresponsibility. To take money from Ebola to give to Zika is to rob Peter to pay Paul. The U.S. made a commitment in West Africa to try to build the health system and prevent another outbreak of Ebola. America would be breaking its promise in ways I think are highly unethical," Gostin said.
He said Zika is now a foreseeable crisis that won't take the U.S. by surprise.
"This is a mosquito that is hard to control," Gostin said, noting that most mosquito control is conducted at a local level, but that many communities will not be prepared due to limited training, resources, and finances.
Scientist Sahotra Sarkar, an associate professor in the department of integrative biology in the College of Natural Sciences at the University of Texas at Austin, said that to the best of his knowledge the Texas Department of State Health Services has not yet published a new statewide plan.
"I expect the state and local authorities will continue with current actions for the control of dengue which is spread by exactly the same mosquitoes. However, efforts need to be increased. There should be daily sampling of mosquito populations in the Houston area and monitoring. If necessary, drastic insect control actions need to be implemented," Sarkar said.
Georgetown's Gostin said, "I think there's going to be a huge political price to pay. Imagine this summer you have a cluster of Zika cases and then nine months later you'll have a wave of microcephaly. You'll have women come before Congress testifying with their deformed babies and there will be a public moral outrage when we see babies born with deformities that were entirely preventable."
Thanks for reading CBS NEWS.
Create your free account or log in
for more features.