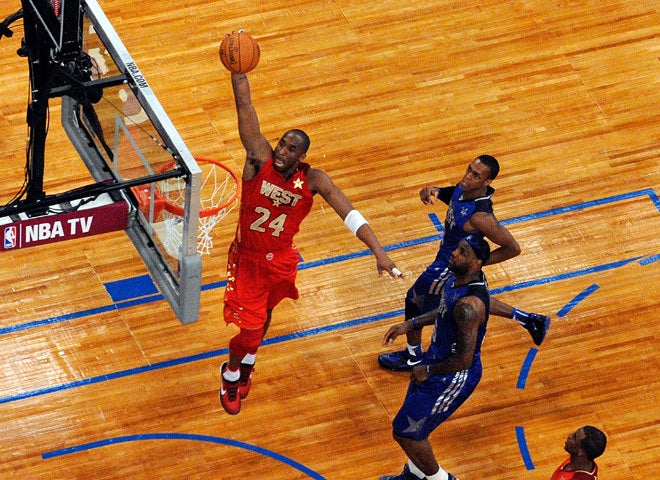 Young All-Stars inspire Kobe, keep fire burning
By CBSSports.com Senior Writer Ken Berger
LOS ANGELES - It was 13 years ago in Madison Square Garden when a 19-year-old kid named Kobe Bryant went shot for shot, highlight for highlight with the master. That night, Bryant wouldn't concede anything to Michael Jordan, and Jordan wouldn't back down, either - wouldn't step aside for his heir.
The victory back then went to the East at the Garden, and the MVP went to Michael Jordan - the third and last of his brilliant career. A baker's dozen years later in the NBA's 60th All-Star Game, Bryant was in Jordan's shoes. On the court, with his dastardly mix of old-man game and a rare spring in his legs inspired by the youth all around him, Bryant wouldn't back down - wouldn't give an inch in the race for victory and his fourth All-Star MVP.
Afterward, his words told a different story. When it was over - an All-Star weekend overshadowed by a bitter labor fight that could shut down the league and the never-ending trade saga surrounding Carmelo Anthony - Bryant admitted something that his competitive greatness will never allow him to concede on the court.
NBA All-Star game: West beats East, Kobe MVP

"It's very important for the game to continue to have young stars emerge," Bryant said after his 37-point All-Star performance in the West's 148-143 victory. He was five points shy of the All-Star scoring record held by the late Wilt Chamberlain, whose journey to basketball immortality began in Bryant's Philadelphia-area backyard.
"It's important for me to step aside," Bryant said. " ... It's about them at this point."
It was another signature performance for Bryant in the final All-Star Game he will play on his home court, the way Jordan etched his name one last time on the Madison Square Garden marquee 13 years ago. The riding-off-into-the-sunset quotes didn't match the sinister determination on the floor. Bryant will never give an inch to the younger generation as long as they're keeping score.
There were the usual Jordan-like jumpers as Bryant uncoiled like a python after sizing up his prey on the perimeter, where his greatness mostly resides at this point, in his 15th season. But there were dunks, too, as Bryant dusted off his younger alter ego -- the old man feeling young again with all the young legs trying to chase him down.
"Just being around so many young players gave me so much energy to see them bouncing around," Bryant said. "Just re-energized me for the night. But the fourth quarter, man, I had nothing left. I exceeded my dunk quota for the game."
The one we'll remember, the image that will be seared in our memory once Bryant has stepped aside for good, was a breakaway dunk over LeBron James. With LeBron in hot pursuit, trailing him on the floor as he will in the history books, Bryant summoned some 20-something elevation and finished with 30-something guile to avoid James' attempt at his signature chase-down block.
"I saw it coming, and I wanted to see if I could avoid the LeBron chasedown," Bryant said. "But I told him afterwards, if I tried to go over the rim - like get up - he probably would've blocked it with his armpit. So I just tried to be quick and tried to just time it up just the right way, and I managed to do it. I kind of snuck it by him."
They are still chasing Bryant, the way he was chasing Jordan back then. And they still haven't caught him.
"I wish the East would've won, then my teammate with a triple-double might have stolen it," Dwyane Wade said. "But he deserved it."
LeBron will take the torch some day, and Kevin Durant and Blake Griffin will take it from him. But none of them should be fooled by Bryant's gracious offer to make room for them. Griffin, who will own L.A. once Bryant is gone, said, "I was just going to let him do his thing." But no one should be rope-a-doped into thinking Bryant is finished pushing, finished keeping score.
"He did what Kobe Bryant does every night, and that's score the basketball," James said. "That's probably one of the best scorers that the game has ever seen."
James led a furious comeback attempt in the fourth, looking to spoil Bryant's MVP - crash his All-Star going away party at Staples. But Bryant is still out of reach, still focusing with laser intensity on putting more championships on his résumé for the NBA's Mount Rushmore.
"I've been there, you know what I mean?" Bryant said. "I had my time. It's not about that for me at this point in my career."
It is still about championships for Bryant, whose vise grip on the heir to Jordan's legacy will never loosen until the day he walks away. The cocky 19-year-old who wouldn't give an inch to Jordan in 1998 is still in there somewhere. Don't be fooled; the fire is still burning.
"Towards the end, we wanted him to get the MVP," Carmelo Anthony said. "Why not?"
Bryant's baby-faced teammates fed him the ball Sunday night and watched an old pro go to work. When Kevin Love, the rebounding machine, teased Bryant at halftime that it was "the first time and the last time" he'd ever have more rebounds than him, Bryant took mental notes.
"After that," Bryant said, "I just started stealing rebounds left and right."
No one could catch Bryant on Sunday night - not James, not Griffin, and not the mileage and scars of 15 years.
"It's his time now," Bryant said of Griffin. "It's time for these younger players, the Durants and so forth, to step forward and carry the league. I'm on my way out."
And while he's at it, stealing as many trophies as he can get his hands on along the way.
For more from Ken Berger, check him out on Twitter: @KBerg_CBS
Thanks for reading CBS NEWS.
Create your free account or log in
for more features.