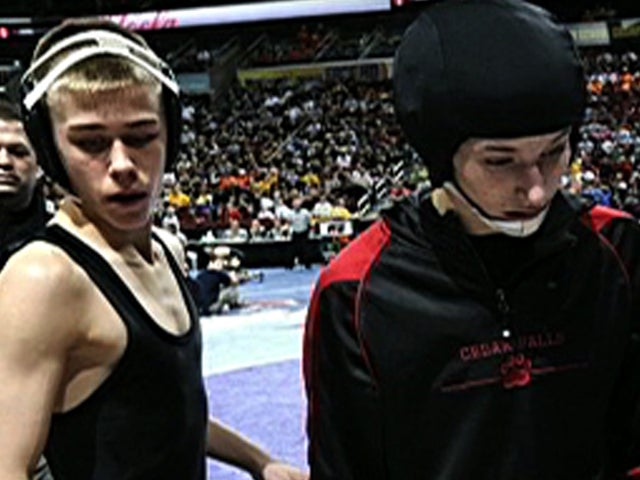 Wrestler explains why he wouldn't take on a girl
For a high school wrestler in Iowa, the chance to compete for the state championship is revered and time-honored tradition. Joel Northrup entered last week's tournament ranked fifth in his weight class. He was hoping to come home with a title, but made a decision instead to walk away from the competition right before his first match. Northrup was pitted against 14-year-old Cassandra Herkelman - one of two girls to ever qualify for the state finals in its 85-year history.
But Northrup refused to compete against his female opponent and forfeited the match, citing personal and religious reasons, making Herkelman the first female to win a match in a state tournament.
But why, exactly, did he do it?
On "The Early Show" Northrup explained himself, saying that wrestling is a "combat sport."
"It gets violent at times," he said. "And you get put in compromising holds and positions, and I just don't feel it's right that a boy should engage a girl in a manner like this."
"Early Show" co-anchor Erica Hill said, "You have worked really hard for this. So has Cassy. You're both very passionate about your sport. She clearly understands to get to the level that both of you are at what this sport entails. That there are a lot of rough moments. And she knowing, too, that you weren't going after her as a girl, but as an opponent. Being that she's OK with it, why can't you then, in fact, step in the ring with her?"
Northup said, "Well, like I just said, I mean, it - you get put in holds that are compromising. And, I mean, she deserves to be out there. But I do believe that if she does wrestle, she should wrestle other girls. And I should wrestle other boys."
Hill said, "She doesn't always have the opportunity, of course, to wrestle only girls. Do you feel that you were cheating her out of an opportunity at all, to give her a win in this way, with a forfeit?"
Northrup replied, "Well, it's kind of a tough situation. I don't believe so. I mean, I just had to stick to my convictions. And, it's hard for her. But, I had to just hold on to what I decided in fifth grade that I wouldn't wrestle a girl."
Hill noted Northrup has been called chauvinistic, sexist and chivalrous since the match.
Northrup said he doesn't care what people say about him.
"There's been people that are for me, and people that are totally against me," he said. "I know what I did was right."
Northrup said he hasn't spoken to Herkelman since the match - but he has spoken with her father.
"He's come up to me and talked to me," Northrup said. "He's a real nice guy. I haven't spoken to her much. He said he totally agrees with it. And he knows I have, as my convictions, and he totally - totally accepts it."
Bill Herkelman, Cassandra's father, told CBS News, "He stuck to his convictions on probably the biggest stage in wrestling in the nation I would argue. Let alone in Iowa."
It's those convictions and principles that Northrup's parents say they have been teaching their son since he was a young boy. And despite the frenzy he's created and endured over the past week, they are proud of his decision.
As for Herkelman, she told CBS News, "I feel like more people will start like to wrestle just like knowing that you can do it if you put your mind to it."
Thanks for reading CBS NEWS.
Create your free account or log in
for more features.