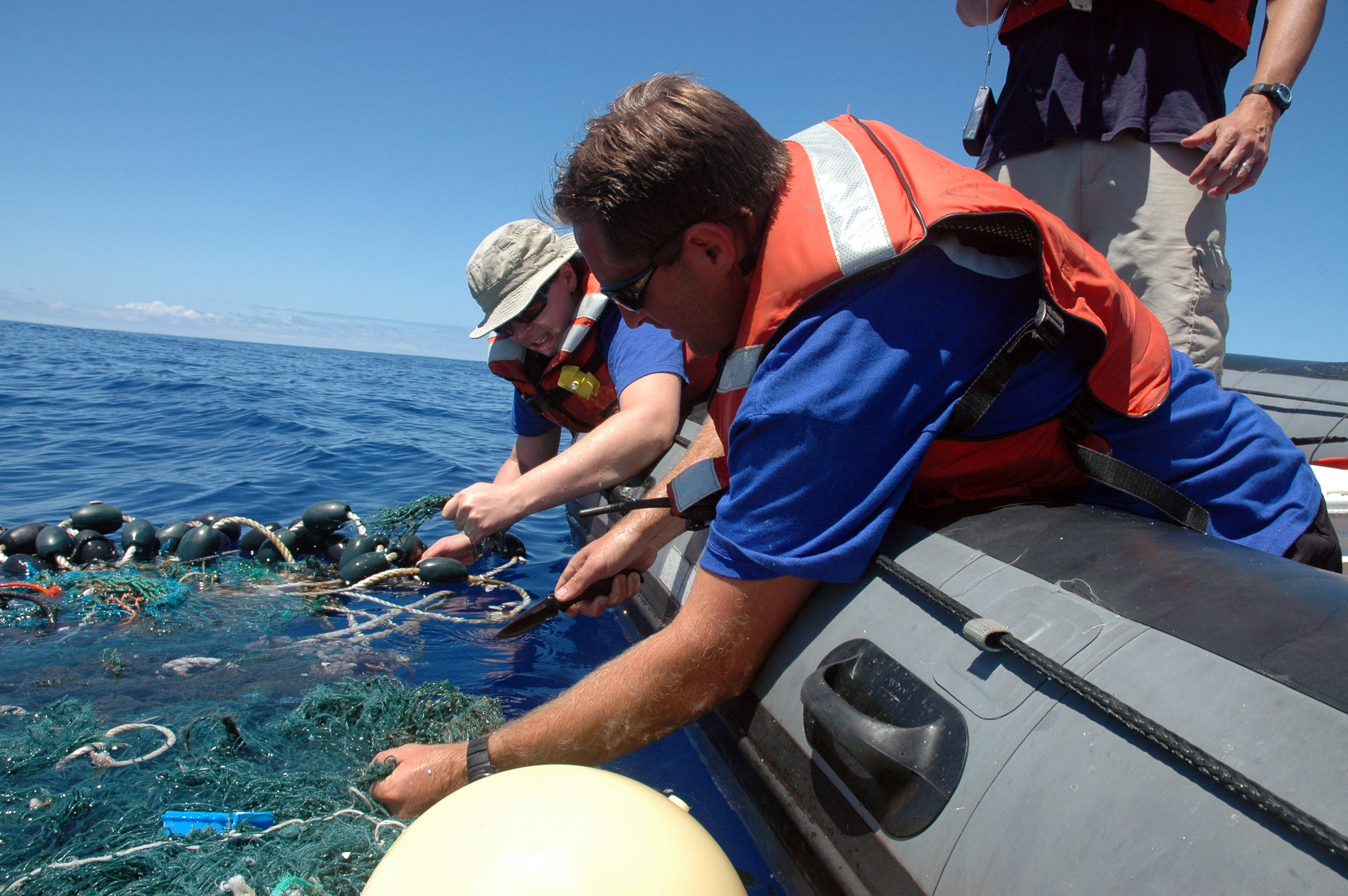 World's oceans "plagued" by 269,000 tons of plastic pollution
More than 5 trillion pieces of plastic are polluting the oceans, according to a new study, wreaking havoc on marine life which often gets entangled in fishing lines or ingests these toxic substances.
The study in PLOS One Wednesday is the first to try to put a number on plastic bits of all sizes - a growing number that many scientists see as a major problem in the oceans. Through 24 expeditions from 2007 to 2013, the researchers were able to crisscross the globe surveying most ocean regions except the Arctic. Its surveys also included 5 subtropical gyres - giant rotating systems that are home to massive garbage patches.
The data was collected through 800 visual surveys as well as trawling on the surface using fine-mesh nets and then was then put into models to come up with the global estimates.
"It's the first worldwide assessment of the plastic plague infecting our precious oceans," said Capt. Charles Moore, a co-author of the study and the founder of the marine education and research group Algalita.
"As such, it's an important first step to bringing awareness that the entire ocean is a plastic soup," he said. "The consequences of that are unfolding rapidly through the destruction of species, the displacement of species and the invasion of exotic species."
Marcus Eriksen, another co-author and the director of research at the Los Angeles-based 5 Gyres Institute, said he wasn't sure what to expect when the work started in 2007.
"There had been previous estimates of million of tons or thousands of tons but they were based on wild guesses," he said. "I know plastic breaks down but I didn't know to what degree."
Eriksen said the 5.25 trillion pieces of plastic were estimated to weigh over 269,000 tons, which would be the equivalent, he said, to the weight of 38,000 African elephants.
"It would be like stacking two-liter bottles from here to the moon and back, twice," he said. "Or it would be like taking plastic trays, laying them end-to end and wrapping them around the equator 425 times."
Jennifer Brandon, a graduate student who researches micro-plastics at UC San Diego, Scripps Institution of Oceanography and didn't take part in the study, said the estimates "were pretty reasonable" but she cautioned it was far from exact because the researchers depended on models.
Still, she said the estimate would be a good resource for other scientists.
"It will be helpful for anyone who wants to talk about large impacts, policy or clean up efforts to know what you are up against and know how big the problem is," she said. "People have talked about the size of the gyres or the amount of the tows they have done. But to actually see a weight estimate worldwide, that is a new number that hasn't been seen. That is really nice."
Eriksen said the bigger pieces recovered often were "thick plastics" such as parts of action figures, roller balls from deodorant, toothbrushes and combs, bucket, crates and bottle caps. Fishing gear such as nets, lines and buoys, he said, was found in many places.
"Most of the plastic by weight in oceans is fishing gear. That is because it designed to be in the ocean, to last there," he said. "We find an amazing number of buoys drifting around. They can last for years, if not decades."
Eriksen and Moore said a third of the plastic was found to be in the North Pacific but that a growing amount is turning up at what they called hot spots in Asia such as the Bay of Bengal and the China Sea.
"There is so much population pressure, poor waste management and poorly designed products there," Eriksen said. "The Bay of Bengal is more polluted than the Indian Ocean gyre. These emerging developing markets worldwide want the convenience that the U.S. and Europe have had for long time. They are getting it and that convenience includes a lot of plastic."
Another emerging problem, the researchers said, was how much of the plastic was breaking down and finding its way into the larger ecosystem. Of all the plastic surveyed, 92 percent would be considered micro-plastics which is smaller than grain of rice.
Some of that was eaten by fish and other marine life, worn down by the elements including sunlight or ripped apart by the gyres which work like a giant vortex of swirling currents.
"This could mean that plastic pollution is moved more easily between oceanic gyres and between hemispheres than previously assumed leading to redistribution of plastic items through transport via ocean currents," the researchers wrote.
In light of the findings, the researchers said the plastics industry needed to do more to combat the problem and manufacturers need to do a better job of designing products that can be recycled or reused. They also complained the plastics industry has until now fought efforts to ban plastic bags and other measures aimed eliminating plastics.
"The industry says we need more landfills, recycling centers, better education. What we are saying is that we need all that and we need products to be designed with incentive for recovery," Eriksen said. "If you make, take it."
The American Chemistry Council, in response to the study, said it was in support of developing solutions to reducing marine litter.
"America's plastics makers wholeheartedly agree that littered plastics of any kind do not belong in the marine environment," the Council said in a statement, adding that the industry has endorsed several global measures, including increasing awareness about the problem and expanding recycling.
Thanks for reading CBS NEWS.
Create your free account or log in
for more features.