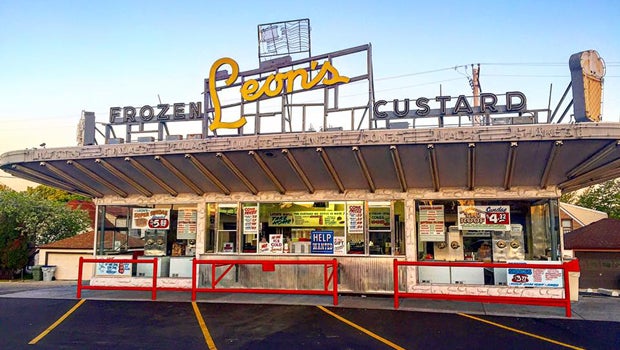 Shop owner's English-only ordering policy stirs controversy
MILWAUKEE -- The owner of a custard shop backed down on his English-only ordering policy after it sparked controversy Thursday, CBS Milwaukee affiliate WDJT-TV reports.
"We prefer to speak English, when you come you will be greeted in English," Ron Schneider, owner of Leon's Frozen Custard Shop, said in a statement to the station. "If you speak Spanish we will try to accommodate you but if we don't have anyone that can speak Spanish, well we can do sign language or something."
Schneider said the original policy was not to discriminate but instead was the easiest way to conduct business.
Darryl Morin, with the League of United Latin American Citizens, said their office has received many calls recently about the policy.
"Well surprised, right? Everybody loves Leon's. It's an institution here in town. That being said we still need to make sure they operate within the law," Morin said.
He said the group plans to request an investigation with the U.S. Equal Employment Opportunity Commission and that a meeting was planned with Schneider Friday.
State Rep. Josh Zepnick, who represents that district, said he also hopes to meet with the owner.
"We can move things forward, and let's find some other stuff to do together as a community and not this fighting," Zepnick said. "I think frozen custard is worth enjoying, not fighting over."
People on both sides are voicing their opinion.
"A ban isn't right, but if you're going to live here you should be an American, live our culture, speak our language," customer Jim Voigt said.
Joey Sanchez said an employee told him she wasn't allowed to speak to him in Spanish. He posted it on Facebook, and that's what drew attention to the policy.
"I was just standing for what I believe, and it wasn't the best strategy, if we will say, to approach the Hispanic community," Sanchez said.
On social media, people have been talking about boycotts and protests. However, Sanchez said that was never his intention.
"I was just not in agreement with this policy or rule," Sanchez said. "I never told anybody to boycott this place. I don't have anything personal with them. I think the product is great. It's just that what they're doing is bad for business."
Thanks for reading CBS NEWS.
Create your free account or log in
for more features.