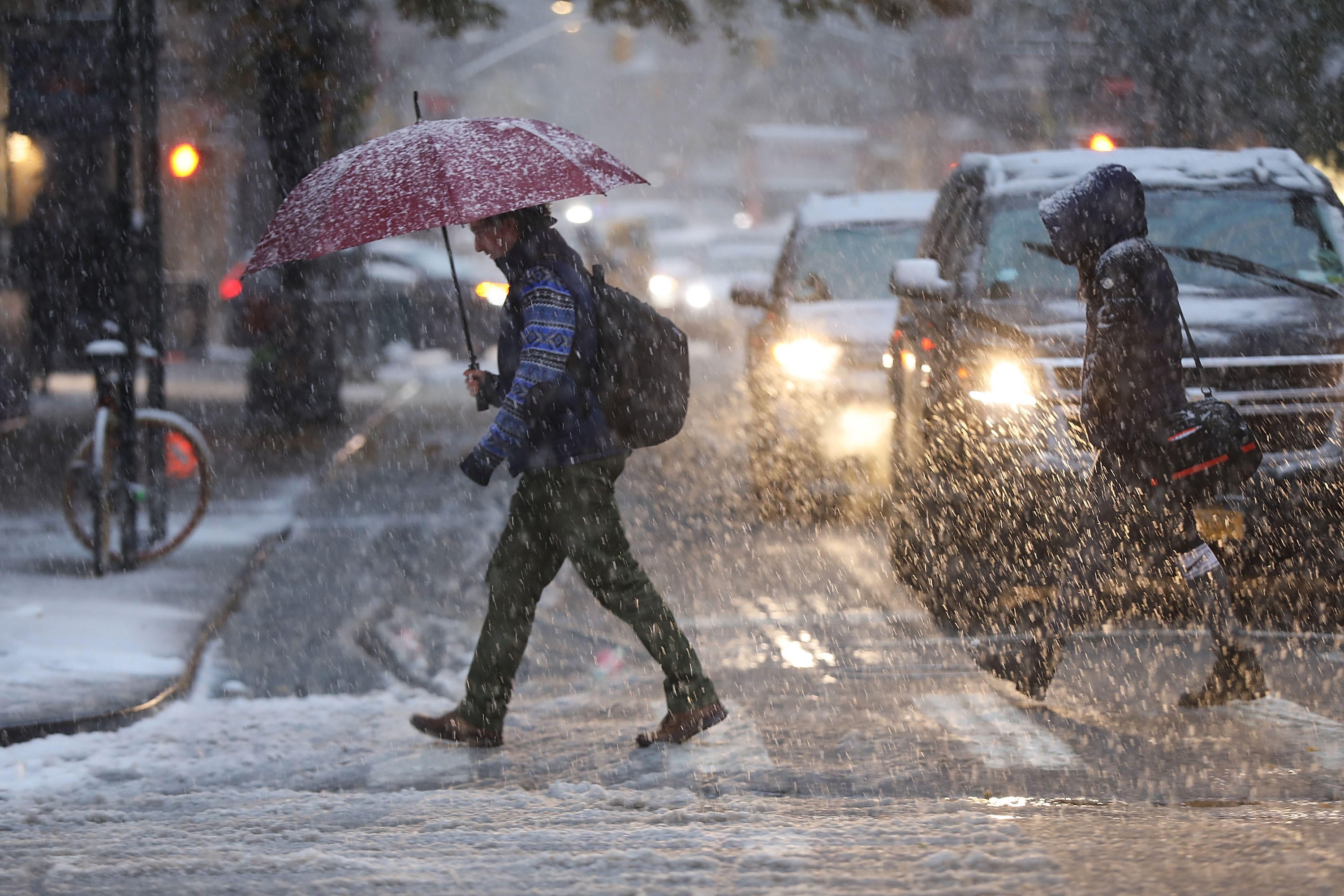 "Definitely not ready for this weather": Early winter storm slams Northeast with snow
NEW YORK — One of the first big storms of the season moved across the eastern half of the country Thursday, causing at least seven deadly traffic crashes and closing schools as it dropped snow as far south as central Alabama. The nasty weather wasn't finished yet by the Thursday evening commute as it dropped more than an inch of snow on New York City and headed through New England.
So far, eight deaths have been attributed to the storm, including two people who died when a tour bus overturned in Mississippi on Wednesday. There were three deaths in Arkansas, one in Indiana, one in Ohio and one in Maryland.
"Definitely not ready for this weather. Going to go hibernate today and hope for the best," Dana Periste, of Mendham, New Jersey, told CBS New York.
Flakes started flying midday in New York City. A mix of snow, slush and rain is expected well into the night.
"We didn't have a fall, so it's too cold right now," Macey Decker, of Pennsylvania, told CBS New York.
Winter storm fast facts
Storm-related deaths: 8 (2 in Mississippi, 1 in Indiana, 1 in Ohio, 3 in Arkansas and 1 in Maryland)
Power outages in the Northeast: approximately 189,916 (across five states: Indiana, Kentucky, Ohio, New York, Pennsylvania)
Snowing across Illinois, Michigan, Indiana, Kentucky, Ohio, West Virginia, Pennsylvania, New Jersey, Maryland, New York, Connecticut, Rhode Island, Massachusetts, Vermont, New Hampshire
Storm spans about 911 miles wide
Winter officially begins Dec. 21
1,300 flights throughout the U.S. canceled
Some 5,500 flights delayed
New Yorkers posted images and video on social media showing the crowds waiting at the Port Authority Bus Terminal.
There were "significant" flight delays throughout the Northeast Corridor, according to Flightware. The airports most impacted are Newark, LaGuardia Airport, Philadelphia International Airport (PHL), Baltimore–Washington International Airport (BWI), Ronald Reagan Washington National Airport (DCA) and John F. Kennedy International Airport. Nearly 5,500 flights within/to/from the U.S. have been delayed as of 5:15 p.m., and 1,300 flights have been canceled.
Southwest Airlines canceled 258 flights so far today accounting for about 6 percent of its daily schedule, another 22 percent of its schedule, or 955, of its flights are showing delayed, CBS News transportation correspondent Kris Van Cleave reports. The bulk of the rest of the cancellations are regional carriers serving American, United and Delta.
Eighty-seven flights for Friday have already been canceled.
In counties around Philadelphia, hundreds of accidents were reported, CBS Philadelphia reports. In Montgomery County, the Department of Public Safety has reported more than 250 accidents in the county since noon Thursday. There have also been 350 disabled vehicles in Montgomery County. In Delaware County, officials have reported around 150 accidents. Most of the accidents are people stuck on the side of the road. In Chester County, around 60 accidents have been reported.
In New England, the majority of the snow is predicted to fall between the Thursday evening and Friday morning commutes. This storm is what is called a classic front end "thump" of snow, according to CBS Boston meteorologist Terry Eliasen. For example, the area will get 3-5 hours of solid snowfall and then suddenly a flip to sleet and rain and the snowfall is done just like that.
As much as 8 inches of snow blanketed the St. Louis area, and forecasters predicted up to 6 inches in parts of southern New England as the storm made its way east. They also predicted northern New Jersey could see 4 to 8 inches of snow before the system exits the region by early Friday, while 2 to 5 inches is expected in the central region of the state.
Roads in Ohio were clogged by midday Thursday, where officials reported at least one traffic death that was likely weather-related. Indiana State Police also reported a death early Thursday, which they said was caused by the 60-year-old woman driving too fast on a slick road.
In North Carolina, the National Park Service closed the Blue Ridge Parkway to traffic because of dangerous road conditions stemming from snow, sleet and freezing rain. The park service said the closure Thursday includes the so-called "Asheville commuter zone" between mileposts 389 and 375, Asheville Citizen Times reported.
School districts closed or sent students home early across the lower Great Lakes and the Northeast. The University of Connecticut canceled classes starting at 3:30 p.m. or later at its main campus, satellite campuses and law school.
The South, where weather officials said the overnight trace in Alabama missed setting a record for earliest snow by about two weeks, began to clean up.
In Mississippi, a tour bus bound for a casino overturned, killing two people and injuring 44 others. And in the Little Rock, Arkansas, area, three people were killed in separate crashes on icy roads Wednesday night, while Interstate 40 was shut down overnight in the eastern part of the state because of several crashes. The interstate reopened shortly before daybreak Thursday, but officials said traffic was slow-going because some drivers had fallen asleep.
Witnesses told Mississippi investigators the tour bus driver lost control after crossing an icy overpass and the bus rolled over on its driver's side, coming to rest in median of Interstate 269 in Byhalia around 12:35 p.m., said Mississippi Highway Patrol spokesman Capt. Johnny Poulos.
"All of a sudden the bus started swerving then it spun around two times, hit the rail and then flipped over," bus passenger Veronica Love told news outlets as she left a hospital after the wreck. "The second spin, it started picking up speed. It was, I mean, what could you do?"
The crash happened about 35 miles southeast of downtown Memphis, Tennessee.
Killed were Betty Russell, 70, and Cynthia Hardin, 61, both of Huntsville, Alabama, said DeSoto County Coroner Joshua Pounders. The injured were taken to Memphis-area hospitals, with at least three listed in serious condition Wednesday evening.
Officials said the group was traveling from Huntsville, Alabama, to gamble at a casino in Mississippi's Tunica County, about 40 miles to the west.
In Virginia, the planned launch early Thursday of an unmanned cargo rocket to the International Space Station had to be rescheduled by one day because of the weather, NASA said. The unmanned Cygnus cargo craft is now scheduled to lift off early Friday from Wallops Island on the Eastern Shore carrying supplies and research materials for the astronauts at the space station.
Thanks for reading CBS NEWS.
Create your free account or log in
for more features.