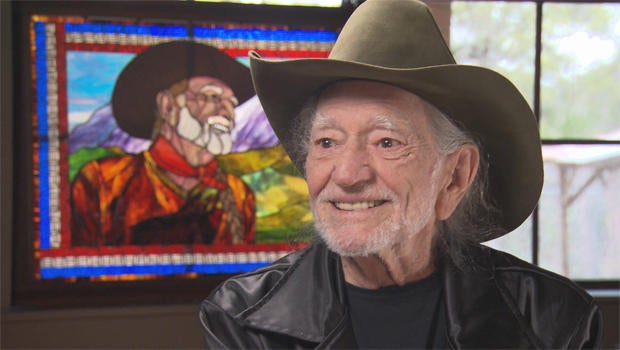 For Willie Nelson, the autumn of life is colorful
Willie Nelson has been "On the Road Again" -- and again and again -- ever since he released that song back in 1980. And a song on his newest album proves he has no intention of hanging it up any time soon, a point he underscores to our Bob Schieffer, For The Record (An earlier version of this story was originally broadcast on April 2, 2017):
"I woke up still not dead again today
The Internet said I had passed away
If I died I wasn't dead to stay
I woke up still not dead again today.
"Now, how in the world do you come up with that song?" Schieffer asked.
"Oh, I don't know -- I've been killed several times throughout the years!" Nelson laughed. "And so I just thought I'd write something funny about it."
It's easy for Willie Nelson to laugh off these greatly exaggerated rumors of his demise. Now 84, he's on the road again -- performing and writing music. His last album, "God's Problem Child," was his 110th, give or take, with songs like "Still Not Dead" and "Old Timer."
To hear Willie Nelson perform "Old Timer" from "God's Problem Child," click on the video player below:
"There's a theme here," said Schieffer. "This is about the autumn of life. Is that hard for you to think about?"
"No," he laughed. "You remember one of those deep thinkers, a guy named Seneca? He said you should look at death and comedy with the same countenance. And I believe that."
"The autumn of your life -- and I'm right there with you, buddy -- it's like the springtime in everybody else's life. I mean, you're at the top of your powers, I would say, right now."
"Everything's going good," Nelson said. "I think age is just a number. I've heard it all my life: It's not how old you are, it's how you feel. And I've been lucky with [everything], health-wise and career-wise.
"I haven't really got anything to bitch about!" he laughed.
It wasn't always so. Early on, Nelson left his native Texas for Nashville, making a name for himself writing hits for others, like "Crazy," recorded by Patsy Cline.
Nashville liked his songs, but his singing? Not so much.
At one point Nelson became so dejected that he went out and laid down in the middle of the street in Nashville hoping that a car would run over him. "'Course, it was midnight -- there wasn't a lot of traffic!" he laughed. "No car got me!"
"What were those days like?" Schieffer asked.
"Oh, they were wild and crazy. You know, I was going through one relationship after another, one divorce after another. And those things will make you write songs. If you're a songwriter, that's where you get your material, from all your headaches and heartaches."
Nelson went back to Texas, changed his look, and changed his tune -- less Grand Ole Opry and more good ole boy, spiced with a little hippy and redneck. With his friend Waylon Jennings came a new, raw sound: Outlaw country.
To watch Willie Nelson & Waylon Jennings perform "Mammas Don't Let Your Babies Grow Up to Be Cowboys" at Farm Aid (1986), click on the video player below.
Through the years, Nelson's music came to transcend genre. He's won eight Grammys, and honors he never imagined.
Regarding the record producer Harlan Howard's quip that "Country music is three chords and the truth," Schieffer asked Nelson, "What is it that sets your songs apart?"
"Well, you know, it's three-quarters of the way true. You can have more than three chords! But the truth matters."
"What causes you to come up with these songs that people say, 'Well, that's right'?"
"I don't know. I'm just writing what I'm thinking. And if it comes out pretty good, I'll write it down somewhere and come up with a melody to it. But I'm just writing what I'm thinking, just off the top of my head, really."
When he's not traveling on his bus to one of the more than 100 shows he stills does every year, Nelson splits his time between a home in Maui (where he hangs with friends like Woody Harrelson), and his ranch outside Austin, complete with an Old West town he named Luck, Texas.
When Schieffer dropped by, 3,000 fans filled the town for the Luck Reunion, the brainchild of Willie's great niece, Ellee.
She said the Luck Reunion had started as a one-day event: "Celebrating singers and songwriters who were kind of forging their path in the same kind of vein as Willie is. Just, you know, doing their own thing without compromise."
"A lot of people get to hear a lot of good music and hang out, have a good time," Nelson added. "So it's turned out to be real good."
Things didn't always turn out "real good" for Willie. Back in the '90s there was the little matter of back taxes he owed Uncle Sam.
"I gotta say," Schieffer noted, "you're the only guitar picker from Abbott, Texas that I ever knew or heard of that owed the federal government $32 million!"
"It's kind of funny when you think about it!" Nelson laughed.
"But I'm sure it wasn't funny to you at the time."
He worked it out, and paid it off. But he never declared bankruptcy. "I don't believe in that," Nelson said. "You know, I believe if I owe some people some money, I want to pay them."
He's been arrested more than once for possession of marijuana.
"I want to ask you a little about pot," Schieffer asked.
"You got one?"
"No."
These days he's in the cannabis business in places where it's legal. So why has he been such an advocate? "For myself, it's good for me," he said. "It keeps me from going off and doing crazy things. I can relax and play some music and sit around and visit and act like a grown-up, I think."
Nelson once said that his fourth wife, Annie, married a better man than his other wives. "I did!" she laughed. "I got him after everybody else sort of trained him."
They've been together more than 31 years.
And what's it like to be married to Willie Nelson? "It's not boring! It's never boring. He has a lot of energy. There's 23 years between us, but I think his goal is to wear me out so that we're both the same age!"
Schieffer asked Nelson, "You think you'll ever retire?"
"What do you want me, to quit? All I do is play music and a little golf, and I don't want to quit either one of those!"
For Willie Nelson the way to stop wearing out is to speed up.
Schieffer noted, "Andy Rooney said one time, 'We don't ask to get old. We just get old … And if you're lucky, you may get old, too.' You and I have been pretty lucky!"
"Yeah, we have," Nelson said. "Very lucky. We're still here. We woke up still not dead again!"
To hear Willie Nelson perform "A Woman's Love" from "God's Problem Child," click on the video player below:

For more info:
Thanks for reading CBS NEWS.
Create your free account or log in
for more features.