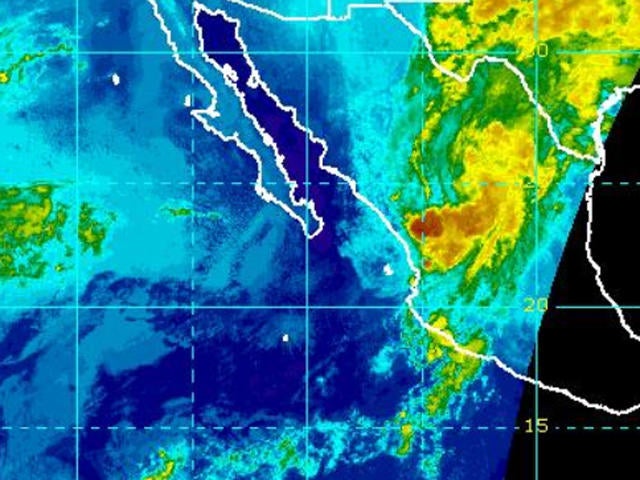 One-time Hurricane Willa dumping heavy rain on Mexico, on path for U.S.
MAZATLAN, Mexico -- Hurricane Willa lost power rapidly overnight after roaring over a stretch of beach towns, fishing villages and farms on Mexico's Pacific coast as a Category 3 storm with 120 mph winds.
By 2 a.m. EDT, the National Hurricane Center had downgraded Willa to a tropical storm with maximum sustained winds of 45 mph.
By 5 a.m., Willa was a tropical depression with top sustained winds of 30 mph.
The hurricane center said Willa was about 75 miles east-northeast of Durango, Mexico, racing northeast at 25 mph.
The center predicted the storm would dissipate altogether by afternoon as it moved farther inland over west-central and northern Mexico.
Nonetheless, it forecast "additional rainfall totals of 2 to 4 inches with maximum totals of 6 inches possible from eastern Durango, northern Zacateca and southern Coahuila.
"This rain will cause life-threatening flash floods and mudslides," the center warned.
Meteorologist Jeff Berardelli, a CBS News climate and weather contributor, predicts Willa's remnants will cross the Gulf of Mexico, dump heavy rain on parts of Texas and the Southeast already hard hit then merge with a cold front to form a powerful nor'easter that will hug the eastern Seaboard form Virginia to New England.
Assessments of damage done by Willa in Mexico were scanty during the night because of darkness and poor communications, but federal officials said power had been knocked out in some spots and there were early reports of flimsy structures with tin roofs sustaining damage.
Before hitting the mainland near Isla del Bosque, Willa swept over an offshore penal colony about 60 miles out in the Pacific. Authorities declined to comment on precautions that were taken at the prison, citing security concerns, but said the safety of inmates was a priority.
Willa came ashore about 50 miles southeast of Mazatlan, a resort city with high-rise hotels and about 500,000 people, many of them U.S. and Canadian expatriates.
Although hotels, restaurants and stores were boarded over, people ventured onto Mazatlan's coastal boulevard to watch a spectacular sunset as the hurricane obscured the sky to the south.
Alberto Hernandez, a hotel worker in the town of Teacapan, close to where the storm made landfall, expressed confidence before it hit that the building would hold up. He and his son, who also works at the hotel, stayed on the job, though the rest of his family had left the area.
"We've had rain all day. There is nobody in the streets. Everything is closed," Hernandez said. "But not everyone wanted to leave, even though authorities made it clear that he who stays does so at his own peril."
Torrential rains began in the afternoon, and emergency officials said they had evacuated more than 4,250 people in coastal towns and set up 58 shelters ahead of the dangerous storm. Schools were ordered closed.
As Willa neared, the beach in Mazatlan almost disappeared, with waves slamming against the coastal boulevard under looming black clouds. A few surfers enjoyed the big waves while the streets onshore were nearly deserted except for workers boarding up windows at hotels, shops and homes.
Some families took shelter at the Mazatlan convention center, spreading out blankets along the walls to wait out the storm.
Thanks for reading CBS NEWS.
Create your free account or log in
for more features.