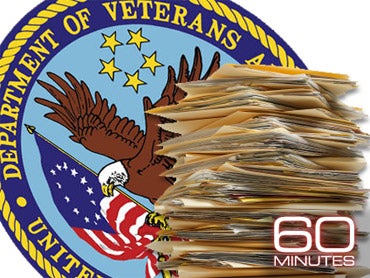 Why the VA frustrates veterans
The following is a script from "'Delay, Deny and Hope that I Die,'" which aired on Jan. 3, 2010. Byron Pitts is the correspondent. David Schneider, producer.

There is a sacred tradition in the military: leave no one behind on the battlefield. But many veterans are beginning to believe their country has left them behind at home, once they're out of uniform and in need of help. That help is supposed to come from the Department of Veterans Affairs and the financial compensation it gives to veterans disabled by their military service.
It was Abraham Lincoln who said the purpose of the VA was to "care for him who shall have borne the battle." But the wars in Iraq and Afghanistan have pushed the VA further behind in that mission, and today there are a million veterans waiting for the VA to handle their disability claims.
That has led some to latch onto another motto making the rounds for how the VA operates: "Delay, Deny and Hope That I Die."
"When I hear that, I will tell you that it really troubles me. As somebody who has devoted 35 years of my life to this organization, and to serving veterans, it's extremely troubling that there are veterans who feel that way," the VA's Deputy Undersecretary for Benefits Michael Walcoff, told Byron Pitts.
Last year, $30 billion dollars - one third of the VA's total budget - was paid in disability compensation to nearly three million veterans.
To receive a disability benefit, a veteran has to be honorably discharged.
"They have to have a current disability, and provide evidence that it was service related?" Pitts asked Walcoff.
"That it's connected to their service, right," he replied.
"Why, then, is the claim form 23 pages long?" Pitts asked.
"A 23-page application form I think is probably, goes beyond just what is required. And one of the things that we're looking at is to try to simplify the process," Walcoff said.
That process has been strained by a flood of disability claims - everything from combat wounds to injuries off the battlefield, illnesses and psychological disorders. Since 2003, 400,000 claims have come from veterans of the wars in Iraq and Afghanistan, hundreds of thousands more from aging veterans of earlier conflicts.
Add to that the recession, which is forcing more veterans to turn to the VA for help. Paul Sullivan was an Army scout during the Gulf War in 1991 and later spent six years working at the VA, analyzing trends in disability claims.
"All of those things have resulted in the Veterans Benefits Administration facing a backlog of one million claims," Sullivan told Pitts.
Sullivan said the system is "absolutely overwhelmed." He is now executive director of Veterans for Common Sense, a group that champions veterans issues.
"Veterans wait on average about six months to receive an initial answer on a disability claim. If a veteran disagrees with VA's decision, the veteran waits another four years. That is a crisis," Sullivan said.
And that's how Army veteran Joe Devins sees it. In late 2003, he was on patrol in Baghdad when he says an IED exploded near his truck.
Remembering the blast, he told Pitts, "I'd say for the first few seconds afterwards, I wasn't really sure if I was dead or alive."
Devins left the Army in 2004 and now receives $704 a month for a back injury and for migraine headaches that he says were caused by the IED. Devins also claims to suffer from sleeplessness, anxiety and anger. "I haven't had a single night's sleep without either over-the-counter or prescription medication since probably December of '03."
Yet it wasn't until two years after his discharge that a VA counselor told Devins he had PTSD (Post-traumatic stress disorder) and should apply for benefits. So he did.
Ten months later, the VA rejected his claim.
Asked why they denied the PTSD claim, Devins told Pitts, "Because they said I had to prove, show them proof that the incident with the IED actually happened."
But Devins was already getting benefits for the migraines he says were caused by the IED. Asked if that doesn't prove he was there, Devins told Pitts, "I would think so, but apparently that wasn't enough proof for them."
"What do you think they were saying about you, though?" Pitts asked.
"That I was making stuff up," Devins said. "That I was just out to get money."
The VA doesn't say that Devins is making up his claim, only that he can't prove it. He gets benefits for migraines, simply because they started while he was in the Army. But there is no mention of an IED explosion in his military records.
Devins' situation is not uncommon. It can be difficult to pin down a particular cause of PTSD. So the VA says it is changing the rules for these claims, and veterans will no longer have to prove a connection between specific incidents and their Post-traumatic stress disorder.
Changing the rules will take some of the work load off of people like Ron Robinson, a VA employee for 13 years, and a veteran who spent 20 years in the Army.
Robinson told Pitts he was proud to serve and work for the VA, but that he's not proud of the work the VA is doing. "We can do better," he said.
Problems in the VA's benefits branch have been the subject of GAO reports and congressional hearings for years. Starting in 2007, the VA received sizable increases in its budget and began hiring thousands of new employees. Yet the backlog of claims keeps growing.
"We keep tryin' to fix it, but it keeps gettin' out of hand. We throw more money at the problem, more people, we still have the problem," Robinson said.
"So, what is it then? If more people can't fix the problem, more money can't fix the problem, how do you fix it?" Pitts asked.
"It's a culture. It's a leadership problem," Robinson replied.
Robinson points to the VA's requirement that employees meet production quotas. It's a convoluted system of earning points for processing the paperwork in a claims file. The idea is to bring down the backlog, but Robinson says it also leads employees to make mistakes.
"Because they're focused on, as opposed to dealing with this veteran's case properly, they're focused on getting their points for that case?" Pitts asked.
"Of course. Anyone will tell you that," Robinson said.
Asked what happens if employees don't meet their quotas, Robinson said, "Well, if you don't get your points, you know, you don't get bonuses, promotions, you know, you don't get the bennies."
"I don't believe that they're being pressured to produce claims at the expense of quality," the VA's Michael Walcoff said. "We stress over and over again to our employees that quality is our number one indicator, that that's absolutely a requirement for successful performance."
But last March, the VA's inspector general discovered that the VA was making more mistakes than it reported: the internal investigation found that nearly one out of four files had errors. That's 200,000 claims that "may be incorrect."
Attorney Douglas Rosinski has been handling veterans' cases for ten years.
He characterizes the VA's disability benefit system as "broken."
"This is one vet's file," Rosinski told Pitts, showing him a cardboard box full of documents. "I've seen claims files that were two or three of these boxes.
Claims are being denied unfairly, Rosinski says, because VA employees don't have the time to read the files thoroughly. "When you get a denial, and it says, 'We didn't see,' that's right. I mean, they're not lying, but if you don't look, you don't see. And even if you're looking, it's hard to find out what's in there," he told Pitts.
Michael Walcoff told Pitts there is no incentive to deny claims. "And there's no pressure from anybody to deny a claim. And I can't say it any simpler than that."
David Pitts is an Air Force veteran and one of Rosinski's clients; he served for 18 years.
"Is your country serving you now?" Byron Pitts asked.
"It's not my country that's doing this, it's the VA. You know, there is no prouder American than I am," David Pitts replied.
In 1968, David Pitts was on temporary duty in Korea when the Tet Offensive in Vietnam caught American forces off guard. Pitts says he was quickly dispatched to deliver communication codes across Vietnam when his helicopter made a hard landing.
"When we hit, we hit hard, got out of that and I didn't have any problem for that for about a year. But this was what I started receiving the VA disability for it," he said.
David Pitts receives $644 a month for back and leg injuries that he says are related to the crash. He also believes he is eligible for additional benefits because Vietnam War vets with illnesses that could have been caused by exposure to Agent Orange are given automatic compensation.
The problem for David Pitts is he can't prove he was even in Vietnam. He says his two brief assignments were under verbal orders, and he was told there are no records of his having been in the country.
"You had people and equipment just flooding into Korea and suddenly Tet happens," he explained. "And it was just - it was a period of mass confusion."
He said recordkeeping wasn't a priority at the time. "Recordkeeping was not any type of priority at the time."
In recent years, David Pitts says he tried to find his former commanding officer from Korea, plus a hometown friend he says he ran into while in Vietnam, but both had died. Without corroboration or records, Pitts never applied for the benefit. Then in November of 2008, out of the blue, the VA sent him this letter.
"It says, 'According to records with the Department of Veterans Affairs, you were stationed in the Republic of Vietnam during your military service,'" Byron Pitts read. "And you got this letter, you thought what?"
"Well, somebody has found something," David Pitts replied.
Based on the letter, David Pitts filed a claim. It took the VA ten months to review it before denying it.
It's an example of the complexity that both the VBA and veterans face in establishing what happened years - sometimes decades - after events have taken place. The VA says it needs evidence to grant a claim and it could not find any records putting David Pitts in Vietnam.
The VA told 60 Minutes that the letter was sent by mistake, something it has not explained to David Pitts.
The Obama administration and the VA say they have given top priority to ending confusion over military records and that new computer technology will someday track veterans from their first day in uniform through the rest of their lives.
"Why should veterans believe what you say? That, 'Ah ha, now we're gonna get it right'?" Pitts asked Michael Walcoff.
"That's a tough question," he replied. "Because, certainly, some of the problems that we see in VBA have existed for quite a while. There have been efforts, believe me, to try to improve the system."
"The one difference that I think really is in place right now is that, I believe that we are seeing the advent of technology that is going to allow us to really change the basic way that we process benefits," he added.
"Why should the average American care about the fact that veterans, their benefits are delayed, whether it's three years, five years, seven years?" Pitts asked Ron Robinson.
"Put on a uniform," he replied. "We served our country honorably and faithfully. And we deserve, we deposited into America's bank account. And when we come home, it's time for us to make a withdrawal. That's why we should care."

Thanks for reading CBS NEWS.
Create your free account or log in
for more features.