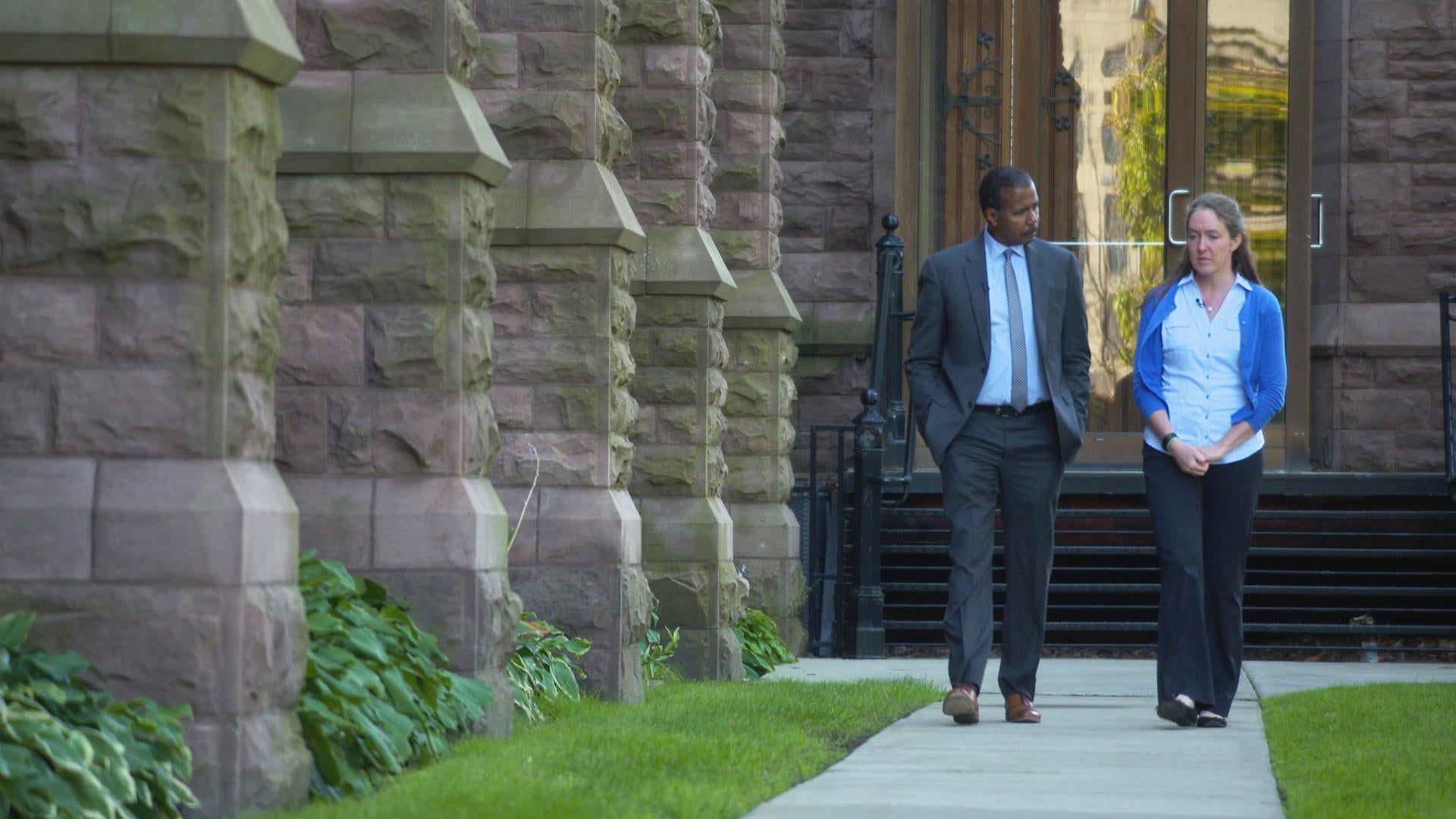 Why Bishop Malone's assistant became a whistleblower
Siobhan O'Connor was working for the Diocese of Buffalo when she had a revelation.
For three years, she had worked as the executive assistant to Bishop Richard Malone. She maintained his calendar, took care of his correspondence, answered his phone lines and emails. They had such a close working relationship that the southpaw assistant joked she was his "left-hand woman."
But what she saw in that role infuriated her — and she realized she had to speak up about it.
This week on 60 Minutes, O'Connor shows correspondent Bill Whitaker what she found in the bishop's office: hundreds of pages of personnel files and memos that reveal that Bishop Malone had been allowing priests accused of sexual assault to stay on the job for years.
When 60 Minutes producer Guy Campanile first approached O'Connor about appearing on 60 Minutes to explain why she had leaked the documents, he told her to consider the consequences of becoming a whistleblower. Once she comes forward publicly, he told her, life will change. She spent a few days thinking about it, then arrived at her decision.
"The reality of what I saw really left me with no other option because at the end of my life, I'm not going to answer to Bishop Malone. I'm going to answer to God," O'Connor tells Whitaker on the broadcast.
In the video above, Whitaker tells 60 Minutes Overtime's Ann Silvio that O'Connor was very forthcoming in their interview. But he could tell she was struggling.
"She gave from the heart," Whitaker says. "I have talked to a number of whistleblowers. But I have never met one for whom it was so painful to reveal the information."
O'Connor's transition from faithful assistant to moral objector happened gradually — and involved more than the secret files she found in a supply closet. Her doubts began in March, when Bishop Malone had agreed to release a list of 42 priests accused of sexually abusing minors. And at the same time, he also announced a hotline for victims to call and discuss the abuse they'd received.
But O'Connor calls it the "cold line." That's because the number was attached to a phone in an unoccupied office in a Buffalo suburb, miles away from the victim assistance coordinator who remotely dialed in to receive the messages. O'Connor says that for weeks, callers couldn't get a live person to answer their call.
"So eventually, they started either calling the Catholic Center where I worked, or they would even come in person, because they were so frustrated that here had been this invitation from the bishop, 'please call,'" she tells Whitaker in the video below. "And that's when I would end up taking those calls."
When O'Connor did speak to victims, she at times felt compelled to share victims' stories with Bishop Malone. His response, she tells Whitaker, was that he was eager for her to stop taking the calls. At one point, another member of the chancellery staff told O'Connor she had "inordinate sympathy" for the victims.
O'Connor's sympathy led her to deviate from the prescribed response while taking victims' calls. She says diocese lawyers had crafted a response that didn't acknowledge a victim's allegation was credible or substantiated — a response she found insufficient.
"I'm just not somebody that wants to read from a script, especially when you're talking to someone who's been through this immense tragedy," she says. "To read them a three-sentence script seemed so inadequate. But I went off script when I needed to because I wasn't going to perpetuate the lie, especially when talking to a survivor. They deserve the truth."
O'Connor's need to seek justice came to a breaking point. She sent a colleague an email that read, "I'm gonna burn this place down someday." While she says she was only venting frustration and never actually intended to commit arson, she acknowledges she was very angry.
"Just as my name is all Irish, I have an all-Irish temperament," she says. "So, I do have a fiery temper, and injustice has always been something that I could just not abide by from a young age up."
O'Connor says her church needs a cleansing. While she hopes it never comes to a full financial bankruptcy, she says that would be preferable to the moral bankruptcy she says she witnessed.
60 Minutes has attempted several times to speak with Bishop Malone. On one occasion, Whitaker and producer Guy Campanile waited for the bishop after mass, but after an hour, he never emerged from the church. Last week, Bishop Malone sent 60 Minutes a statement that read in part: "We continue to reach out to victims, remove clergy with substantiated allegations from ministry and cooperate with federal and state investigations."
In the interview with 60 Minutes Overtime, Whitaker points out that Bishop was the auxiliary bishop in Boston when the priest abuse scandal first came to light there in 2002.
"He was there," Whitaker says. "He saw how it was mishandled in Boston."
Campanile tells 60 Minutes Overtime that he is frustrated Bishop Malone won't answer questions after a month of requesting an interview.
"The thing you have to remember is that the church is made of people, but the ones in charge are priests and priests are so good at keeping secrets," Campanile says. "So it really depends on the laity, people like Siobhan, to come forward with these kinds of secrets."
To watch Bill Whitaker's 60 Minutes report on the secret archives O'Connor has exposed, click here.
The video above the article was produced by Ann Silvio and Lisa Orlando. It was edited by Lisa Orlando. The embedded video was edited by Will Croxton.
Thanks for reading CBS NEWS.
Create your free account or log in
for more features.