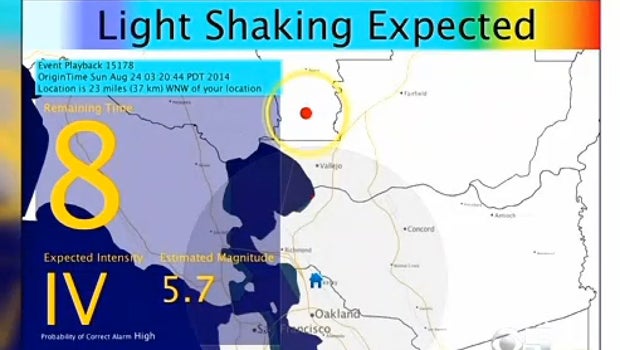 ​White House wants $5 million for earthquake early warning system
LOS ANGELES -- California lawmakers say President Barack Obama's recommendation to spend $5 million next year on an early earthquake warning system for the West Coast represents a significant breakthrough.
Sen. Dianne Feinstein and Burbank Congressman Adam Schiff, both Democrats, told CBS Los Angeles the move marks the first time Mr. Obama has included funding for the project in his annual budget recommendation.
The Earthquake Early Warning system, which is being developed by Caltech, UC Berkeley and the University of Washington in conjunction with the U.S. Geological Survey, can provide the public with up to a minute or more of warning before shaking hits.
A limited system has already been deployed for test users. Supporters of the project in Congress said the users at the University of California at Berkeley received 10 seconds of warning before a magnitude 6.0 earthquake hit in Napa Valley last August.
A few extra seconds can be critical, allowing doctors to pause surgeries, utilities to shut off the flow of natural gas, or train operators to brake before the shaking starts.
A smartphone app to communicate the warnings is also in the works.
The funding, which was announced in December, will allow those developing the statewide system to begin purchasing and installing additional sensors, build new stations, speed up the USGS ShakeAlert system, and come closer to deploying comprehensive early earthquake warning coverage throughout earthquake prone regions of the West Coast, according to lawmakers.
While $5 million is still short of the $16 million in total funding that was requested, Schiff points out it's where the money is coming from that makes a difference.
"Previously we were able to get funding, but it was a congressionally initiated process... we did ask the President for his support in this, and that support came through," said Schiff. "It's very significant and a good sign for the future."
Feinstein said she will encourage the state of California and the private sector to "step up and contribute their fair share."
Thanks for reading CBS NEWS.
Create your free account or log in
for more features.