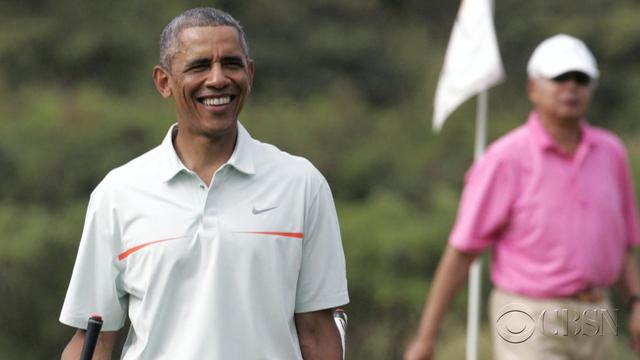 What President Obama is reading on his vacation
HONOLULU -- President Obama is spending his Hawaiian vacation playing golf, getting together with high school friends and reading a handful of dark novels set in foreign lands, according to a book list released by the White House Wednesday.
The presidential reading list includes four novels: "A Constellation of Vital Phenomena," by Anthony Marra, "The Narrow Road to the Deep North," by Richard Flanagan, "Nora Webster," by Colm Toibin and "The Laughing Monsters," by Denis Johnson.
He's also selected two works of non-fiction for the trip: "Age of Ambition: Chasing Fortune, Truth and Faith in the New China," by Evan Osnos and "Being Mortal: Medicine and What Matters in the End" by Dr. Atul Gawande.
Mr. Obama's book list gives the public a glimpse of his mindset, outside of the daily partisan battles in Washington. There is an unmistakable international theme to the novels (stories set in Sierra Leone, a Japanese POW camp, Ireland, and Russia), perhaps an escape for a president who spent part of his childhood overseas and has complained about the confines of the White House.
While President Obama's reading habits might be notable for the range of topics he selects, President Theodore Roosevelt was notable for the quantity of books he finished. According to his presidential library, President Roosevelt averaged a book a day, even over the eight years of his presidency. He also wrote nearly 40 books.
The demands of the modern presidency may explain why "A Constellation of a Vital Phenomena" was also on President Obama's list last year. The novel, set in war-torn Chechnya, was named a top ten book of 2013 by the Washington Post.
In late November, President Obama visited Politics and Prose bookstore in Washington, D.C., where he purchased the other titles in hardback.
"The Laughing Monsters" is a spy novel set in Sierra Leone at a time before the Ebola virus ravaged the West African nation. Richard Flanagan's "The Narrow Road to the Deep North," which takes place in a Japanese POW camp during World War II, won the 2014 Man Booker Prize, widely considered the top honor for fiction writing.
"Age of Ambition," a National Book Award recipient, details "the clash between the rise of the individual and the Communist Party's struggle to retain control" in China, according to the author's website. President Obama traveled to Beijing in November.
"China is one of the few parts of the map that doesn't give Obama an immediate headache these days," author Evan Osnos said by e-mail, "but it also ranks as one of the great challenges of his time in office: How to make these two powers understand each other better?"
"At a time when it can feel as if our two governments are edging closer to confrontation of one kind or another, this book is about the curious fact that ordinary people on both sides have never had lives with more in common than they do today," Osnos said.
"In Being Mortal," Dr. Atul Gawande argues for reforming end-of-life care; that doctors and nursing homes ought to prioritize patient comfort and autonomy over restrictiveness.
The collection of books the president has brought--with some set in the worst conditions humankind has to offer, one tome on end-of-life care and the other on Communist control of China--hardly seem to qualify as ideal beach reading. But perhaps it gives him the kind of respite Theodore Roosevelt sought from his own reading. ''I find it a great comfort to like all kinds of books...and to be able to get half an hour or an hour's complete rest and complete detachment from the fighting of the moment," he said.
Thanks for reading CBS NEWS.
Create your free account or log in
for more features.