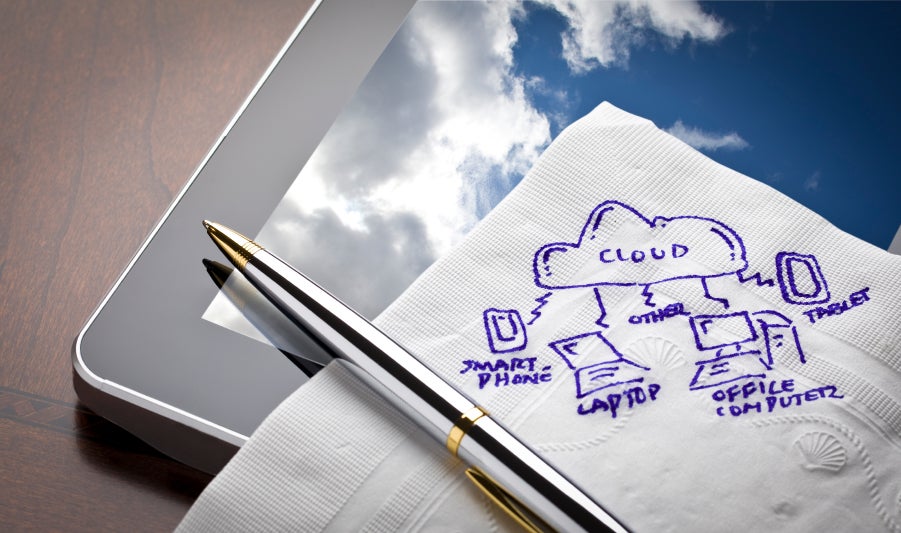 What is cloud computing? Amazon, Google Drive, iCloud, Dropbox explained
(CBS News) Cloud computing has been in the news a lot in recent weeks - starting from the launch of Apple's OS X Mountain Lion, which heavily integrates with iCloud, to the alleged hacking of a technology journalist's online accounts.
Apple WWDC 2012: OS X Mountain Lion, iCloud, iOS 6 updates
Setting up Apple's iOS 5 and iCloud on the iPhone
Most people use a form of cloud computing everyday, but the term has yet to become engrained in the mainstream lexicon.
So what the heck is cloud computing?
Think of the cloud as a disk drive that is owned by a company like Google or Apple, which stores all of your files in a remote location - typically at a server farm. The cloud makes it possible to access photos, videos or documents from any computer with an Internet connection.
(At left, watch CNET senior editor Scott Stein and I discuss the risks, rewards and future of cloud computing.)
Many of us use cloud computing everyday, with sites like Facebook, Netflix or Gmail. Photos and videos are stored on Facebook servers, which are retrieved from any computer with an Internet connection.
We can store documents, photos or videos online with services like Google Drive, Microsoft SkyDrive or Amazon Cloud Drive.
Going a step further, Apple's iCloud, Dropbox and Google Drive actually sync files between multiple devices and the cloud. If iCloud is enabled and you take a photo with your iPhone, it will automatically show up on your iPad and MacBook.
What are the risks of cloud computing?
Moving everything to the cloud seems inevitable at this point, but as more people rely on the cloud services, security risks will naturally be heightened.
Recently, Wired senior writer Mat Honan reported that because of what was initially fraudulent phone calls, several of his online accounts were breached, including his iCloud account. Honan's iPhone, iPad and MacBook were remotely wiped because the hack had access to his iCloud account.
CNET: Journalist blames Apple for allowing iCloud hack
Apple, Amazon make changes after journalist's hack
Apple co-founder Steve Wozniak has doubts about cloud computing
Apple co-founder Steve Wozniak recently expressed his doubts about cloud computing, saying that "the more we transfer everything onto the web, onto the cloud, the less we're going to have control over it."
Soon after Google launched Google Drive, questions were raised over who owns the files uploaded to the service. The reality is that users own their content, but Google can use it for the purposes listed in their terms of service - below.
"Some of our Services allow you to submit content. You retain ownership of any intellectual property rights that you hold in that content. In short, what belongs to you stays yours.

When you upload or otherwise submit content to our Services, you give Google (and those we work with) a worldwide license to use, host, store, reproduce, modify, create derivative works (such as those resulting from translations, adaptations or other changes we make so that your content works better with our Services), communicate, publish, publicly perform, publicly display and distribute such content. The rights you grant in this license are for the limited purpose of operating, promoting, and improving our Services, and to develop new ones. This license continues even if you stop using our Services (for example, for a business listing you have added to Google Maps)."
Will Google own your files if you use Google Drive?
Google Drive: first impressions, who owns what
However, that doesn't mean the search engine giant will frivolously use your photos and documents for promotional purposes. The simple truth is we don't know what Google might do with our data.
CNET senior editor Scott Stein suggests that we keep our online accounts separate from each other and be sure to back up files on an external hard drive that can be unplugged from your computer. Honan admitted his accounts were daisy-chained together - meaning, access to one, meant access to the others.
Where do we go from here?
Last month, Google unveiled Google Fiber, broadband Internet that is 100 times faster than what we currently have today. While it's still being testing in Kansas City, it is a big step forward. Faster Internet speed means larger files can be stored and downloaded from the cloud.
Google Fiber shows speeds 100 times faster than regular a cable Internet
Greenpeace claims Apple, Amazon guilty of dirty cloud computing
Can Apple change the energy industry? Greenpeace thinks so
The future of cloud computing is certainly exciting, but moving more of our lives online means we will inevitably have to consider privacy, security, ownership and even energy consumption.
For more information on how cloud computing works and how to protect your information, watch the CBSNews.com video: "Is your information safe on the cloud?"
Thanks for reading CBS NEWS.
Create your free account or log in
for more features.