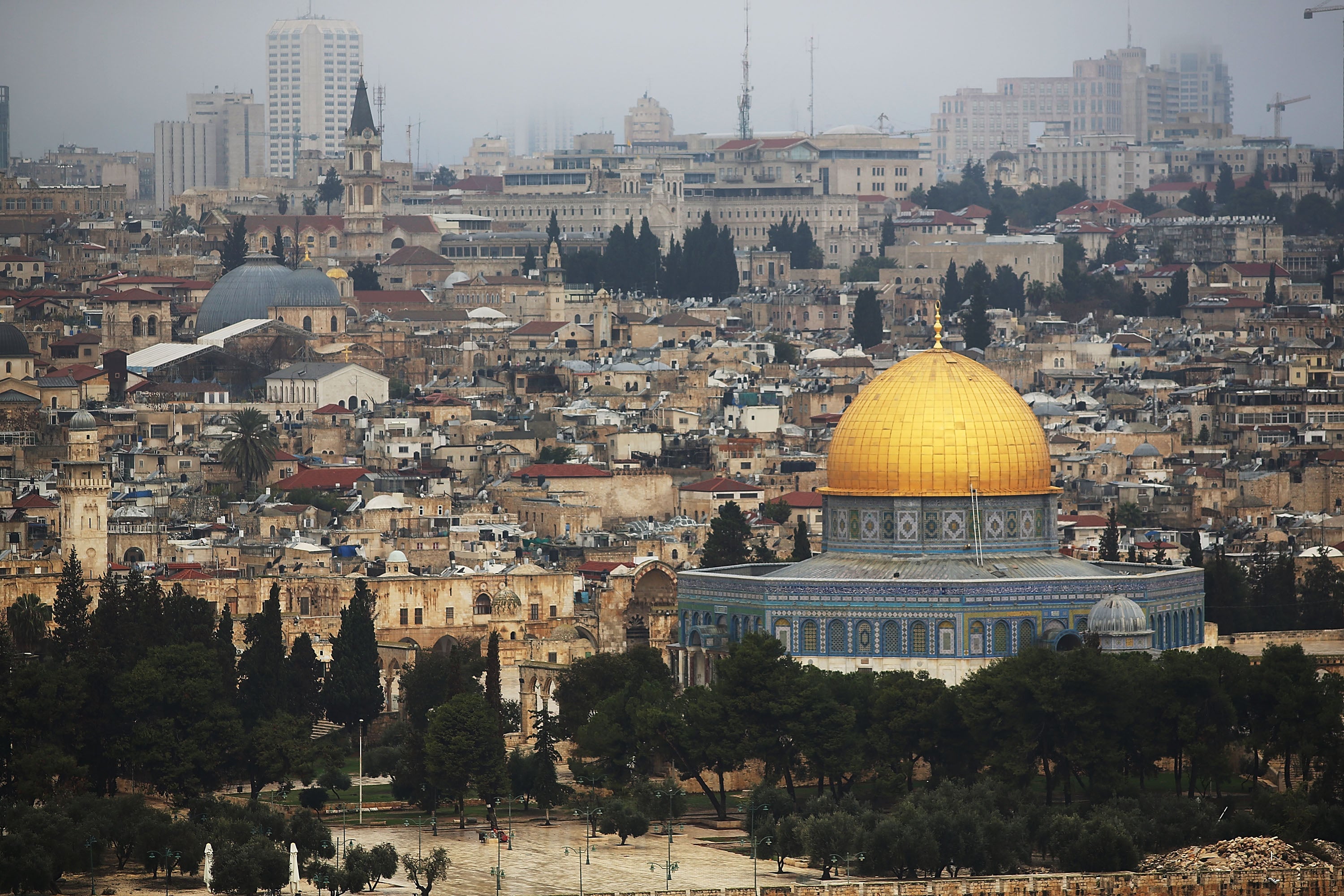 What could happen if Trump moves the U.S. embassy to Jerusalem?
Moving the U.S. embassy in Israel from Tel Aviv to Jerusalem may have been one of President-elect Donald Trump's campaign promises, but experts and Palestinian officials are warning of serious consequences if he follows through.
"We will move the American embassy to the eternal capital of the Jewish people, Jerusalem -- and we will send a clear signal that there is no daylight between America and our most reliable ally, the state of Israel," Mr. Trump said in a speech to the powerful Jewish lobbying group, the American Israel Public Affairs Committee (AIPAC) in March.
Last week, in an indication of Mr. Trump's seriousness, he announced that he would nominate bankruptcy lawyer David Friedman to serve as ambassador to Israel. Friedman, an Orthodox Jew, made clear in a statement that he looks forward to doing the job from "the U.S. embassy in Israel's eternal capital, Jerusalem."
Daniel Kurtzer, U.S. ambassador to Israel under President George W. Bush, called Friedman's nomination a "serious mistake" in an op-ed in The New York Times over the weekend.
"The consequences of acting upon Mr. Friedman's public suggestions are clearly dangerous. Moving the American Embassy to Jerusalem — not a pressing issue for most Israelis — will inspire riots across the Islamic world," Kurtzer wrote.
For nearly 70 years, the U.S. embassy has been based in Tel Aviv -- along with embassies of almost all other countries with relations to Israel -- because the U.S. has wanted Israeli-Palestinian peace negotiations to determine the final status of Jerusalem. The United Nations' original partition plan from 1947 on Palestine called for Jerusalem to be an international city. The U.S. government, as a result, does not officially recognize Jerusalem as Israel's capital.
Efforts to relocate the U.S. embassy from the coast of Tel Aviv to the holy city have surfaced periodically since at least the early 1980s. President Reagan and his secretary of state, George Shultz, were against the move, and Reagan even threatened to veto legislation pending in Congress that would have made the move a reality.
About a decade later, lawmakers passed the Jerusalem Embassy Act in 1995, proposed by Republican Senate Majority Leader Bob Dole. Signed into law by President Clinton, the measure authorized the U.S. to move the embassy to Jerusalem by 1999 with one caveat -- the president could indefinitely delay the move by signing a waiver, citing national security concerns.
While Clinton and President George W. Bush similarly pledged at different points to move the embassy, they both repeatedly signed the waiver to prevent the embassy's relocation throughout their presidencies because they said it would undermine the peace process. President Obama renewed the waiver in early December, and it is now set to expire next June.
The president-elect and his advisers, since the election, have made clear he's serious about moving the embassy. Speaking to radio show host Hugh Hewitt last week, Kellyanne Conway said that moving the embassy is a "very big priority for this president-elect."
Some experts, like Kurtzer, say reversing the policy followed by Democratic and Republican administrations could lead not only to political and diplomatic complications, but also to unrest and violence.
"It would be unwise and unnecessary to move the embassy," said Aaron David Miller, vice president for new initiatives at the Woodrow Wilson Center, who advised both Republican and Democratic secretaries of state on the Arab-Israeli peace process.
It's unclear how relocating the embassy would advance U.S. interests, Miller argued, and he suggested it would only make the situation worse.
"Even though the peace process is, I think, comatose and is unlikely to advance in the near term, why overload the circuits and potentially take a step that could permanently undermine the prospects of a two-state solution?" he said. "You're simply going to feed Iranian propaganda, you're going to feed Sunni-jihadi propaganda and most likely, you're going to trigger a fair amount of violence and even terror."
James Cunningham, U.S. ambassador to Israel under both Bush and Mr. Obama, agreed it would be the wrong decision because it would "generate a negative reaction in many corners of the region" and it would irritate stability right now.
"It wouldn't really produce very much substantive or concrete gain for Israel and it would complicate our relationship with the Arab world, but more importantly, it would also complicate Israel's relationship with the Arab world," he said. "Israel needs, and is indeed working with, the Arab world in lots of ways that are quiet, but important, and opening this would risk disturbing that."
The Palestine Liberation Organization's secretary-general, Saeb Erekat, warned Mr. Trump on Friday that moving the embassy before a final agreement on the status of Jerusalem "will be the destruction of the peace process."
"I look David Friedman and Trump in the eye and tell them -- if you were to take these steps of moving the embassy and annexing settlements in the West Bank, you are sending this region down the path of something that I call chaos, lawlessness and extremism," Erekat said, according to Agence France-Presse.
Robert Danin, who headed the Jerusalem mission of Quartet representative Tony Blair from 2008 to 2010, said moving the embassy could spark violence in parts of the Middle East and broader Muslim world. The Quartet on the Middle East is a group of four nations that's been involved in mediating the Israeli-Palestinian peace process.
"One would have to factor in, at least as a possibility, that there could be violence, unrest, less so among Palestinians themselves, than in places like Pakistan or Afghanistan or other areas where this issue can be mobilized for other purposes," he said.
However, there are ways the Trump administration could execute the move, Danin believes, that could make the difference between a successful strategy and a self-inflicted diplomatic blunder. He said U.S. officials might couch it as not recognizing Israeli sovereignty over the Old City of Jerusalem and not prejudging the final outcome of Jerusalem's status. He also suggested that trying to bring Arab states into the discussion could help mitigate some of the fallout.
"That's where how it is announced and how it is executed can make a big difference," he said.
Robert Satloff, executive director of The Washington Institute for Near East Policy, said he'd be surprised if the Trump administration coupled the move with formally changing U.S. policy.
"With sensitivity and diplomacy, these items can be de-linked -- the real estate move and the much broader endorsement of Israeli control over the expanded municipal boundaries of the city," he said. "There's no necessary reason that the first step requires or necessitates the second step."
Douglas Feith, who helped devise U.S. policies on the war on terror and Iraq and Afghanistan as Bush's under secretary of defense for policy, wrote an op-ed published by The New York Times in 1995 arguing that moving the embassy would promote peace. Now, more than 20 years later, Feith said he's still in favor of making the move.
He said that the U.S. should stand up to efforts by Palestinians or the U.N. that aim to delegitimize Israel's right to exist.
"Answering that, and saying, 'Hey, look, we're putting this thing to rest, and the U.S. recognizes Jerusalem as Israel's capital, recognizes the legitimacy of Israel and rejects the delegitimization arguments,' I think that's a very healthy thing to do if you really want to encourage peace," he told CBS News.
Feith said he doubts relocating the embassy would trigger a spate of violence because he said it wouldn't be much different than the way the U.S. already treats Israel since he said U.S. government officials hold official meetings with their Israeli counterparts in West Jerusalem "all the time."
"As far as the Arab world going up in flames because we do this -- it shouldn't," he said, "Because it does not, in fact, represent a significant departure. It's not like the United States has actually been fighting the Israeli presence in Jerusalem all these years and now, all of a sudden, we're reversing it. All we're doing is we're putting a label on it."
While past campaign pledges were broken, experts are concerned Mr. Trump will choose not to renew the waiver under the 1995 law and it will finally be implemented. Aides to the Trump transition team have already been scouting out the property to where the embassy would be moved, according to reports.
"I don't think this is just rhetoric," said Danin. "I think this is much more serious now."
Thanks for reading CBS NEWS.
Create your free account or log in
for more features.