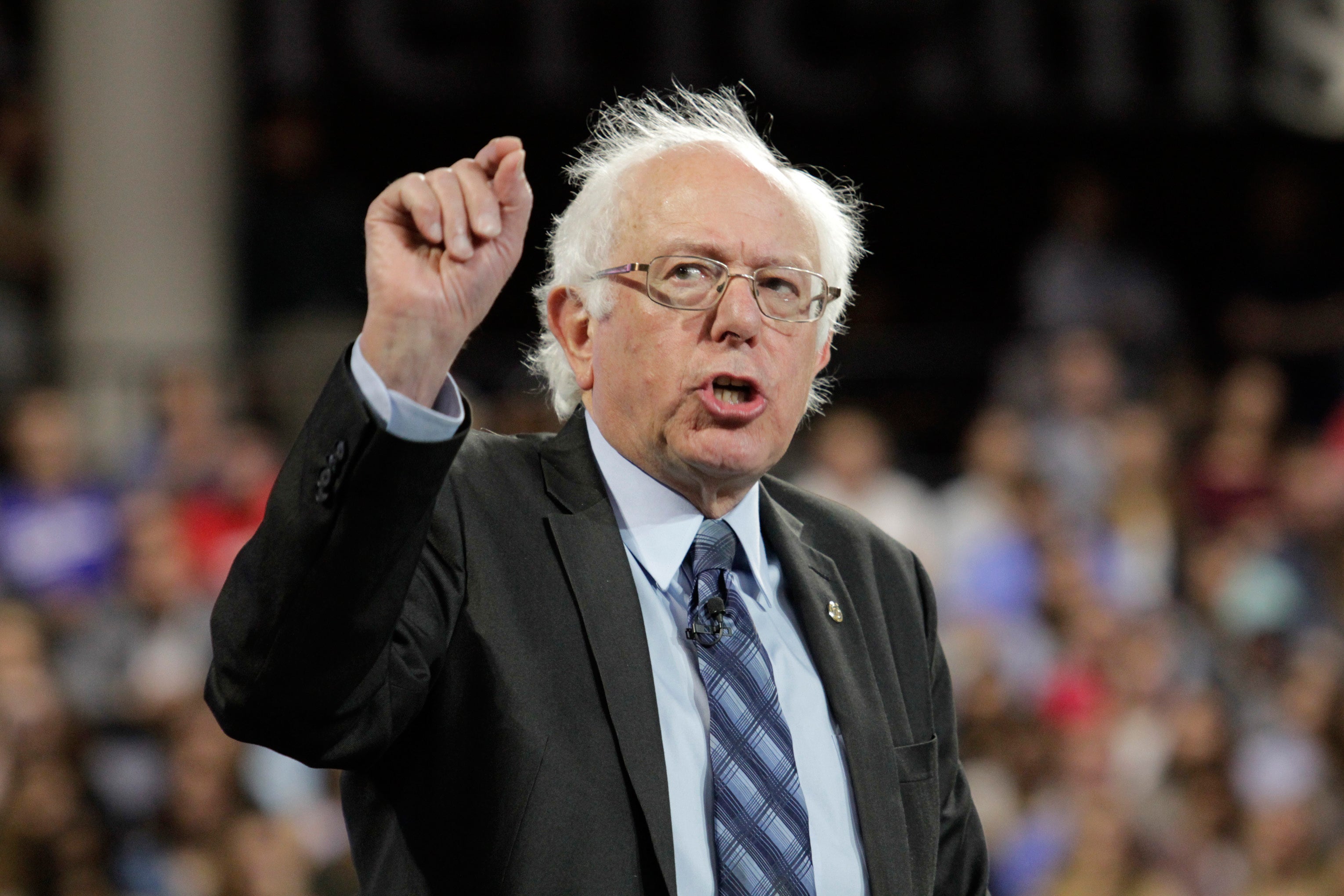 Bernie Sanders' message for conservative students at Liberty University
LYNCHBURG, Virginia-- Bernie Sanders brought his message of political revolution to the unlikeliest of places Monday: a gathering of more than ten thousand students at the Christian, conservative Liberty University.
He was characteristically blunt, acknowledging up front the differences in their worldviews.
"I understand that the issues of abortion and gay marriage are issues that you feel very strongly about. We disagree on those issues. I get that," he said, shortly after he began his remarks. "Let me respectfully suggest there are other issues out there that are of enormous consequence to our country and in fact to the entire world that maybe, just maybe, we do not disagree on."
Sanders, who normally winds through a wide range of his policy positions on the stump, borrowed heavily from the speech he often gives at rallies of this size but gave it a new focus, a pointed assessment of his view of the "injustice" permeating American society today.
"There is no justice," he said, using a phrase he repeated often throughout the 30-minute speech, "when the top one-tenth of one percent own almost as much wealth as the bottom 90 percent. There is no justice when all over this country people are working longer hours for lower wages, while 58 percent of all new income goes to the top one percent."
Quoting scripture twice, and recognizing the valuable role of religion in education at Liberty, Sanders made a strong appeal to the student body's sense of morality. The crowd responded with polite applause at times, mostly originating from a small section of non-student supporters attending. Many students sitting in the upper rows of the arena didn't applaud at all.
Kevin Betsch, a sophomore studying biology at Liberty, said he "appreciated" Sanders visiting and "sharing his views" but that he won't support him in the election. Betsch said he prefers the views of Ben Carson, a retired neurosurgeon gaining traction lately in the polls.
"We're trying to uphold Christian values," Betsch said of his classmates. "I'd say the majority did not agree with him on everything but I think we did a good part of representing Liberty, of respecting people we don't necessarily agree with."
Sanders is the first Democratic presidential candidate to speak at Liberty University this cycle, where students are required to gather three times weekly for convocation. The university prides itself on presenting students with a wide range of points of view when they convene every week, and every presidential candidate has been invited to address the students. Texas Sen. Ted Cruz launched his presidential campaign here in March, and Carson and Wisconsin Gov. Scott Walker are both set to appear here later this semester.
A group of Liberty alumni arrived hours ahead of Sanders' appearance to secure front-row seats in the arena. Alexis Misra, 23, a nurse in Blacksburg who received an undergraduate degree from Liberty in 2011 and will start to earn her graduate degree through the school's online programs in October, proudly displayed a "Feel the Bern" button.
"I was blown away," she said, of hearing that Sanders was scheduled to speak. "I think Liberty is trying to take their school in a new [direction]. I think they're trying to extend an olive branch of tolerance, and I think this a really big step for them."
Misra and other alumni remembered feeling like they lived in a conservative "bubble" on campus at Liberty, where students were not encouraged to consider a wide range of viewpoints.
"The environment on campus and overall is still very right wing, conservative," said Sarah Payne, 26, a mental health professional in Lynchburg who graduated from Liberty in 2011. "It would still be very unusual to be on campus and be identifying as a liberal or a Democrat."
Bethany Walker, 31, a grant writer who lives in Lynchburg, said she believes that Sanders' values can resonate with evangelical Christians who are willing to look beyond "hot-button" social issues, which are often emphasized on campus as the issues students should vote on.
The importance of the issue of abortion, for example, was made clear Monday when the crowd erupted into raucous applause as David Nasser, the senior vice president for spiritual development at Liberty who engaged Sanders in a question and answer session following his speech, asked Sanders to explain his stance on abortion.
"My view is I respect absolutely a family that says no we are not going to have an abortion," Sanders said, recognizing that "this is an area" where his view would not match his audience's. "I would hope that other people respect the very painful and difficult choice that many women feel they have to make and don't want the government telling them what they have to do."
Sanders went on to blame Republicans for cutting healthcare benefits for children and families. It was one of the only times he went after his Republican counterparts in his speech. Sanders earlier reprised a line he uses often about "family values" when speaking in part about the need for paid family leave. What he left out at Liberty was his attack on Republicans for asserting that women "should not be able to control their own bodies," as he said at a town meeting in Grinnell, Iowa last week.
Walker said Sanders' views on social justice, which he emphasized Monday, are more important among faithful voters.
"Bernie's policies are not incongruent with Christianity," she said. "The challenge is for Christians who strongly identify conservatism with Christianity."
Monday's convocation closed with a prayer, led by Nasser on stage. Sanders, eyes closed, bowed his head.
Thanks for reading CBS NEWS.
Create your free account or log in
for more features.