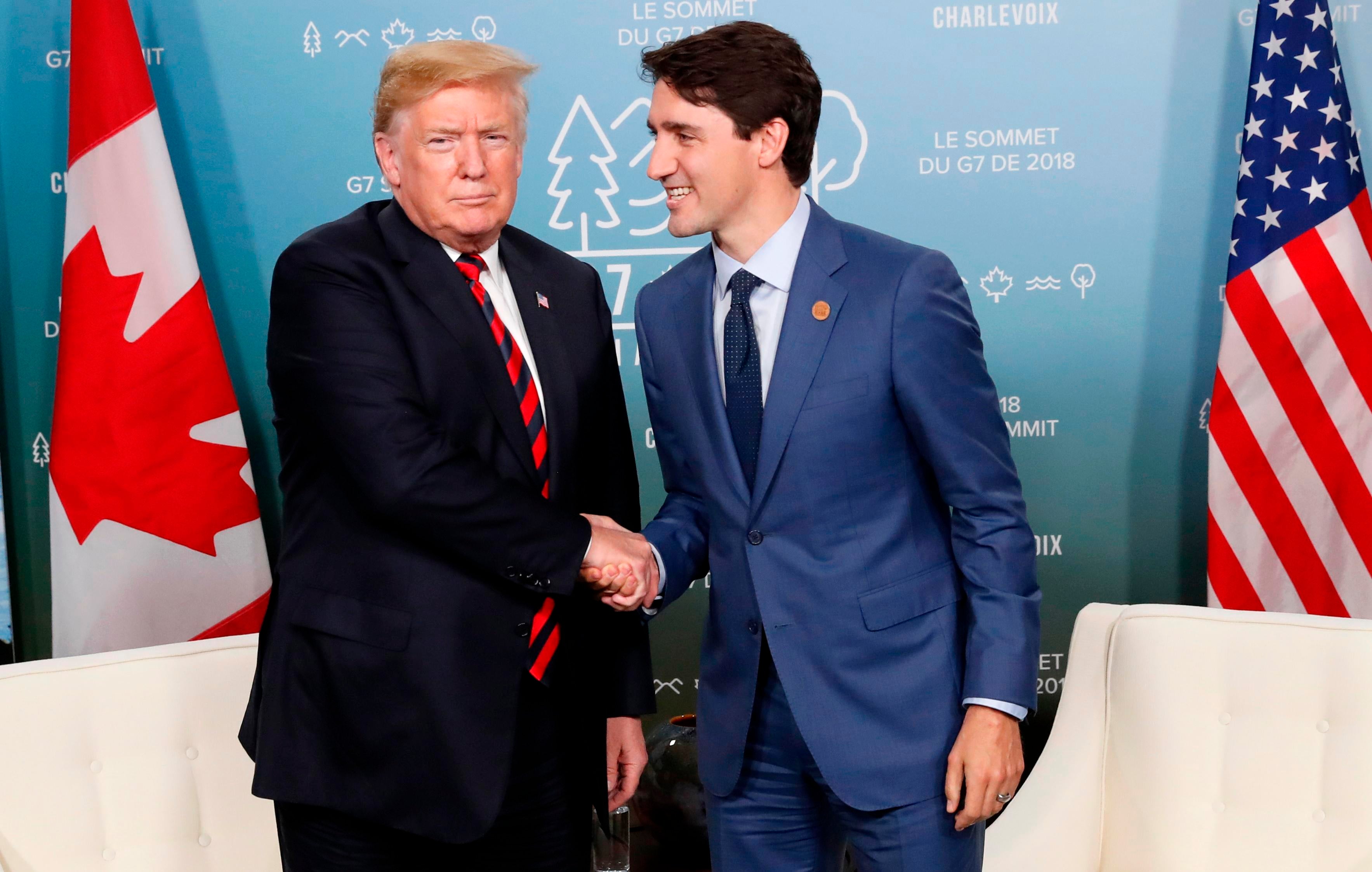 White House adviser Peter Navarro: There's a "special place in hell" for leaders like Trudeau
Bashing the leader of one of America's venerable allies, the White House escalated its trade tirade and leveled more withering and unprecedented criticism Sunday against Canada's prime minister, branding Justin Trudeau a back-stabber unworthy of President Trump's time.
"There's a special place in hell for any foreign leader that engages in bad faith diplomacy with President Donald J. Trump and then tries to stab him in the back on the way out the door," Trump trade adviser Peter Navarro said in an interview with "Fox News Sunday."
Navarro added that Trudeau's move was "one of the worst political miscalculations of a Canadian leader in modern Canadian history."
Canada's foreign minister, Chrystia Freeland, said her country "does not conduct its diplomacy through ad hominem attacks."
The verbal volleys by Navarro and Mr. Trump's top economic adviser, Larry Kudlow, picked up where Mr. Trump left off Saturday evening with a series of tweets from Air Force One en route to Singapore for his nuclear summit Tuesday with North Korea's Kim Jong Un. Kudlow suggested on "Face the Nation" that Mr. Trump saw Trudeau as trying to weaken his hand before that meeting, saying the president won't "allow the people to suddenly take pot shots at him."
Just as the Trudeau-hosted G7 meeting of the world's leading industrialized nations had seemed to weather Mr. Trump's threats of a trade war, the president backed out of the group's joint statement that Trudeau said all the leaders had come together to sign. Mr. Trump called Trudeau "dishonest & weak" after Trudeau said at a news conference that Canada would retaliate for new U.S. tariffs.
Trudeau didn't respond to questions about Mr. Trump when the prime minister arrived at a Quebec City hotel Sunday for meetings with other world leaders, though Freeland later told reporters that "we don't think that's a useful or productive way to do business."
A Trudeau spokesman, Cameron Ahmad, said Saturday night that Trudeau "said nothing he hasn't said before -- both in public and in private conversations" with Mr. Trump.
And Roland Paris, a former foreign policy adviser to Trudeau, jabbed Mr. Trump on Twitter: "Big tough guy once he's back on his airplane. Can't do it in person. ... He's a pathetic little man-child."
Trudeau said he had reiterated to Mr. Trump, who left the G7 meeting before it ended, that tariffs would harm industries and workers on both sides of the U.S.-Canada border. Trudeau told reporters that imposing retaliatory measures "is not something I relish doing" but that he wouldn't hesitate to do so because "I will always protect Canadian workers and Canadian interests."
Navarro, the Trump trade adviser, said his harsh assessment of what "bad faith" Trudeau did with "that stunt press conference" on Saturday "comes right from Air Force One." Navarro later clarified that his comments were "the sentiment that was on Air Force One after that."
He told "Fox News Sunday" Mr. Trump "did the courtesy to Justin Trudeau to travel up to Quebec for that summit. He had other things, bigger things, on his plate in Singapore. ... He did him a favor and he was even willing to sign that socialist communique. And what did Trudeau do as soon as the plane took off from Canadian airspace? Trudeau stuck our president in the back. That will not stand."
Meanwhile, Kudlow, speaking the "Face the Nation" on Sunday, said that Trudeau "should've known better."
"To be honest with you, Prime Minister Trudeau, I respect. I've worked with him in good faith getting through a good communique on Friday and Saturday. So he holds a press conference -- the president is barely out of there on the plane to North Korea, and he starts insulting us, he starts talking about the U.S. is insulting Canada," Kudlow said.
"In general, it was an attack on the president," he claimed.
But the criticism left a former Canadian prime minister, Stephen Harper, stumped. "I don't understand the obsession with trade relations with Canada," he said on "Fox News Sunday," given that Canada is the biggest single buyer of American goods and services in the world. From promoting democracy and to fighting terrorism, "we're on the same page. We're the closest partners in the world and you don't want to see a dispute over one particular issue poison everything."
Trudeau had said Canadians "are polite, we're reasonable, but also we will not be pushed around." He described all seven leaders coming together to sign the joint declaration despite having "some strong, firm conversations on trade, and specifically on American tariffs."
In the air by then, Mr. Trump tweeted: "Based on Justin's false statements at his news conference, and the fact that Canada is charging massive Tariffs to our U.S. farmers, workers and companies, I have instructed our U.S. Reps not to endorse the Communique as we look at Tariffs on automobiles flooding the U.S. Market!"
Before leaving for Singapore, Mr. Trump had delivered a stark warning to America's trading partners not to counter his decision to impose tariffs on steel and aluminum imports. The G7 also includes Britain, Italy, France, Germany and Japan.
"If they retaliate, they're making a mistake," Mr. Trump said.
Mr. Trump insisted relationships with allies were a "10" just before he left the summit.
Thanks for reading CBS NEWS.
Create your free account or log in
for more features.