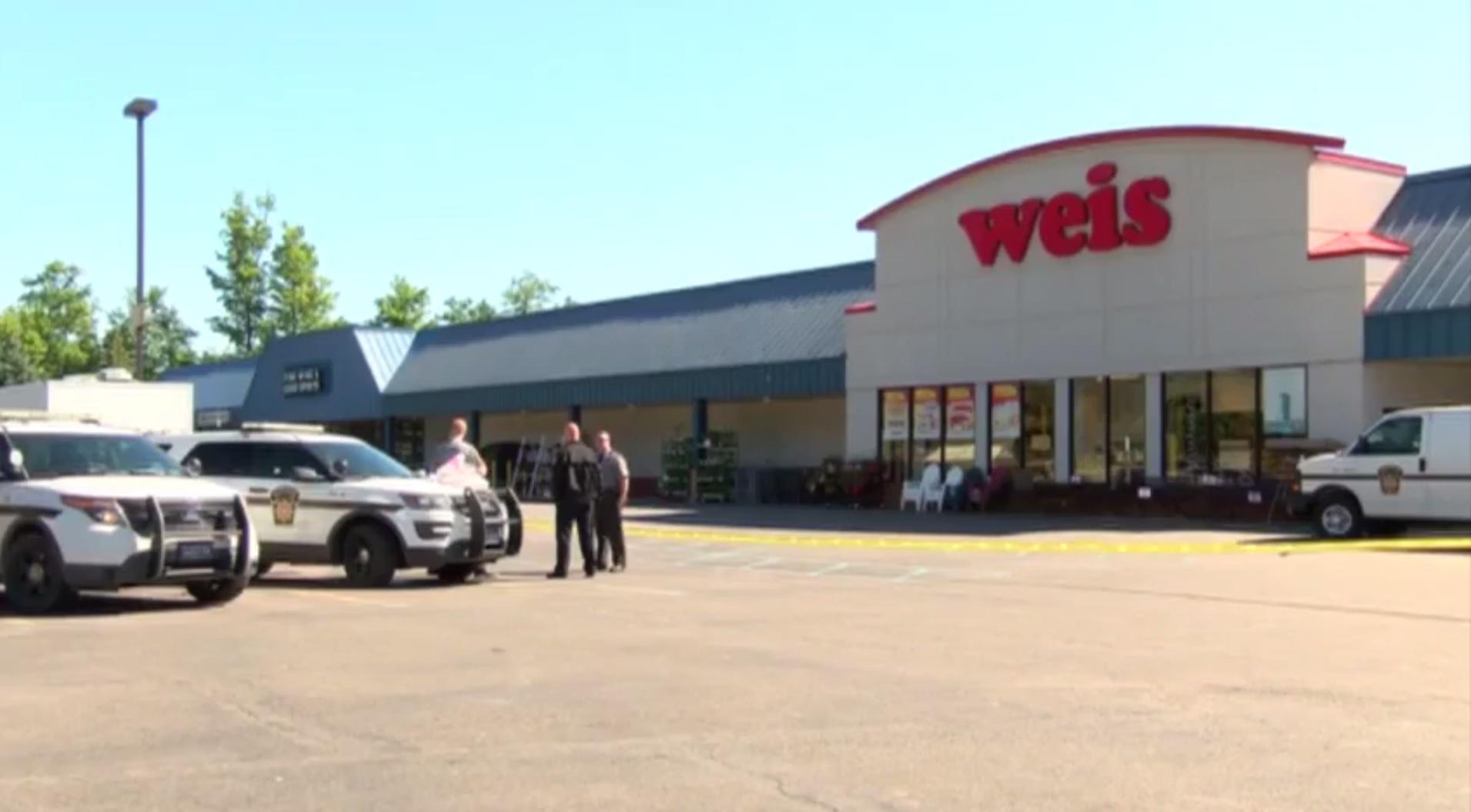 Survivor of grocery store killing spree saw killer but he spared her, according to search warrant
TUNKHANNOCK, Pa. -- The sole survivor of a shooting by a Pennsylvania grocery store employee who killed three co-workers and then himself told authorities the shooter locked eyes with her but decided to spare her life for some reason.
Police said 24-year-old Randy Stair brought two pistol-grip shotguns to work at the Weis Market in rural Tunkhannock, about 150 miles northwest of New York City, and blocked store exits before he began shooting shortly before 1 a.m. Thursday.
A search warrant obtained for Stair's Dallas-area residence was made public Friday and included an account from the fourth co-worker. She said she was wearing headphones while she labeled products but heard shots and saw Stair shoot one of the victims, then turn and look at her. But she said rather than shooting her, he walked away and went down the next aisle. She hid and eventually managed to escape from the store and call 911. Then she heard more shots.
Stair was dead before police arrived at the supermarket, but he left behind online videos and writings in which he praised the 1999 Columbine High School shooters, among other things. Court documents indicate that a search of his home turned up seven boxes of 12-gauge shotgun ammunition, shooting goggles, ear protectors, a shotgun buttstock and an owner's manual. State police also took two notebooks, his drawings and cartoons, external hard drives, a flash drive, a computer and a camera. Recordable discs labeled "Good Bye," ''Interview Spring 2014" and "EGS Intro," as well as five unmarked discs and one marked with illegible writing also were placed into evidence.
In a video message to his parents, he said he thought about death for years and never imagined he would live past his 20s.
Looking into the camera, wearing a black beanie and black T-shirt, he talked about his obsession with a Nickelodeon cartoon character named "Ember" and said that in 2013 he started cross-dressing, "which is something you never knew I did."
He said he would dress as a woman on Wednesday nights, when his parents went bowling, and secretly wanted a sex change operation.
"I was just a female soul trapped in a man's body my whole life," he said.
Stair expressed a similar sentiment in a journal entry dated Monday, adding that he was ready to die, CBS Scranton affiliate WYOU-TV reports.
"The girl in me is clawing to get out," he wrote. "62 more hours."
He killed Terry Sterling, 63, of South Montrose; Victoria Brong, 26, of Factoryville; and Brian Hayes, 47, of Springville.
An actress who voiced a cartoon character Stair created said he sent her an email less than an hour before the killings thanking her for her work and telling her that by the time she read the email he would be dead. Laura Faverty told WILK radio in an interview posted Friday that message from the man she knew by the pseudonym Andrew Blaze started like a suicide note but got darker as he outlined "the true purpose" of his videos, the last of which was a 42-minute animated film depicting a massacre at a high school.
A prosecutor called Stair's actions a mental health situation that "utterly spiraled out of control." His family on Friday released a brief emailed statement expressing sorrow for his actions.
"Our thoughts and prayers are with the victims and their families," said his mother, Lori Ann Stair. "We are so sorry for all the pain and loss of life this has caused everyone involved."
Prosecutors say their investigation is just beginning and it could take a long time, according to WYOU-TV.
Thanks for reading CBS NEWS.
Create your free account or log in
for more features.