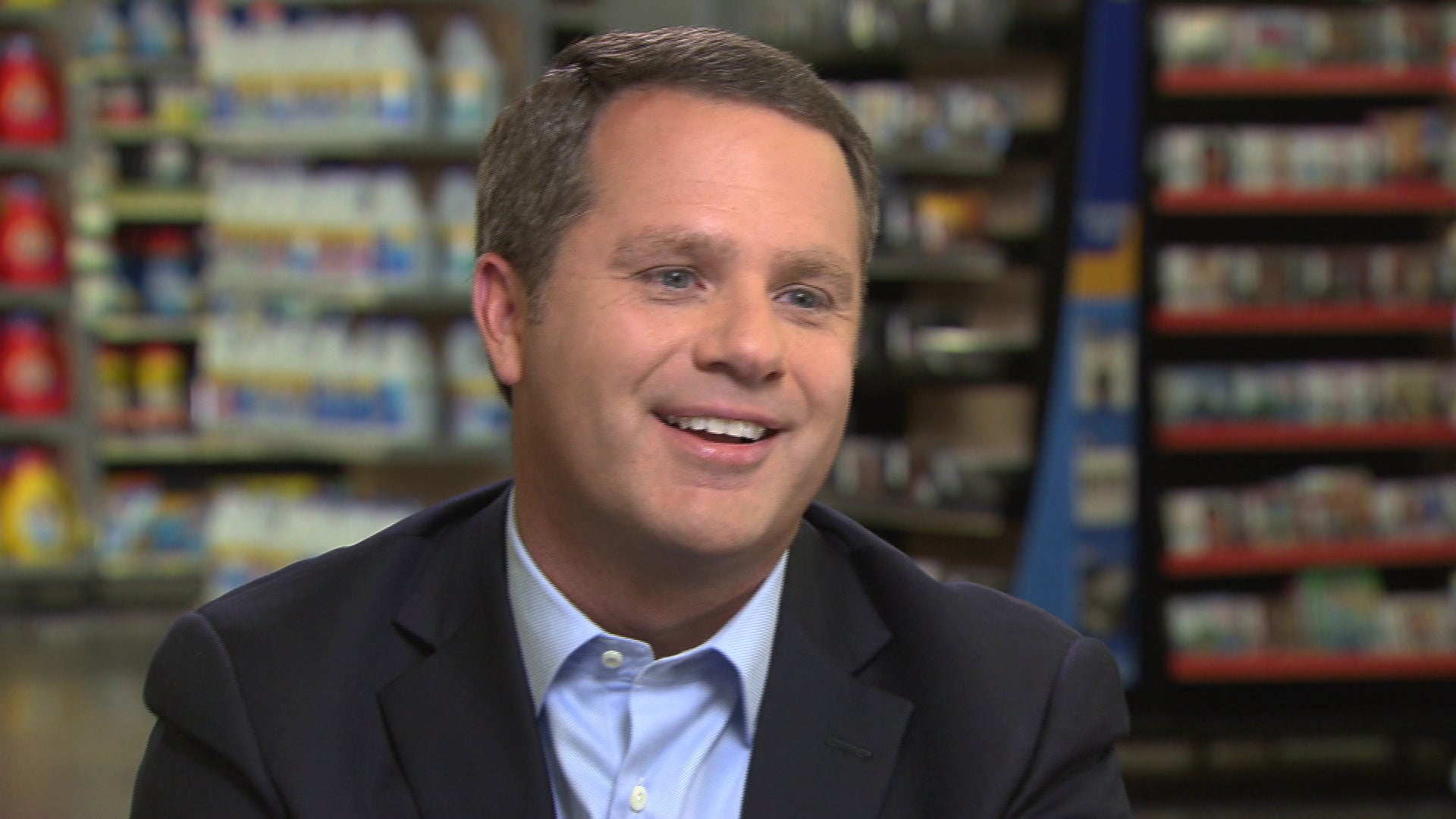 Walmart CEO Doug McMillon staying on top of competition
Walmart, the world's biggest retailer, has topped the Fortune 500 list two years in a row. This holiday season, it is trying to prove it can stay number one.
The company has faced flat sales in America and a declining number of shoppers, and now it's looking to a new leader to turn things around, reports "CBS This Morning" co-host Charlie Rose.
If the slogan "Save money, live better" is Walmart's rallying cry, CEO Doug McMillon is leading the charge. The retail giant's chief is primed for battle, noting competition across the board -- from other brick and mortar stores to e-commerce sites. Part of staying ahead involves checking up on his franchises.
"We do our best to go to stores unannounced. You know, we want to see what a store really looks like," McMillon said. "If they know we're coming, sometimes, believe it or not, they'll clean the place up a little bit."
McMillon took over the Arkansas-based business in February. At 48 years old, he is Walmart's youngest CEO since Sam Walton founded the company in 1962. But McMillon's rise has been years in the making.
"I first started working for the company 30 years ago. I was looking for summer work to help save some money for college," he said. "I was surprised how much people loved their job and how much they cared about the company," he said.
But love of the company could only get the Arkansas boy so far.
The retail industry is undergoing a technology transformation and Walmart is playing catch up, scrambling to figure out the winning combination of brick-and-mortar stores and virtual ones.
He said the key to winning customers today is having a combination of both.
"I think that's what the customer wants and therefore, yes. And it's the integration of how you put it all together that results in lowest prices, broadest assortment and customer service that is above their expectations," McMillon said. "That's the winning formula. And it's always been the winning formula."
Walmart is pouring nearly $2 billion into e-commerce -- an investment that's being managed, not in Arkansas, but in Silicon Valley. There, analysts study online activity by the minute.
Some see this as Walmart taking a page from a competitor's playbook -- namely, Amazon CEO Jeff Bezos.
It's said Walmart's bosses see Amazon as the most competitive force at play, and McMillon has apparently given every executive in his company a copy of Bezos' biography.
"We believe in learning from other people. And what Amazon's doing and what Jeff's doing is showing us and showing the world, I think, what's possible. And I admire that," he said. "[They're] very customer focused, moving with speed, just putting ideas at work that are directly beneficial to customers."
The irony is that, in starting his company, Bezos studied Walmart founder Sam Walton.
"Yeah, we're trying to learn from Sam Walton, learn from competition, and on a global basis be able to be the very best as we try to bring it all together," McMillon said.
A key part of McMillon's plan is happy associates. But for years, Walmart's been criticized for its treatment of its lowest paid workers. Out of 1.3 million U.S. employees, around 6,000 make minimum wage.
McMillon said he's going to fix that.
"We're gonna make some changes in a few months that will create a situation where no Walmart associate in the United States makes federal minimum wage. We'll be ahead of that with our starting wage," he said.
He said he believes there is a difference between the perception of Walmart and the reality of Walmart.
"In the world there is a debate over inequity, and sometimes we get caught up in that and retail does in general. But we couldn't run a good business if we don't take care of people and have compensation plans that work," McMillon said.
But for him, the ultimate proof of change will come in Walmart's performance.
One example of how the retail industry is changing -- over Thanksgiving weekend, 70 percent of Walmart's online purchases were made from shoppers' mobile devices. Doug McMillon said that even surprised him.
Thanks for reading CBS NEWS.
Create your free account or log in
for more features.