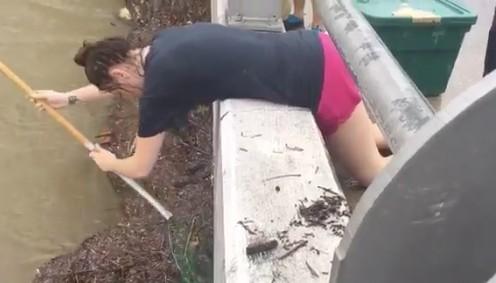 Volunteers try to save colony of 250,000 bats from Houston floods
As Houston residents walks across the Waugh Bridge in the wake of Hurricane Harvey they were met with a startling sight — hundreds of dead and struggling bats floating in the water below.
The bridge, a popular tourist destination in the city, is known for the estimated 250,000 Mexican free-tailed bats that live underneath it.
"People gather every night at sunset, that's when they all fly out," Houston resident KirstiAnn Clifford told CBS News. "It's kind of a landmark in Houston."
There's a bat viewing platform and several signs that explain the advantages of the small, furry, flying creatures, which can consume almost two and a half tons of insects each night, according to the Houston Parks and Recreation Department.
Mexican free tails can live for up to 20 years, Michelle Camara, owner of Southern Wildlife Rehab and director of Bat World Alamo, told CBS News.
"They're eating 1,000 bugs an hour, 6,000 bugs a night. That's a lot of bugs," she added. "Take away those bats, you're going to be in big trouble."
There's a higher risk of disease from insects such as mosquitoes if bats aren't around to control the population.
"Because of the fact that Houston's flooding so much, they'll really need those bats afterwards. They already have a mosquito problem as it is with standing water," Camara said. "Without the bats we'd have a lot more issues with diseases."
As the floodwaters rose, thousands of bats were left trapped underneath the bridge.
"The water was rising and you could hear them make high-pitched noises," Clifford said. "There was nowhere for them to go. Some of them were trying to swim away. It was actually pretty heartbreaking."
Bats can tread water, but they can't swim, Camara explained.
"Once they're wet it's really difficult," Camara said. "If they can climb onto something and dry out then they have a chance, but they still run the risk of pneumonia."
Equipped with nothing but umbrellas, tennis rackets and broken tree branches, several people gathered along the bridge Sunday to help rescue the drowning bats. They leaned over the side, offering bats something to grab onto.
Travis Street was walking across the bridge with his girlfriend when he saw about half a dozen people helping with the rescue.
"A lot of the bats were floating away dead or trying to swim," Street told CBS News. "They would grab whatever they could."
Eventually, more volunteers joined the effort, bringing gloves, nets and plastic containers to help transport the bats once they were brought to dry land.
"They have to be completely dry before they fly off," Street said. "Obviously, they were soaking wet."
Clifford says people were reaching into crevices to help pull the bats out.
You don't have to be a wildlife professional to handle bats, Camara said, but you should be aware of the risks and take the proper precautions. The CDC warns that bats can transmit a number of diseases, including rabies, if a person is bitten.
"Use gloves or a blanket to put over the bat and get them to crawl someplace high [so] they can take off," Camara said. "Make sure you don't have direct contact and use bleach afterward."
Camara, who has rehabilitating wildlife for more than 30 years, said it has been incredible to see people in Houston coming together to help.
Clifford and Street have to agree.
"It's sad to see the wildlife that's being hurt, too. It's not just people that are getting displaced," Clifford said. "I think it's cool people are really trying to help in any way they can."
"That's the way good people are, that's the way people should be," Street said.
On Tuesday, Camra said Bat World sent a rescue team to Houston to help rehabilitate the mammals. They will release them back into the area once they're healthy.
"I find them adorable. I absolutely love bats — they're so intelligent," Camara said. "They appreciate what you do for them."
Thanks for reading CBS NEWS.
Create your free account or log in
for more features.