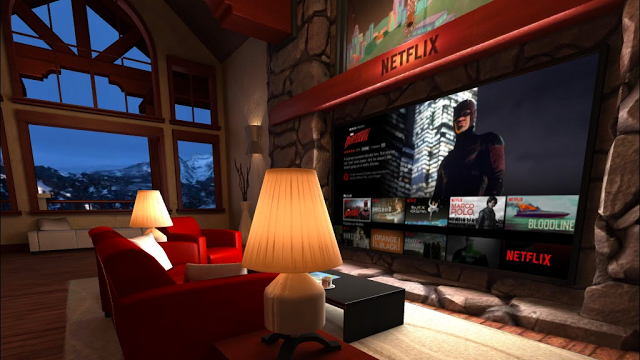 Virtual reality comes to Netflix, Hulu
Virtual reality is taking a few steps closer to the mainstream with Samsung unveiling a headset that brings the technology to its latest smartphones at half the price of its previous model, Facebook launching support for 360-degree video, and online video services like Netflix and Hulu jumping into the format.
The announcements at a developers conference in Los Angeles for virtual reality technology company Oculus represent attempts to push the platform beyond a video-gamer-focused niche.
Facebook Inc. CEO Mark Zuckerberg, who cut a deal to buy Oculus for $2 billion last year, told some 1,500 conference attendees Thursday that virtual reality is "the next logical step" in online sharing after text, photos and video.
"In just a few years, VR has gone from being this science fiction dream to an awesome reality," he said. "And now we all here have a chance to change the way we play, communicate and collaborate."
Launching first on desktops and Android phones, the capability allows people to view 360-degree videos, using the mouse to drag the moving image up, down, right and left, to look around in any direction as the video is playing. Apple's iOS devices will get the capability at a later date.
Zuckerberg showed off a promo for the upcoming "Star Wars" movie showing a speeding vehicle zooming over the desert landscape of fictional planet Jakku. The company also rolled out exclusive videos from Discovery, GoPro, LeBron James, Saturday Night Live, and VICE.
Starting in November, that content will be viewable on Oculus headsets, the company said.
Samsung said its new consumer-friendlier virtual reality headset will be 22 percent lighter and cost $99, half the price of its previous model. The Gear VR, which requires users to insert the latest version of a Samsung smartphone -- such as the Galaxy S6 -- into the headset, will ship in November.
It will support Facebook's 360 video, as well as new apps from Netflix and Hulu.
Both streaming services have created virtual reality interfaces that put viewers into simulated living room environments, which Netflix engineering vice president Anthony Park described in a blog post as "allowing members to get the Netflix experience from the comfort of a virtual couch, wherever they bring their Gear VR headset."
Hulu will offer "experience" options such as a classic movie theater or the blue couch in Jerry's living room on "Seinfeld." Netflix's "void theater," makes everything black except the video screen, cutting down on both distraction and battery drain.
As of Thursday, Netflix content is available to be viewed in Oculus or Samsung headsets, while Hulu said it would bring its app to the Oculus platform this fall. A Hulu launch date wasn't announced.
The Netflix and Hulu apps will let viewers stream TV shows, movies and original content. Hulu will also release an original virtual reality short film called "The Big One," from YouTube star Freddie Wong's RocketJump production company. Twitch users will also be able to stream live video game play through the headsets.
Meanwhile, Oculus said it would begin a certification program so consumers can look for a sticker that will identify which computers support its Oculus Rift headset, which is due to come out early next year. Asus, Dell and Alienware will have certified models that cost less than $1,000.
Thanks for reading CBS NEWS.
Create your free account or log in
for more features.