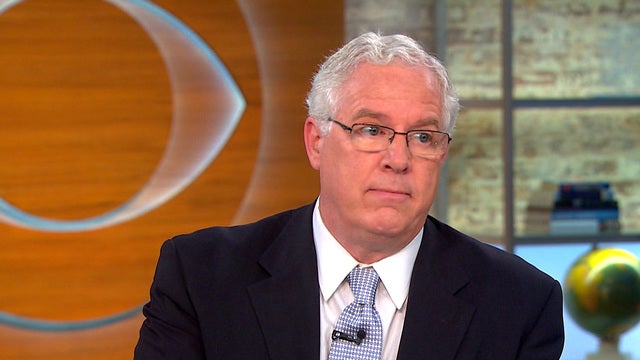 NYPD official: Virginia gunman was "classic injustice collector"
New York City's Deputy Police Commissioner for Intelligence and Counterterrorism John Miller called the shooter who killed journalists Alison Parker and Adam Ward on live TV a "classic injustice collector."
"What was his injustice? He viewed himself as a guy who should be here on network television news and unfortunately he found the most terrible way to get there, and to be that lead story, and to be on it," Miller said Thursday on "CBS This Morning."
Miller defined "classic injustice collectors" as people who feel they aren't finding success and blame others whom they believe stood in their way.
He also said what's most troubling is the case, to him, is "really out of the textbook."
"He exhibited all the classic behaviors, the pathway behaviors, which is all the preparation he went though to do this," Miller said. "He didn't throw this together the day before yesterday. He bought that camera, he practiced with it, he obtained the guns and so on -- the following and stalking behavior, the identification of selective victims."
Two of the three victims, 24-year-old Parker, and 27-year-old Ward, died at the scene. The third victim, local Chamber of Commerce executive Vicki Gardner, was badly wounded and is recovering in the hospital.
The gunman, 41-year-old, Vester Lee Flanagan II shot himself and later died in the hospital, but not before posting his recordings of the shooting on social media.
"Since the Virginia Tech shooting, the FBI profilers -- when that gunman sent the video tape and it was broadcast on a network TV broadcast -- they said the next step is not to make a manifesto on video, the next step is to record the thing live while you're doing it and to distribute that. And they've been worried about that for a long time, and here it is," Miller said.
Miller compared this case to that of a former LAPD officer, accused of going on a killing spree resulting in the deaths of four people, who posted a manifesto on Facebook threatening colleagues whom he blamed for ending his career.
According to ABC News, a man claiming to be Bryce Williams, Flanagan's on-air name, called the network saying he wanted to pitch a story and wanted to fax information. The network says it received a 23-page fax Wednesday morning.
"This final act of leaving behind these long treatises about what everybody did and listing every tiny slight, that is the classic injustice collector," Miller said.
CBS News' Jeff Pegues reported that law enforcement sources say Flanagan legally purchased two Glock pistols from a Roanoke gun store on July 10.
Miller said unless a person is mentally adjudicated incompetent by a court, neither irregular behavior, nor hostility nor a record of multiple firings would be reported by the National Instant Criminal Background Check System (NICS).
"And you see with a lot of these people that they planned and executed their attack with such rational planning that they're able to mask the signs of mental illness that others see," Miller said.
Thanks for reading CBS NEWS.
Create your free account or log in
for more features.