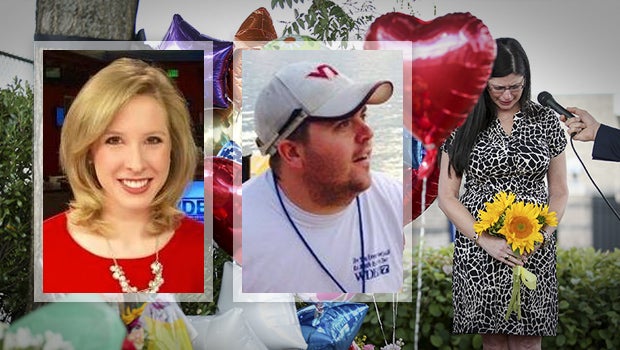 TV news employees killed during live report are remembered by colleagues
MONETA, Va. - Two television news employees who were shot to death on air during a live broadcast Wednesday are being remembered by their colleagues as "special people" who could "brighten up a room."
Jeffrey A. Marks, general manager of CBS Roanoke affiliate WDBJ-TV, identified the two killed as Alison Parker, 24, an on-air reporter for the station, and Adam Ward, 27, one of the station's cameramen.
The suspect in the shooting has been identified as Vester Lee Flanagan II, a former employee of the station that appeared on air as Bryce Williams. Virginia State Police say Flanagan died Wednesday afternoon after shooting himself on Interstate 6 in Faquier County.
Parker and Ward were fatally shot at around 6:45 a.m. Wednesday during a live on-camera interview about tourism on Bridgewater Plaza in Franklin County, looking at the upcoming 50th anniversary festivities for Smith Mountain Lake.
Following the shooting, several of Parker and Ward's colleagues took to Twitter to mourn the pair.
Chris Hurst, an evening anchor for WDBJ, tweeted that he and Parker were in a relationship and had just moved in together.
"We were together almost nine months. It was the best nine months of our lives. We wanted to get married," Hurst said in a tweet.
He continued, "She was the most radiant woman I ever met. And for some reason she loved me back. She loved her family, her parents and her brother."
Hurst was supposed to be anchoring the news tonight. Instead, he was mourning the loss of his colleague and girlfriend.
"Alison was a marvelous story teller with so much promise ahead of her," he said.
Brent Watts, chief meteorologist at the station, tweeted, "So saddened by our loss today @WDBJ. Life is so precious, and this morning we lost two precious members of our family."
Kimbery McBroom, the morning/noon anchor for the station, tweeted that she was "heartbroken over the loss of two members of our @WDBJ7Mornin family... There are simply no words."
From the station's twitter account, came a simple message: "We love you, Alison and Adam."
In the hours after the shooting, four of Parker and Ward's colleagues, including Marks, the station's general manger, appeared on-air to update viewers on the fatal shooting. They said Parker and Ward were "beloved by the station they worked for" and both had a lot of positive things happening in their lives.
According to the station, Parker had just celebrated her 24th birthday and was described by colleagues as a "rock star." She grew up in Martinsville, Virginia and attended Patrick Henry Community College before going on to James Madison University.
Marks said Parker started at WDBJ-TV as an intern several years ago before going on to get a full-time job at another station in the South and then rejoined WDBJ just over a year ago.
According to Parker's Facebook page, she spent most of her life outside her hometown of Martinsville. She was an avid kayaker and attended community theater events in her spare time.
A statement released Wednesday on behalf of Parker's family says, "Today we received news that no family should ever hear. Our vivacious, ambitious, smart, engaging, hilarious, beautiful, and immensely talented Alison taken from the world. This is senseless and our family is crushed."
Parker's father, Andy, told the Washington Post that his "grief is unbearable." He said his wife first learned of the shooting in a text message from WDBJ and that he didn't know her condition at first but feared the worst when they didn't hear from her.
Any Parker said that about an hour after the shooting, a senior manager at the station called the family to say Alison Parker had been killed.
Ward had been with WDBJ for quite a few years, according to Marks. He had worked at the station since graduating from Virginia Tech in 2011.
He started in the production department and ran camera news at the time of his death. Ward was engaged to WDBJ producer Melissa Ott, who was in the station's control room at the time of the shooting, Marks said. It was Ott's last day at the station, she was moving on to a station in Charlotte.
Marks called Ward a "fine photojournalist," and the "kind of guy who if he was on his way home from work, he would turn around and go do it."
"Adam was our go-to guy. He pretty much was available to do anything that we asked," WDBJ spokesman Mike Morgan said. "He did live shots during our morning show for several years."
In video of the shooting which was broadcast live on WDBJ, Packer is seen smiling when suddenly at least eight shots are heard. Parker is then heard screaming and is seen running away as she says, "Oh my God."
As the camera drops to the ground, it captures what appears to be a fleeting image of the shooter.
Parker was interviewing Vicki Gardner, executive director of the Smith Mountain Lake Regional Chamber of Commerce, at the time of the shooting, WDBJ general manger Marks said.
Barb Nocera, an official with the chamber, told the Roanoke Times newspaper that Gardner was shot in the back. Marks, of WDBJ, later said Gardner came out of surgery, was in stable condition and is expected to recover.
A Twitter account belonging to a person using the suspect's on-air name posted two videos of the shooting from the gunman's perspective. The account has since been suspended.
Tweets posted to the account said that a report was filed with the U.S. Equal Employment Opportunity Commission against one of the victims, Alison Parker, over "racist comments." Other tweets said the other victim, Adam Ward, went to the station's human resources office "after working with me one time."
WDBJ is based in Roanoke, Virginia, and serves the southwest and central part of the state. The location where the shooting took place is just off Smith Mountain Lake in Moneta, about 25 miles southeast of Roanoke.
Thanks for reading CBS NEWS.
Create your free account or log in
for more features.