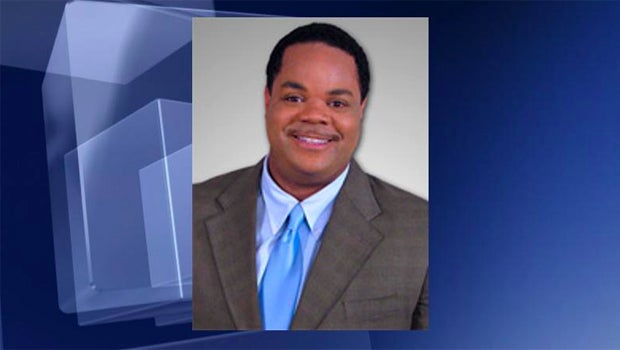 Suspect in deadly on-air attack blamed Charleston shooting
MONETA, Va. - The suspect in the deadly shooting of a television reporter and cameraman during a live report Wednesday sent a 23-page document to ABC News in the hours before the crime, saying he was driven by the Charleston church shooting.
Forty-one-year-old Vester Lee Flanagan II, the man suspected in the Wednesday shooting deaths in Virginia of reporter Alison Parker and cameraman Adam Ward of CBS Roanoke affiliate WDBJ, is dead after shooting himself in the head on Interstate 6 in Faquier County, authorities say.
Parker was interviewing Vicki Gardner, an economic development official, about local tourism when shots rang out, apparently first hitting Ward. The incident was broadcast live on WDBJ and showed Parker screaming and running away, saying "Oh my God," as she too was shot.
Gardner was also wounded in the shooting but underwent surgery and is expected to be OK, WDBJ general manager Jeff Marks said.
According to WDBJ, the suspect - Flanagan - is a former employee who appeared on-air at the station as Bryce Williams.
CBS News' Jeff Pegues reports that law enforcement sources say Flanagan purchased two Glock pistols legally on July 10 from a gun store in Roanoke. Investigators have been to the store.
According to ABC News, a man claiming to be Bryce Williams called the network over the last few weeks saying he wanted to pitch a story and wanted to fax information. The network says it received a fax Wednesday morning.
In the 23-page document, the writer reportedly identified himself as Bryce Williams and wrote that Wednesday's shooting was triggered by his reaction to the Charleston church shooting.
"Why did I do it? I put down a deposit for a gun on 6/19/15. The Church shooting in Charleston happened on 6/17/15...," the faxed document said, according to ABC News.
On June 17, 2015, 21-year-old Dylann Roof allegedly opened fire at Emanuel African Methodist Episcopal Church in Charleston, S.C., killing nine people. Police have called the massacre a racially motivated hate crime.
"What sent me over the top was the church shooting. And my hollow point bullets have the victims' initials on them."
The fax reportedly went on to say that Jehovah spoke to him, telling him to act, and later, the writer quoted the Virginia Tech mass killer, Seung Hui Cho, calling him "his boy." The writer also reportedly expressed admiration for the Columbine High School killers.
The fax reportedly served as an often rambling letter to authorities and family and friends of the writer. The writer labeled one part of the document a "Suicide Note for Friends and Family," according to the network.
The writer said he suffered racial discrimination, sexual harassment and bullying at work -- stemming from him being a gay, black man, ABC News reports.
"The church shooting was the tipping point... but my anger has been building steadily.. I've been a human powder keg for a while.. just waiting to go BOOM!!!!," the fax reportedly said.
ABC News reports that a little after 10 a.m. Wednesday, the network received another phone call from a man who identified himself the shooting suspect. The caller said authorities were after him and "all over the place" before hanging up.
In the hours after the shooting, Flanagan posted chilling video of the incident on his Twitter account, along with several messages indicating a personal grudge against the victims.
"Alison made racist comments," Flanagan wrote on Twitter, apparently referencing shooting victim Alison Parker. "EEOC report filed."
Another post made an apparent reference to shooting victim Adam Ward: "Adam went to hr on me after working with me one time!!!"
Following the shooting, Jeffrey A. Marks, general manager of WDBJ, spoke of Flanagan on-air.
"We employed him as a reporter, he had some talent in that respect and some experience although he had been out of the business for while when he was hired here," Marks said, adding that after being hired, Flanagan "quickly gathered a reputation that was someone who was difficult to work with."
Marks described Flanagan as an "unhappy man" who "was sort of looking out for people to say things that he could take offense to."
Marks said Flanagan was fired from his post at WDBJ after "many incidents of his anger" came to the forefront. Flanagan didn't take the firing well, Marks said, and police had to be called to escort him from the building.
A copy of Flanagan's resume obtained by CBS News indicates he worked as a general assignment news reporter at WTOC-TV, a television station in Savannah, Georgia, from February 1997 to March 1999 before going on to work as a news reporter, anchor and producer at WTWC-TV in Tallahassee, Florida from March 1999 to March 2000.
Following that, his resume indicates he worked in customer service at Bank of America in San Francisco, Calif. and then at Pactific Gas & Electric in Greenville, North Carolina, before returning to TV news at WNCT-TV in Greenville, North Carolina in August 2002 until November 2004.
In 2000, Flanagan filed a complaint against WTWC-TV in Tallahassee seeking $15,000 for race discrimination and retaliation, according to court documents.
According to the complaint, Flanagan, who is black, "complained of unlawful employment practices in the workplace and was the victim of retaliation thereafter."
The complaint alleges Flanagan was called a "monkey" by a producer working for WTWC-TV in or around the summer of 1999. It further alleges that in the fall of 1999, Flanagan was told by a co-worker that it "busted her butt that blacks did not take advantage of the free money," allegedly referring to scholarship money made available to African-Americans attending college.
The complaint alleges the co-worker then stated that "blacks are lazy and do not take advantage of free money."
In December 1999, the complaint alleges, inappropriate comments were made by co-workers in reference to a black murder suspect.
The complaint says that after Flanagan notified managerial-level employees of these alleged incidents, he was notified his contract was not going to be renewed.
According to court filings, the complaint was settled in January 2001.
Just days before the Wednesday shooting that left Parker and Ward dead, Flanagan tweeted a photo of a portion of a newspaper article with the headline: "News anchor sues." The article is accompanied by a photo of what appears to be Flanagan.
The article begins by saying, "A year ago when Vester Flanagan came to Tallahassee excited about his new career as anchor-reporter at NBC News Channel 40, he said he never thought he would be fighting racism in the workplace."
The Roanoke Times reports Flanagan was hired by WDBJ-TV in the spring of 2012 and was let go in February 2013. In May 2014, Flanagan filed a lawsuit against WDBJ claiming unpaid overtime, wrongful termination, retaliation, hostile work environment, racial harassment and discrimination.
A memo from WDBJ regarding Flanagan's termination is included in court records obtained by CBS News. The memo says that when Flanagan was told he was being fired, he responded by saying, "You better call police because I'm going to make a big stink. This is not right."
According to the memo, Flanagan went on to berate staff members - including Adam Ward - who was present and recording the incident. When Flanagan was ultimately escorted from the newsroom by police, he handed another staff member a wooden cross that was on his desk and said, "You'll need this," the memo says.
Another WBDJ memo in the court filing says all employees at the station were informed Flanagan was terminated and that "anyone seeing him on company property should call 911 immediately."
In July 2014, the lawsuit brought by Flanagan was dismissed by a judge.
Video of the shooting that left Parker and Ward dead was posted to Flanagan's Twitter account in the hours after the shooting. It showed an outstretched arm holding the handgun and firing repeatedly at Parker as she tried to run away. The shooter appeared to walk up to the victims and stand a few feet away from them while holding the weapon.
The three, in the midst of a live TV interview, do not seem to notice the gunman, who doesn't start shooting until Ward points the camera at Parker and Gardner.
Parker is heard screaming and is seen running away as shots are fired. Roughly 15 shots can be heard, including several that were fired after the video goes dark.
Flanagan later shot and injured himself on Interstate 66 in Faquier County,WDBJ reported. Police said that shortly before 11:30 a.m., they initiated a traffic stop on I-66 but the driver refused to stop and sped away from the trooper. The driver then veered off the road and crashed. Police said the troopers approached and found the driver suffering from a gunshot wound. He was taken to a hospital where he later died.
Thanks for reading CBS NEWS.
Create your free account or log in
for more features.