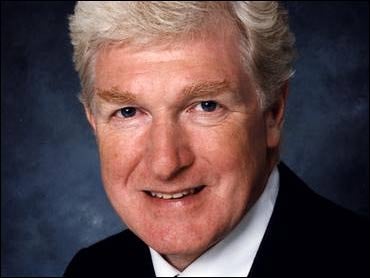 Virginia Pol Loses Party Position
Virginia Congressman Jim Moran - who said last week that the "strong support of the Jewish community" was pushing the United States toward war in Iraq - has been forced to give up his Democratic leadership position as regional whip, reports CBS News Radio.
House Democratic Leader Nancy Pelosi asked Moran to step down, calling his remarks "irresponsible", "inappropriate" and "offensive" In a statement, Pelosi said she spoke to Moran on Friday and he agreed to accept responsibility and give up his post.
"I have taken this action because Congressman Moran's irresponsible remarks were a serious mistake," Pelosi said. "As I said earlier this week, his comments were not only inappropriate, they were offensive and have no place in the Democratic Party."
Speaking at a northern Virginia forum a week ago, Moran said that "if it were not for the strong support of the Jewish community for this war with Iraq we would not be doing this. ... The leaders of the Jewish community are influential enough that they could change the direction of where this is going and I think they should."
Moran apologized for his comments on Tuesday. The seven-term lawmaker said he framed his comments as he did because he was responding to a questioner who said she was Jewish. "I regret doing that," he said.
Moran on Friday issued a statement saying he was stepping down from his leadership position "as a way to demonstrate acceptance of my responsibility for insensitive remarks I recently made."
"I will continue to reach out to the Jewish community and others who were offended by my remarks," he said. "Most importantly, I will strive to learn from my mistakes and listen to the concerns of my constituents."
Moran's controversial remarks drew sharp criticism from the White House and calls from some Jewish leaders for his resignation. Six House Democrats, all Jewish, on Wednesday made public a letter stating that Moran should not seek re-election in 2004 because of his comments.
The House's lone Jewish Republican, Rep. Eric Cantor of Virginia, on Wednesday urged Democratic leaders to remove Moran from the two powerful committees, Appropriations and Budget, where he holds seats.
The House Democrats have 24 regional whips for 12 regions. Moran was elected by his colleagues three years ago to represent the mid-Atlantic region.
The whips are responsible for getting information on legislation out to people in their area and informing the leadership of the positions of members. The whips also sit on the party steering committee.
Thanks for reading CBS NEWS.
Create your free account or log in
for more features.