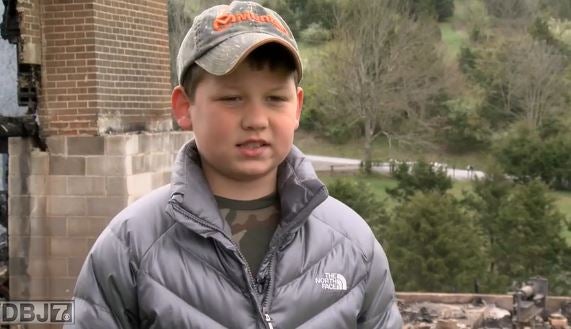 Virginia boy, 10, saves wedding guests at B&B from fire
LEXINGTON, Va. - About 40 people are safe after a fire destroyed the Rockbridge County bed-and-breakfast they were staying in for a wedding.
Justin Peery, the owner of the Good Place Farms Bed and Breakfast near Lexington says the guests were saved late Saturday night by 10-year-old Ashton Dunford, who saw the flames and began screaming to wake people up.
Dunford told CBS affiliate WDBJ: "It was kind of terrifying because I thought there were people upstairs sleeping because it was really late at night."
Dunford said he reacted when he smelled smoke and saw flames in a vent.
"I screamed really to the top of my lungs," he said. "I said, 'Everyone out.'"
Rockbridge County Emergency Management Coordinator Robert Foresman tells WSLS-TV that about 50 to 75 firefighters about an hour to tackle the flames.
Peery, a photographer, says he lost all of his belongings in the blaze.
"I mean the pain runs to the core of my soul and body," he said.
Peery does not have insurance but he does plan to rebuild. He believes the fire started in the furnace room.
The guests are being assisted by the Red Cross.
Thanks for reading CBS NEWS.
Create your free account or log in
for more features.