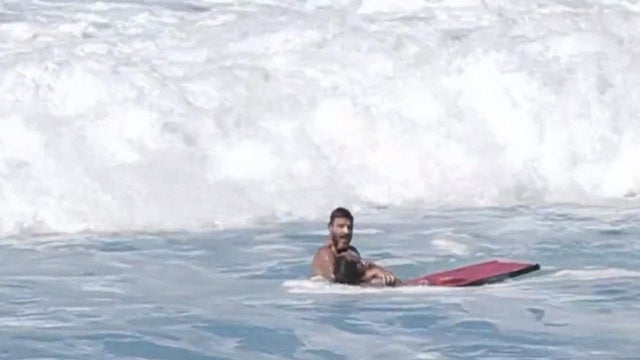 Pro surfer rescued after near-death wipeout in Hawaii
An American competitive surfer is recovering after a powerful wave knocked him unconscious at a popular surf reef off Hawaii's Oahu island Sunday.
The violent wipeout and dramatic rescue of Evan Geiselman was captured on video, reports Elaine Quijano of CBS News' digital network, CBSN.
Video shows Geiselman taking off on the towering wave but seconds later, the barrel collapses around him and he disappears.
South African body boarding champion Andre Botha, who was nearby, was first to respond to the unconscious 22-year-old. Botha is seen trying to keep Geiselman's head above the surface and performing CPR in the video.
"The first thing that went through my mind at that point was that he was dead," said Botha. "His face was a dark blue, almost purple."
Powerful currents threatened to sweep the pair away, but lifeguards jumped in to assist Botha.
"All the oncoming waves crashing on him, he was able to just hold on to that surfer's body and help until we got there and got to him," said Captain Vitor Marcal of the Ocean Safety and Lifeguard Services. "It was amazing."
Once on shore, Geiselman regained consciousness and was rushed to the hospital in critical condition.
His older brother Evan -- a renowned professional surfer himself -- posted a picture on Instagram Monday of his brother sitting up in his hospital bed. In a message, he thanked Botha and the the other rescuers.
"From my point of view, I was just the right person at the right place at the right time," Botha responded. "There are so many people that are saving lives every day that don't really get the recognition that they deserve."
Geiselman is currently in stable condition.
Thanks for reading CBS NEWS.
Create your free account or log in
for more features.