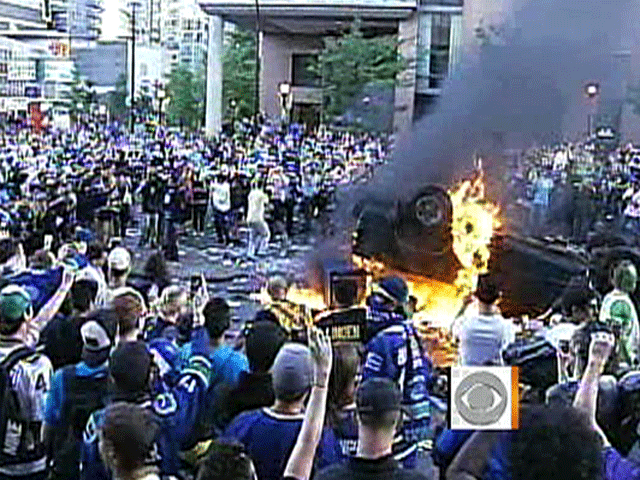 Vancouver "embarrassed" over post-game rioting
Vancouver was cleaning up Thursday from a riot the night before by angry fans of the city's National Hockey League team after the Canucks lost a deciding Game 7 in the league's final playoff series, giving the Boston Bruins the coveted Stanley Cup.
Rick Price, of CBS affiliate KIRO-TV in Seattle told early Show co-anchor Chris Wragge, "Seconds after the game ended, chaos began as rioters started overturning cars. Our crew did not see police anywhere in the beginning to stop it.
"As the anger over the loss to the Boston Bruins heated up, rioters set fire to the overturned cars, and eventually, riot police did move in.
Angry Canadians run amok after Canucks' loss
"Police had closed the major bridges into downtown Vancouver during the height of the riot so people could not get into the heart of the city. Those bridges were re-opened by about 2:30 when we arrived in town.
"We did see ... a number of overturned cars still on the street (when daylight arrived on Thursday), quite a lot of broken glass, windows broken out of department stores and banks downtown.
"People are already starting to clean up, though, and glass repair trucks are literally everywhere."
But Price added, "People are already thinking beyond this. They're very embarrassed about it. They think it's given Vancouver a real black eye. I've already found a Facebook page this morning that's dedicated to organizing a cleanup, getting people volunteering, coming down to downtown Vancouver and helping between now and Saturday. ... (There are) a lot of people very embarrassed about this but there's also a lot of broken stuff."
Thanks for reading CBS NEWS.
Create your free account or log in
for more features.