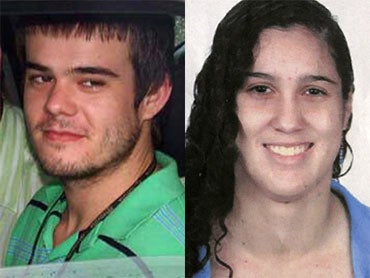 Van Der Sloot Lawyer: Inconsistencies Already
Police in neighboring Chile are checking hotels for a young Dutchman long suspected in the 2005 disappearance of U.S. teen Natalee Holloway now being sought in the killing of a woman in Peru.
But on "The Early Show" Thursday, Joran van der Sloot's lawyer, Joe Tacopina, urged that no one rush to judgment.
Photos: Stephany Flores Murder
Photos: Natalee Holloway, Paradise Lost
Photos: Van Der Sloot Wanted for Murder
After Peruvian officials announced Wednesday that van der Sloot is the prime suspect in the death of 21-year-old Stephany Flores in a Lima hotel, Chilean police confirmed he had entered their country two days earlier.
Chilean Police Inspector Douglas Rodriguez in Arica told The Associated Press there was no record of van der Sloot leaving Chile and authorities were searching the country's dry, sparsely populated northern provinces for him.
In Lima, police Gen. Cesar Guardia said at a news conference that the slain woman was found Wednesday in a room at a hotel where van der Sloot had been staying and that she had been seen with the suspect early Sunday, when she was killed.
The killing occurred exactly five years after the May 30, 2005, disappearance of Alabama teen Natalee Holloway during a high school trip in Aruba, a Dutch Caribbean island where van der Sloot's late father was a prominent judge.
Prosecutors said van der Sloot is still their main suspect in the case, even though he was never charged.
In New York, Tacopina told co-anchor Maggie Rodriguez that he has "no idea" where van der Sloot is.
He said, "I've read reports, many reports in the last 12 hours in regards to this investigation. And I've seen inconsistencies already. And I hearken back to the last five years with the Aruba investigation, where time and again we've heard stories come out that turn out to be rumor or false facts. And I think you just have to be wary of that when you're dealing with Joran van der Sloot and this saga.
"I'm not taking the position that he's being wrongly accused - if he's being accused. I've heard that there is an arrest warrant. I've heard that there is not an arrest warrant. What I do say is that Joran van der Sloot is an easy guy to point the finger at. He's a popular suspect, he's someone who people believe -- people have very strong opinions about this - that he got away with murder, literally, in Aruba which, the evidence says otherwise, the judges have said otherwise. But he's someone who is easy to point the finger at, he wears a bulls-eye on his back."
Tacopina also pointed out that witnesses say they saw van der Sloot and Flores together on Sunday, but her body wasn't found until Wednesday.
The Dutch government said Interpol issued an international arrest warrant for van der Sloot in the Peru killing. But Rodriguez, the Chilean police official, said authorities there had received only a request to locate the suspect, not an arrest warrant.
Guardia, the Peruvian police general, said the 22-year-old Dutchman was in Peru for a poker tournament and appears with the dead woman in a video taken at a Lima casino early Sunday. The two were later seen entering the hotel by one of its employees about 5 a.m. and the Dutchman departed alone about four hours later, he said.
"We have an interview with a worker at the hotel who says she saw this foreigner with the victim enter his room," said Guardia.
The woman's body was found face down on the hotel room floor Wednesday, abrasions on her face and body, and signs of trauma, Guardia said. He said she was clothed.
Asked if she had been asphyxiated, Guardia said he was waiting for autopsy results on the cause of death.
The victim's father, Ricardo Flores, 48, is a former president of the Peruvian Automobile Club who won the "Caminos del Inca" rally in 1991 and brings circuses and foreign entertainers to Peru. He ran for vice president in 2001 and for president five years later on fringe tickets.
Van der Sloot was twice arrested but later released for lack of evidence in the 2005 disappearance of Holloway in Aruba.
No trace of her has been found and van der Sloot remains the main suspect in the case, Ann Angela, spokeswoman for the Aruba prosecutor's office, said Wednesday.
"What's happening now is incredible," she said. "At this moment we don't have anything to do with it, but we are following the case with great interest and if Peruvian authorities would need us, we are here."
The mystery of Holloway's disappearance garnered wide attention on television and in newspapers in Europe and the United States.
Two years ago, a Dutch television crime reporter captured hidden-camera footage of van der Sloot saying he was with Holloway when she collapsed on a beach from being drunk. He said he believed she was dead and asked a friend to dump her body in the sea.
Judges subsequently refused to arrest van der Sloot on the basis of the tape.
A spokeswoman for Holloway's mother, Beth Twitty of Mountain Brook, Alabama, told the AP the family was aware of the development in Peru but would have no comment.
Thanks for reading CBS NEWS.
Create your free account or log in
for more features.