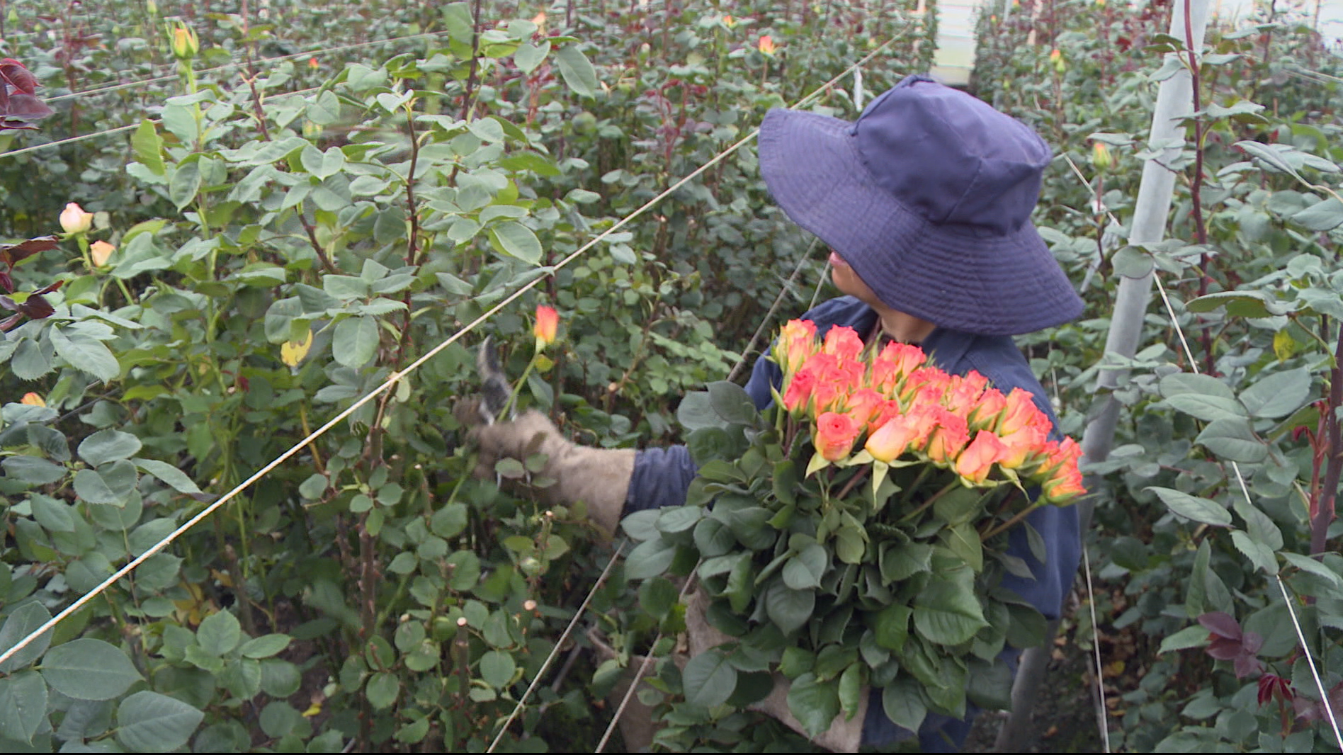 From rose farm to table: a Valentine's Day journey
Americans are expected to spend nearly $19 billion this year on their sweethearts, more than $2 billion on flowers alone. But the journey to get the flowers to America starts more than 2,000 miles away in Colombia, the country that exports the most flowers to the U.S, CBS News' Vicente Arenas reports.
An hour west of Bogota in a cool savanna along the Andes Mountains lies one of the largest flower farms in Colombia. At Passion Growers, workers busily harvest and process 30 million flowers for Valentine's Day for two weeks, and it's a 24-hour operation.
Moises Croitoru is the man in charge. He said they currently have 1,000 workers.
"We need to harvest approximately 15 percent of our whole year's production in a 10 to 15 day period," Croitoru said.
In vast greenhouses, roses are carefully inspected down to the petal before being cut and bundled, then pulled across the farm, 5,000 at a time.
"The blooms are, as you can see, as fresh as they can be. And now we need to just process them and get them out there in the best possible condition," Croitoru said.
That means keeping them cold all the way to the store, starting the moment they're loaded on the truck.
The flowers are then off to Bogota's airport, where box after box of flowers from farms all over the country are bound for the United States. On the tarmac, crates of dry-packed flowers stacked 8 feet tall are trucked, lifted and squeezed into every inch of a chilled Boeing 767.
In one loading session, 50 tons of flowers, or 3,000 boxes, were put into the plane. That's 300,000 roses, or about $1 million worth, all packed in 90 minutes.
LAN Cargo flies about a third of the world's flowers for Valentine's Day. Chief Operating Officer Fernando Poitevin oversees the operation so wives back in the U.S. don't blame him if the flowers are sub-par.
"I think this interview could be risky because now they will know," Poitevin said. "Every hour we waste, it's an hour less the customer is going to enjoy the flower."
To keep up with the Valentine's demand, the airline doubles its flower flights from Bogota to 24 a week. Most land at Miami International Airport, America's flower hub.
Ninety-one of percent all flowers imported into the U.S., or about 22 million a day, come through Miami.
The flowers have to be unloaded quickly to get them out of the Florida heat.
"Maintaining the cold temperature is critical. It takes probably no more than five minutes for the flowers to get into the warehouse," Poitevin said.
Once inside the 40-degree warehouse, samples from every flight are inspected by federal agents.
"We look first for any signs of disease on the leaves or any insects that we can see on the leaves," one U.S. Customs and Border Protection agent said. "There's so many leaves it's hard to look at them all, so we have to physically hit them."
One bad bug could hold up an entire farm's shipment.
Then it's off to retailers around the country. One load was sent off to a chain of Fresh Market grocers. Waiting for them was Joann Whitley, who manages flowers for all 196 stores.
"This is our Super Bowl of flowers," Whitley said. "We've been planning for this holiday for so long that it's finally here, and it's very exciting."
For this Valentine's Day, the chain ordered a million roses from Passion Growers for people like Matthew Parkes to pick out. He bought two dozen for his husband.
"They're beautiful flowers; they're gorgeous," Parkes said.
The roses have come a long way, but the most important leg of their journey is the last one, when the flowers are brought home for the big Valentine's Day surprise.
Thanks for reading CBS NEWS.
Create your free account or log in
for more features.