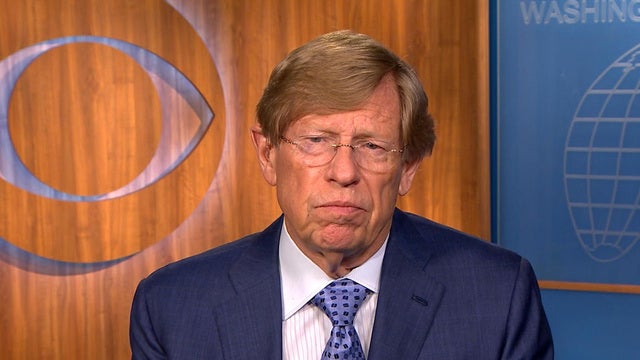 Ted Olson: Government stance against Apple is "totally bogus"
Apple has tapped attorney and former U.S. Solicitor General Ted Olson in its escalating battle with the FBI.
Since the controversy first surfaced, the government has stressed unlocking the iPhone of one of the San Bernardino killers would be a one-time request. But Olson, one of the country's most respected and successful trial and Supreme Court lawyers, called the argument "totally bogus."
"There's nothing to stop this government or another government from doing the same thing tomorrow or the next day or next week," Olson told "CBS This Morning" Tuesday.
In a New York Times op-ed Monday, NYPD's Police Commissioner William Bratton and Deputy Commissioner of Intelligence and Counterterrorism John Miller wrote that Apple has granted "master key" access to unlock phones in kidnapping, murder and terrorism cases up until 17 months ago.
But they say that changed when Apple announced in September 2014 that it would "not perform iOS data extractions in response to government search warrants" with the new iOS 8 models.
Referencing a murder case of a 29-year-old pregnant woman in Louisiana, they said the fight now extends "beyond San Bernardino. In this particular case, Apple did not comply with a search warrant to unlock the victim's iPhone, although police believe it would have helped identify her killer."
Earlier this week, New York District Attorney Cyrus Vance also slammed Apple, saying his office cannot access 175 iPhones in criminal investigations due to encryption.
But Olson distinguished the San Bernardino case from these examples, saying that the government was asking for more than just the "key" to the cell phone.
"The government is asking for Apple to design a new cell phone, use new code to break down security systems that are built into this particular iPhone to protect its security and protect the trust of tens of millions of its customers," Olson said. "And if Apple submits... then that will happen again and again."
Olson also said the government's order compromised Apple's constitutional rights and civil liberties.
"Privacy, liberty and safety are very important to all of our citizens, and if the government comes to you and says, 'We'll compromise your principles, compromise the constitutional stance that you're taking just for this one case - or for the next case or for the next case - the terrorists have succeeded," Olson said. "So it's very, very important that we root out terrorism and protect ourselves, but it's very important that we not forfeit our fundamental rights in doing so."
Thanks for reading CBS NEWS.
Create your free account or log in
for more features.