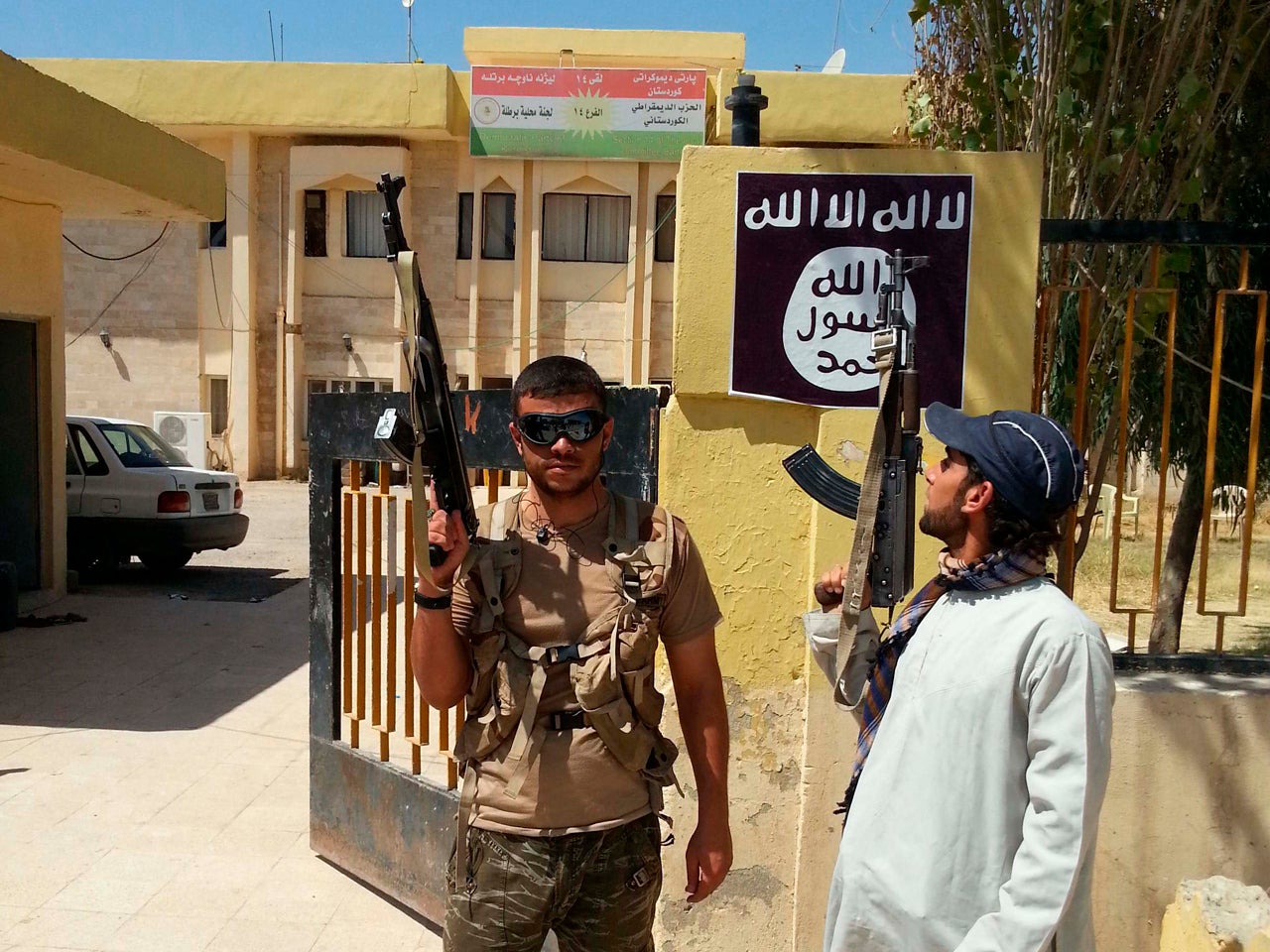 U.S. bombs ISIS fighters in Iraq
The U.S. military backed up the Obama administration's vow to keep Islamic militants in Iraq out of a key northern city with at least one 500-pound laser-guided bomb dropped from American F/A-18 fighter jets on Friday.
Sources confirmed to CBS News that two of the American jets targeted an artillery piece that the Islamic State of Iraq and Syria (ISIS, also known as ISIL) was using to shell Kurdish forces near Erbil.
Both jets returned safely to the aircraft carrier USS George H.W. Bush after the strike.
Sunni Islamic militants have stepped up efforts to expand their territory in northern Iraq, and their successes this week against what was thought to be the superior fighting force in the oil-rich, semi-autonomous Kurdish region prompted President Obama to threaten airstrikes.
"We will make sure that ISIL cannot approach Erbil," senior Obama administration officials told CBS News late Thursday, after Mr. Obama himself told the nation he had authorized airstrikes against the militant group.
CBS News senior defense correspondent David Martin said the Pentagon would authorize strikes if the ISIS militants didn't retreat from both the Sinjar mountains, where thousands of minority Yezidis have fled to avoid their advance, and from the area around Erbil, the capital of Iraq's Kurdish region.
With the militants showing no apparent signs of retreat and clashes with the Kurdish fighters continuing, the first strike came early Friday.
On Thursday, two U.S. military transport planes dropped tons of emergency food and water supplies onto the mountains for the displaced Iraqis.
About 150 U.S. military advisors and an unknown number of diplomats have relocated to Erbil in recent weeks as it was, until this week, considered relatively safe from ISIS attack.
With American military aircraft dropping bombs on ISIS fighters -- who have come as close as 20 miles to Erbil -- the officials who spoke to CBS News on Thursday night said they were "very confident our consulate (in Erbil) is safe and our people will continue to be at work."
As CBS News' Holly Williams reports, ISIS has taken on Kurdish "peshmerga" fighters in northern Iraq this week and extended the borders of its self-declared "Islamic State" or caliphate, which spans across a vast swath of eastern Syria and Western Iraq.
In territory they have seized, they al Qaeda splinter group has been enforcing its own strict version of Islam, executing non-Sunni Muslims who refuse to convert or leave their homes, and committing a host of atrocities to instill fear into their enemies -- a strategy which has facilitated their rapid advance in the region. Many towns and key locations have simply been abandoned by Iraqi or Kurdish forces as ISIS militants advance; their reputation precedes them.
As one of the Obama administration officials put it to CBS News on Thursday evening: "It is their mission to ethnically cleanse areas of anyone that it disagrees.... (ISIS) is so ruthless, quite literally putting people's heads on spikes as a sign of the fate of anyone who would resist them."
Speaking Friday in Afghanistan, Secretary of State John Kerry said the militant group's "campaign of terror against the innocent, including the Christian minority, and its grotesque targeted acts of violence, show all the warning signs of genocide."
On Thursday, after fierce clashes, ISIS militants seized 15 towns in northern Iraq, an army base and Iraq's biggest dam.
Soldiers from the Iraqi military fled the area two months ago when ISIS first surged into Mosul, the country's second largest city. The Kurdish peshmerga are the only fighters still doing battle with ISIS on the ground in the north, and their recent defeats have seriously worried officials in Washington.
Several of the towns captured by ISIS this week were Christian, including Bartella, which CBS News visited in June.
Captain Firaz Jacob and his 600 local militiamen then vowed to protect Bartella from ISIS, who at that point were just ten miles away.
But asked in June what would happen if ISIS tried to push into the city, Firaz wasn't optimistic. "I don't know," he said, "maybe they'll kill us."
Thousands of Iraqi Christians have now fled the area, fearful that ISIS will give them the same stark choice they've offered to other religious minorities -- convert, leave, or be killed.
Thanks for reading CBS NEWS.
Create your free account or log in
for more features.