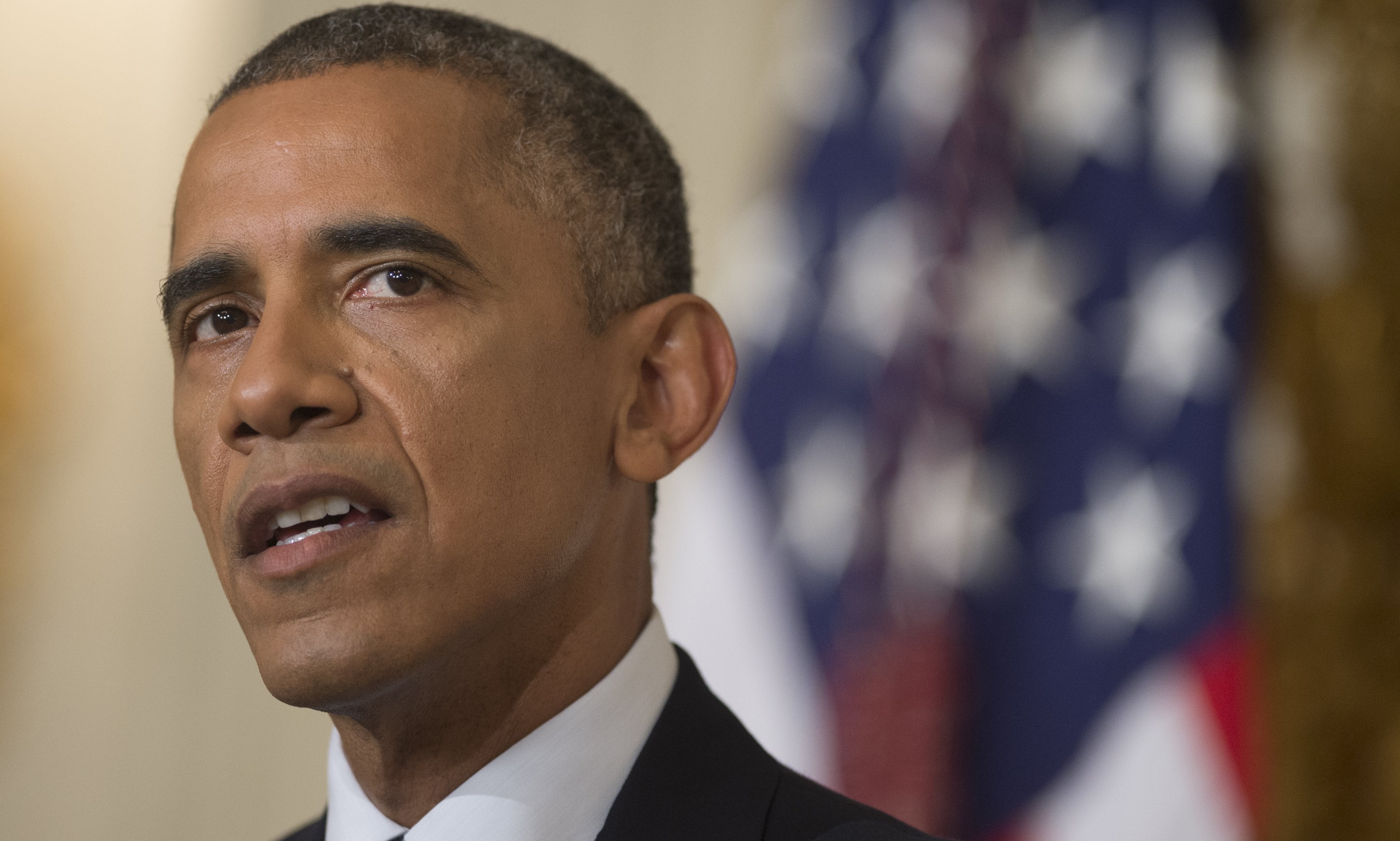 Obama authorizes targeted airstrikes in Iraq
President Obama authorized airstrikes "if necessary" against Islamic militants if they move toward Erbil in northern Iraq where American military, diplomats and civilians are stationed.
During a late night statement Thursday from the White House, the president said he's okayed "targeted airstrikes to protect our American personnel and a humanitarian effort to help save thousands of Iraqi civilians who are trapped on a mountain without food and water and facing almost certain death."
Mr. Obama explained that the Islamic State of Iraq and Syria (ISIS) in recent days has "continued to move across Iraq and have neared the city of Erbil, where American diplomats and civilians serve at our consulate and American military personnel advise Iraqi forces to stop the advance on Erbil.
"I directed our military to take targeted strikes against [ISIS] terrorist convoys should they move toward the city," he added. "We intend to stay vigilant and take action if these terrorist forces threaten our personnel or facilities anywhere in Iraq, including our consulate in Erbil and our embassy in Baghdad."
The president also announced that the U.S. launched air drops of food and water on a mountain in northern Iraq on Thursday where a religious minority group remains trapped by Islamic militants.
"Today America is coming to help," Mr. Obama said.
A senior Defense Department official said, "At the direction of the Commander in Chief, the U.S. military conducted a humanitarian assistance operation in Northern Iraq to air drop critical meals and water for thousands of Iraqi citizens threatened by ISIL near Sinjar."
The air drops included a C-17 and two C-130s, CBS News National Security Correspondent David Martin reports. They dropped 72 pallets and were escorted by F18s.
The potential airstrikes would be to help break the siege by ISIS, which has targeted religious minorities including Christians and the Yazidi, a religious group with ties to Zoroastrianism. An estimated 15,000 of them are caught on a mountaintop near Sinjar with no food or water, but afraid to descend into ISIS-held territory where they might be killed.
The decision to deploy U.S. air power would represent a significant escalation of America's involvement in the bloody civil conflict. As ISIS gathered strength over the last few months, the U.S. stepped up its nonlethal assistance to the Iraqi government. And at the end of June, Mr. Obama sent approximately 300 troops to Iraq to train and advise Iraq's army, though they were not to be deployed in combat. An additional 450 U.S. personnel followed shortly thereafter.
But he has pledged several times that the U.S. will not send combat troops to Iraq.
The arrival of those advisers marked the first time U.S. troops touched Iraqi soil since the 2011 withdrawal of U.S. forces following America's eight-year war there.
Policymakers in the U.S. have split on how to manage the escalating crisis. Many Republicans, led by hawkish stalwarts like Sens. John McCain, R-Ariz., and Lindsey Graham, R-S.C., have pushed for greater U.S. involvement, including airstrikes. Democrats, by contrast, have preached caution, saying the United States shouldn't involve itself in Iraq's civil war just a few years after American troops finally departed the country.
The calls for involvement escalated in June when ISIS militants seized Mosul, Iraq's second largest city, in a stunning strategic setback for the government of Iraqi Prime Minister Nouri al-Maliki. Since then, the militant group has entrenched itself in Syria and Western Iraq, gathering strength.
On Thursday, the fighting took another perilous turn as it appeared that Erbil, the capital of Iraq's autonomous Kurdish region and one of the country's largest cities, was in danger of falling. According to McClatchy, ISIS fighters seized four strategically located towns on a highway outside Erbil and advanced to within miles of the Kurdish capital. There are some 150 American military advisers and an unknown number of diplomats currently operating in the city.
White House spokesman Josh Earnest said earlier Thursday that the administration was "closely monitoring" the situation in Iraq, and he again reinforced Mr. Obama's insistence that any potential U.S. military assistance be paired with political outreach on the part of Iraq's leaders.
"The concern that the president has is ensuring that any sort of military action in support of the Iraqi government is coordinated with the kinds of reforms that are necessary to address this root problem that we see in Iraq," he explained.
The president is scheduled to leave Washington, D.C., for Martha's Vineyard on Saturday for a two-week vacation with his family, though he will return to D.C. between August 17 and 19 to attend meetings at the White House.
Thanks for reading CBS NEWS.
Create your free account or log in
for more features.