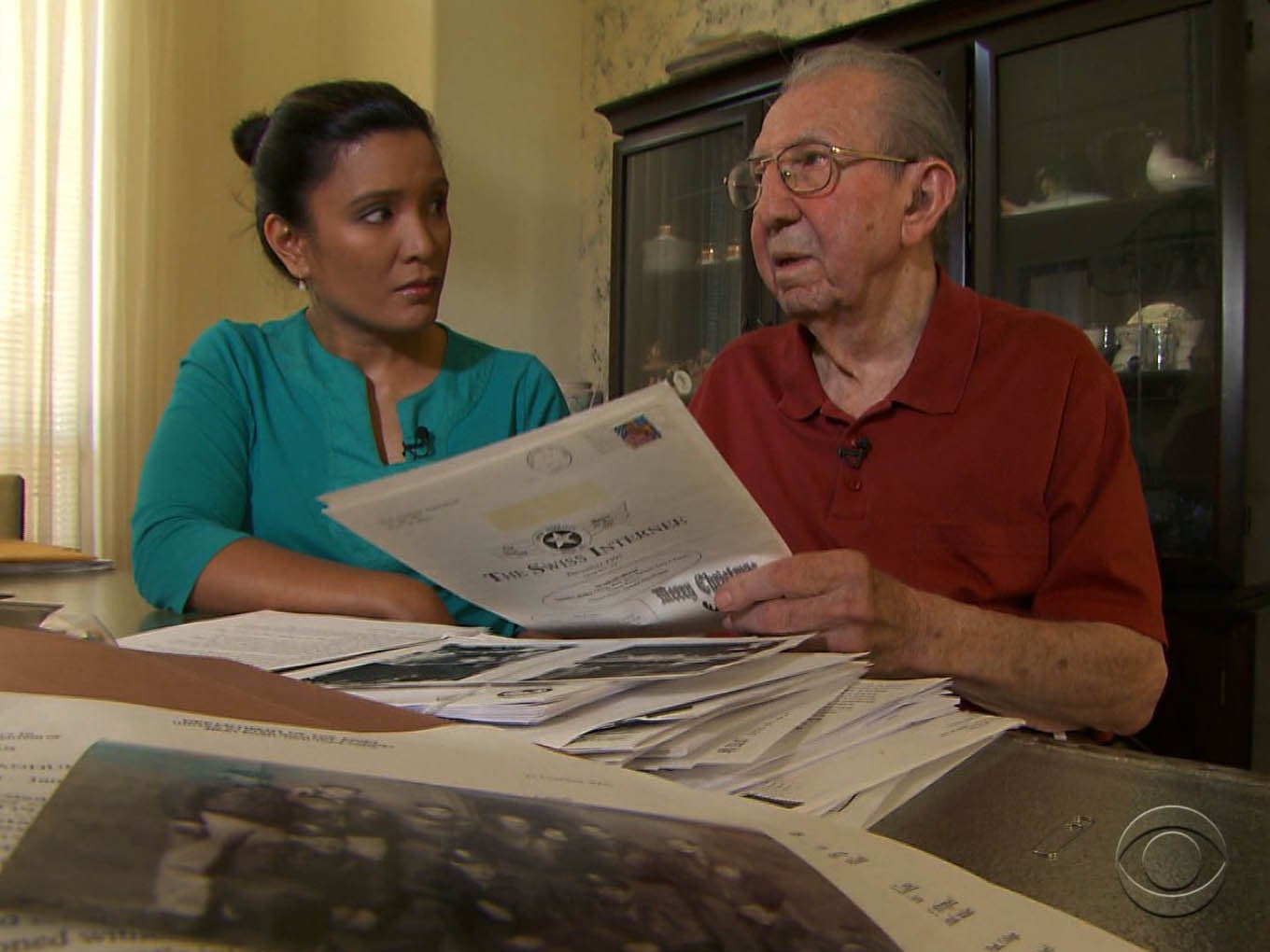 U.S. airmen imprisoned in Switzerland during WWII are finally recognized
In the fight against Hitler's forces during World War II, thousands of U.S. planes were shot down as they carried out bombing raids over Germany.
Lt. Col. James Misuraca's B-24 bomber was among them. It was heavily damaged but landed neutral Switzerland.
Misuraca and his fellow crew members were detained by the Swiss and held in a stripped-down hotel until the day he tried to escape, was caught and set to a military prison camp as punishment
The camp was run by a Nazi sympathizer.
"He was not a nice man. This man had no heart," said Misuraca. "Every day, all I could think of was escape."
Misuraca spent 31 days there, starving and freezing, until he tried escaping again and made it to safety.
His lesson to others from that experience: "Never give up."
Some 1,500 other U.S. airmen ended up in Switzerland. More than 160 were sent to that prison camp for attempting escape, including the grandfather of Army Maj. Dwight Mears.
Mears discovered that during the war, there were rumors that U.S. airmen held in Switzerland were cowards who had landed there to avoid fighting.
"Some of them simply assumed that these airmen had reached the breaking point and had decided that faced with near death, they would rather sit out the war in some neutral country and learn to ski or something," he said.
Mears spent 15 years documenting that their treatment was equal to that of POWs in Nazi Germany. He also petitioned military leaders, trying to set the record straight.
"At first, at first, at the very beginning, this was about my grandfather," Mears said. "But as I started interviewing other airmen, I came to identify with them and I felt that they were worthy of recognition."
The Air Force finally agreed. Recently, it approved the airmen's applications for POW medals. Misuraca is one of 12 still alive.
Thanks for reading CBS NEWS.
Create your free account or log in
for more features.