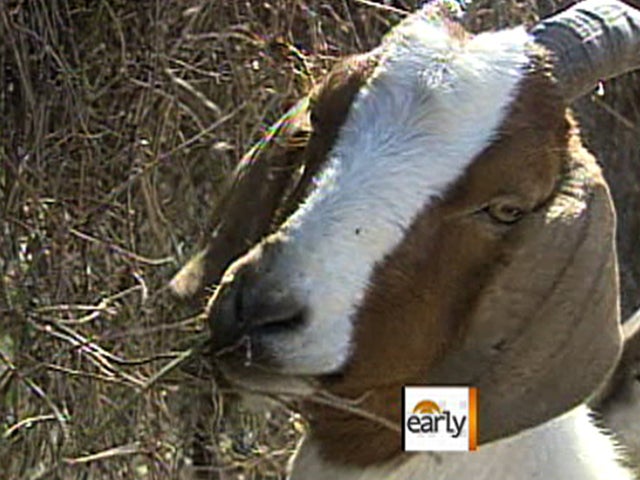 Unlikely cheap labor for Calif. towns: Goats!
With municipalities across the country facing budget nightmares, Southern California communities have found a way to take a bite out of their deficit -- literally, reports Bill Whitaker.

In one such place, the blue collar town of Lemon Grove, residents this week are doing a double-take.

One hundred fifty goats were hauled in to a vacant downtown lot on official city business.

"They love what they do, and they do a good job of it. What they do is eat. A lot!" said Lemon Grove Mayor Mary Sessom.

"They don't get sick, they don't call in and say, 'I don't feel good today,' they don't care about how hot it is, how cold it is. They're out there doing their job, " she points out.

And by not using workers with weed whackers, "They have saved us thousands of dollars," Sessom adds.

They have also caused a sensation for urban dwellers whose experience with goats doesn't go much past the petting zoo.

"It's awesome and amazing that they eat so much, in like one day," said Desiree Russell.

Five-year-old Cade Fukushima can count the number of times he's seen a goat before -- "Umm, zero," he says.

But Sessom says this is more than a novelty act.

"I think it's a learning experience for them," she says. "Hopefully, what they're getting (coming away with) is not only can that animals can do something just besides look cute and fuzzy, they can also serve a purpose in our society, helping us keep our environment clean."

And perhaps -- saving lives.

Lemon Grove, like many towns in Southern California, has steep hillsides. Earlier this year, its grass was a lush green, but after months without rain, "This is extremely dry, tinderbox dry. This will support and carry fire quite well," said Deputy Chief Tim Smith of Heartland Fire and Rescue.

Smith says, if the goats can get to this brush before the next strong Santa Ana wind, it could avoid a repeat of devastating wildfires that have scorched San Diego County the past several years.

The goats in Lemon Grove have already managed to clear one entire hillside in less than two weeks, creating a natural fire break for hundreds of homes.

When Smith sees a clump of dry brush, he says, "This means a fast-moving fire."

But to a goat, "I would say this is probably filet mignon," Smith says.

So tasty, they keep coming back for more.

"It's really been a win-win for us. It's cost effective, it's environmentally friendly. And it's fun," he said.

Several cities, including Los Angeles, are using goats to eat weeds and clear brush.

For more information on this fiscally sound and green initiative, visit the website of the


Environmental Land Management.
Thanks for reading CBS NEWS.
Create your free account or log in
for more features.