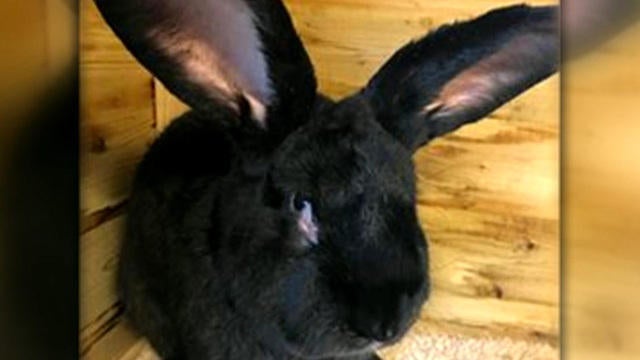 United reaches resolution with giant rabbit's breeder
DES MOINES, Iowa -- A United Airlines spokesman says the company has reached a "satisfactory resolution" with the breeder of a giant rabbit that died after flying from London to Chicago.
But the airline declined to comment Monday on a threat of legal action from the owners who had bought Simon, a 3-foot-long rabbit, who lived in Iowa.
The airlines said breeder Annette Edwards, who was their customer and is based in Worcestershire, England, declined their offer to perform a necropsy, or postmortem examination, on Simon soon after his death on April 20.
Now, the would-be owners of the rabbit want to know more about his death and why he was cremated so quickly.
Attorney Guy Cook says he sent a letter to United Airlines last week but hasn't heard back.
United claims that Simon was moving around in its crate and appeared healthy when he was taken off the plane in O'Hare, waiting to be put on another flight to Kansas City. But about 30 minutes later, the rabbit seemed to be sleeping.
A pet facility employee opened the cage a short while later and found Simon dead.
Cook said a group of Des Moines area businessmen had bought Simon had intended to display him at this summer's Iowa State Fair. Simon had been expected to grow to as much as 40 pounds, which would have made him the world's largest rabbit, Cook said.
The owners are seeking the costs of buying and transporting the rabbit — estimated at $2,300 — and future earnings.
Thanks for reading CBS NEWS.
Create your free account or log in
for more features.