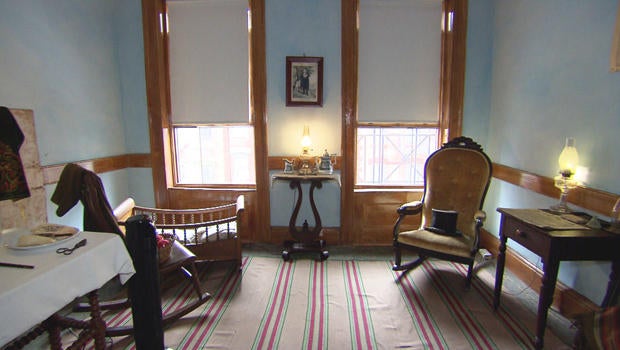 "Under One Roof," at NYC's Tenement Museum
"Give me your tired, your poor..." Emma Lazarus wrote in her famous poem about immigration back in 1883. The controversies of the past week have put America's current views on immigration to the test, and not for the first time, as Martha Teichner reminds us:
It was not your everyday family reunion. The families in the picture are not related to each other, but you could say they're related to a building.
"This is our apartment, this is my door," said Bella Epstein Seligsohn, the daughter of Nazi concentration camp survivors.
"This is identical kitchen to what my mother had," said Jose Velez, the son of Puerto Rican migrants. And Yat Ping Wong, a Chinese immigrant, pointed out a teapot like the one they'd used. All lived here, at 103 Orchard Street, on New York's Lower East Side.
The apartments they grew up in between the 1950s and 1970s have been recreated as the newest exhibit in the Tenement Museum, called "Under One Roof." It confronts the fact that immigration is, and always was, controversial in the United States.
"This exhibit has brought to light the impact of so many of the various laws that were passed over time and [that] determined who could come here and who could stay and who could become citizens," said Annie Polland, who oversaw the exhibit at the Tenement Museum, which tells about the actual lives of some of the estimated 10,000 working class immigrants and their families who lived in two adjoining tenements between 1863 and 2014.
A "tenement" was an old word for apartment building.
The term "melting pot"? The Lower East Side has always been a regular cauldron – immigrants from all over the world crammed together here. They came in waves that in turn triggered waves of anti-immigrant sentiment against them.
A century-and-a-half ago, it was the Irish who were persecuted. Magazines and newspaper of the day often included cartoons that depictured the Irish as ape-like.
On the long list of other targets: Jews, who began arriving in the 1870s from Eastern Europe (more would come as refugees after World War II).
Bella Epstein Seligsohn showed Teichner a photograph of her father, Kalman, and her mother, Rivka, taken in the years just after the war.
He'd survived Auschwitz, she Theresienstadt. Bella describes their marriage as one of convenience – two people devastated by tragedy and loss, starting over.
"It was America," she said. "They were so happy to be alive in any condition. I mean, they came from death. They had lost just about everybody, and here they had a chance. And there was only one thing you could do with a chance, is that you take it."
It required an executive order, issued by President Harry Truman in 1945, before victims of the Nazis, like the Epsteins, could come to the United States in significant numbers.
Where they ended up in a tenement building on the Lower East Side, the melting pot was something you could smell. "By law, any bathroom has to have a vent," said Jose Velez. "So you open [it], and you smell all the Chinese food cooking; everybody be cooking something different."
Velez moved here from Puerto Rico. His mother, Ramonita, was a seamstress in a garment factory. To help support the family, in his teens Jose managed to talk his way into the job of building superintendent.
"If you wanted to make it, it was up to you," Velez said. "When you got off the boat, you weren't going to see miracles. Because you didn't."
He remembers the Wong family, and how Mrs. Wong, like his mother, worked long hours in a clothing factory, where speaking English didn't matter.
The oldest of the Wong children was Yat Ping. She was almost seven when her family joined her father, who was already in New York, in 1965. That was the year a law passed that significantly expanded the ability of all immigrants to the United States to sponsor family members.
"From this day forth, those wishing to immigrate to America shall be admitted on the basis of their skills and their close relationships to those already here," said President Lyndon B. Johnson.
Called the Hart-Celler Act, its effects are now on President Trump's immigration hit list. ["We have to end chain migration! We have to end chain migration!" he said at a December 8, 2017 rally.]
"So, 1965 is a turning point with regard to immigration," said Polland. "The Hart-Celler Act takes away those quotas based on racist ideas of who can become an American, and the doors consequently open to populations that have struggled to get into the country."
The result: A surge in immigrants from Africa, the Middle East, and Asia.
Yat Ping Wong described the expectations for a Chinese immigrant: "That you study hard and you get a good job. If you want to be a dancer or an artist, that's kind of iffy. But if you're gonna be a doctor or lawyer, that's okay."
Wong studied hard, and graduated from Yale. She became a librarian. Jose Velez went on to own a construction company in Puerto Rico. Bella Epstein Seligsohn became a nurse; her daughter, too. Both her sons are doctors.
Re-visiting her apartment at the Tenement Museum exhibit, she told Teichner, "This will always be home. Home is where you have your heart and your childhood and your memories."
It troubles her that she is now one of those people conflicted about immigration. "The chances now of terror attacks have become greater in the world," she told Teichner. "Am I afraid? Yes. I'm also afraid not to let the immigrants in. I'm afraid on both sides. I'm afraid to deny somebody the opportunity of life."
The kind of opportunity each of these families had. They all moved up and out of the tenement and the way of life they shared under one roof, that now a couple of hundred thousand visitors a year will see and celebrate.
Wong said, "I can't believe that the old building I used to not like, now everybody come and visit, look at this building! So, it's kind of remarkable."

For more info:

Story produced by Dustin Stephens.
Thanks for reading CBS NEWS.
Create your free account or log in
for more features.