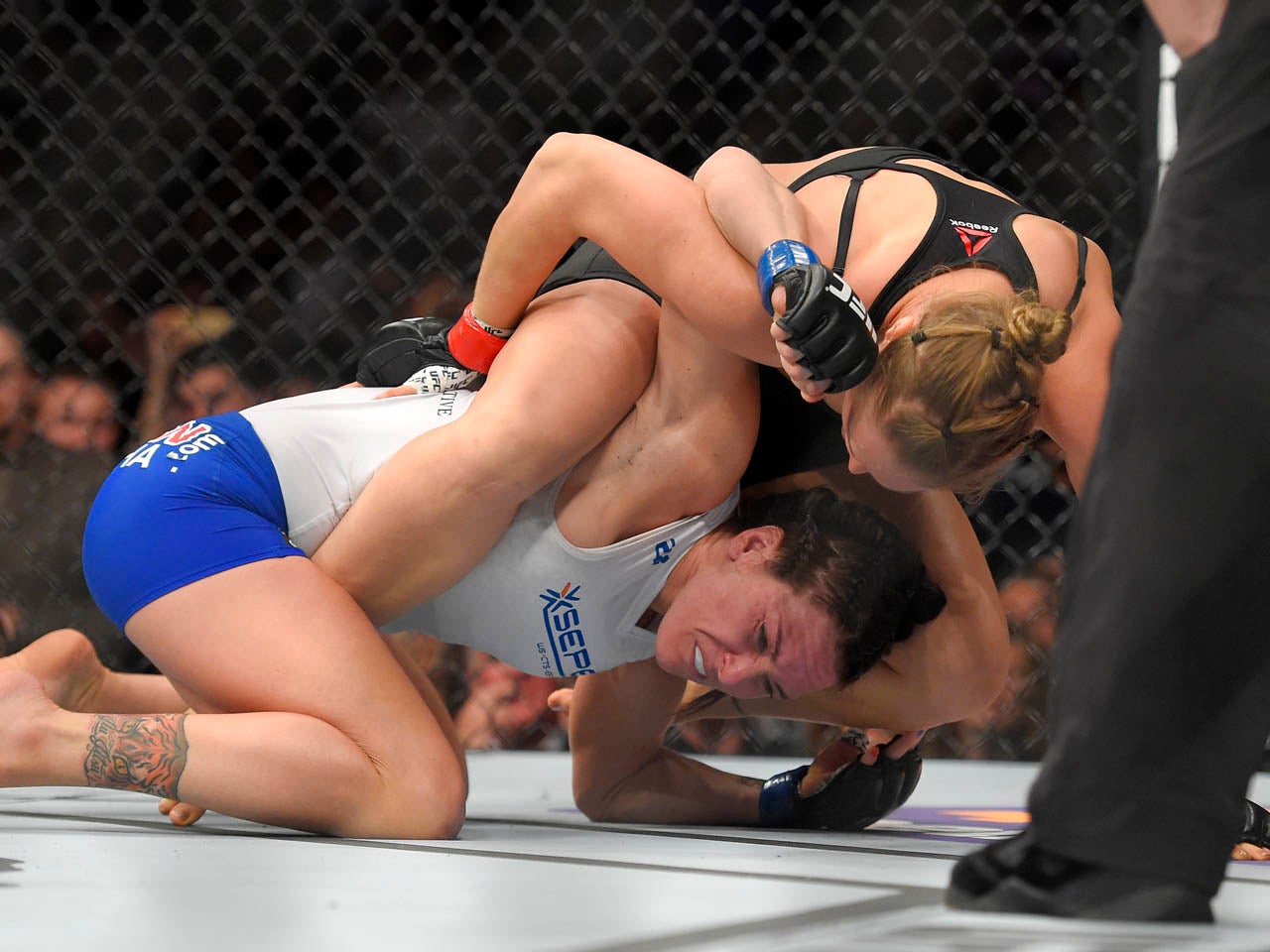 Ronda Rousey's take-no-prisoners approach to life
Ronda Rousey dominates her opponents in the UFC cage and she's undefeated among the sport's women.
She's up for best female athlete at Wednesday night's ESPY Awards and she's the only woman nominated in the category of Best Fighter.
At 5 foot 7 inches, 135 pounds and packed with self-confidence, it's her grit and determination that helped her break into the boys' club, reports CBS News correspondent Ben Tracy.
When Rousey walks toward the octagon, she thinks about how she deserves to win.
"I've worked harder than any of these girls possibly could in their entire lives and I've sacrificed more than they ever could," she said.
Some might think that sounds arrogant, but Rousey has a different perspective.
"Why is self confidence arrogant? Why is self-depreciation considered modesty? I worked my a-- off to be able to have a high opinion of myself," Rousey said. "It took a long time and many, many years, and I'm never going to tell -- let anyone tell me that I should think less of myself."
Rousey, 28, is the first and current UFC women's bantamweight champion. MMA, or mixed martial arts, is a combination of full-contact combat and techniques such as judo. Rousey's mom was once the judo world champion.
But when Rousey told her she wanted to go into MMA, her mom said it was "the stupidest f---ing idea" she'd ever heard in her entire life.
Now Rousey is called the world's most dangerous woman, and the world's most dominant athlete. But in her new book she says her life outside the ring is very different.
"There's no cuddlier, happier, little snugglebug than me right after I beat somebody up," Rousey said. "And I'm not this callous, hard, impervious superwoman, you know. I'm a girl who fights. And some days I'm a fighter, and some days I just feel like a little girl."
In fact, so far Rousey's toughest opponent has been her gender.
Not long ago, the UFC was a man's world. In 2011, UFC president Dana White told TMZ Sports no one would ever see a woman in the UFC.
Rousey made him eat his words. In 2012 her talent single-handedly forced the creation of a women's division and she became its first champ.
"Ronda is the reason I brought women in the UFC," White said. "Ronda is the greatest athlete that I've ever worked with in my entire career."
Rousey has won all 11 of her fights, thanks in large part to her signature move -- the armbar. She pulls her opponent's arm until ligaments snap and they submit.
The armbar has made Rousey so dominant that her last match lasted just 14 seconds.
"If I finish the fight quickly, that's me being nice. If I drag it out it means I do not like you. This next chick I do not like," she said.
That means the fight could go on much longer.
"I'm going to smell the wine and sip it before, you know, I finish the bottle off," she said.
The opponent she's talking about is Brazilian Bethe Correia whom Rousey will face off with in a title fight on August 1. Rousey asked that the fight be held in Rio.
"I wanted to embarrass her in the worst way possible and I think that beating her in front of her home crowd is one of the worst ways that I could beat her," she said.
It's personal because Correia said she hopes Rousey doesn't kill herself if she loses the fight. Rousey's father, Ron, committed suicide when she was just eight years old.
According to Rousey, her fighting career is related to what she went through as a kid.
"It really drilled into my head that everything is fleeting. And, yeah, I'm undefeated and the best in the world and all these great things are going on, but I could lose it at any second," she said.
She is also motivated by failure. At the 2008 Olympics, Rousey became the first U.S. woman to medal in judo. But winning the bronze made her miserable.
"I really felt like all of my efforts were a waste, because what did it really do for me? If you're sitting with an Olympic medal in the backseat of your car and that's where you're sleeping tonight it really makes you think about if you did the right thing or not," she said.
Rousey was broke and homeless, bartending in downtown Los Angeles.
She joined a gym there where the guys barely talked to her. Now her pictures are on the walls.
She's so big she's making cameos in major movies and is on the cover of magazines.
But Rousey's focus is still on fighting.
"I don't enjoy inflicting pain on people at all, but I enjoy being in a high-pressure, high-stakes situation and having an opportunity to be brilliant," she said.
Thanks for reading CBS NEWS.
Create your free account or log in
for more features.