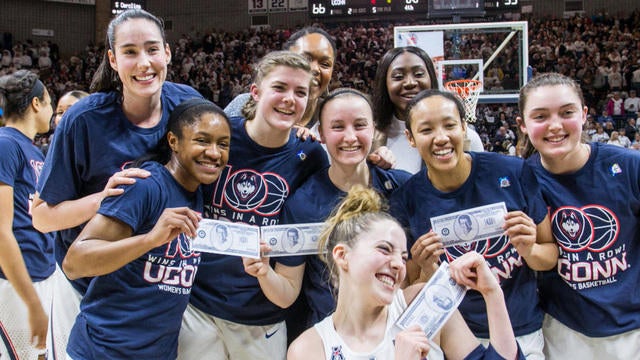 UConn women's basketball wins record 100th consecutive game
The University of Connecticut women's basketball team is celebrating an astonishing sports milestone. The Huskies notched their 100th straight win Monday night, setting a new bar for college athletics, reports CBS News correspondent Michelle Miller. The winning streak began in November 2014.
As time ticked off the clock, the UConn women sailed into sports history. The 11-point victory against South Carolina capped a win streak over two years in the making.
Jo-Ann Swanson was one of over 10,000 Husky fans to see the 100th straight win.
"The legacy lives on," Swanson said. "They don't want to be that team. They want to be the team that carries it on."
UConn rewrote history last month when they notched their 91st consecutive win, smashing the record they set seven years ago. By Saturday, they had won eight more.
The centennial victory sets a benchmark not just in women's college basketball, but men's too, after coach John Wooden led the UCLA men's team to a quaint 88-straight wins in 1974.
"This is special. This crowd was amazing," said freshman guard Crystal Dangerfield.
The Huskies' 100-game winning streak eclipses any team in both women's and men's professional sports, placing them among the greatest in history -- including the New York Giants, the Los Angeles Lakers, the Pittsburgh Penguins and the New England Patriots.
After the game, fake 100-dollar bills dropped from the ceiling, with coach Geno Auriemma's face printed on them.
"Nothing phony about this," Miller said.
"I mean 100 is 100. You know everybody gets enamored by that number," Auriemma said. "In the big picture it's no different than 99, but everybody is really excited about the number."
Thanks for reading CBS NEWS.
Create your free account or log in
for more features.