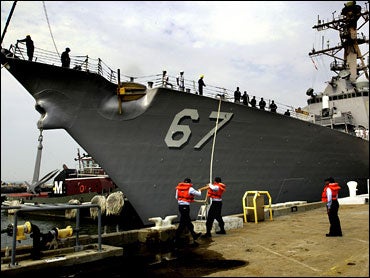 U.S. Navy deploys guided missile destroyer USS Cole off coast of Yemen
The Navy has sent the guided missile destroyer Cole to the Gulf of Aden in response to the attack on the Saudi frigate.
The destroyer is the same warship that suffered heavy damage in an al Qaeda bombing attack in Yemen in 2000 that killed 17 sailors.
Al Qaeda in Yemen, long seen by Washington as of the most dangerous of the group's offshoots, has exploited the chaos of Yemen's civil war to seize territory in the country's south and east, and the Islamic State group has also claimed attacks.
The two-year-old civil war began after Shiite Houthis rebels seized the capital, Sanaa, and forced the president, Abed Rabbo Mansour Hadi, to flee the country. In March 2015, a Saudi-led military coalition launched an extensive air campaign aimed at restoring Hadi and his government to power. The northern region remains under Houthi control.
Fighting and U.S. involvement has appeared to pick up since President Trump took office, with drone strikes and a surprise commando raid on al Qaeda militants. The Houthis also attacked a Saudi frigate in the Red Sea, killing two crew members and wounding three.
CBS News correspondent Margaret Brennan reports that, according to U.S. officials, the Houthis likely believed they were attacking a U.S. warship.
The U.S. raid on the al Qaeda base in the central province of in Bayda on Sunday left nearly 30 dead, including an estimated 14 militants, as well as civilians. A U.S. Navy SEAL was also killed, the first known U.S. military combat casualty since Mr. Trump took the oath of office on Jan. 20. Four other U.S. service members were wounded during the raid.
U.S. Central Command (CENTCOM) said Wednesday that civilian non-combatants were likely killed in the Jan. 29 raid, and that "casualties may include children".
In the attack on its frigate, Saudi Arabia said on Monday that a "suicide gunboat" belonging to the Iranian-backed Houthis rammed the ship in the Red Sea that was patrolling off the Yemeni port of Hodeida.
The Houthis gave a different version, claiming that the frigate was hit by a rocket they fired, starting a fire on board the ship.
Thanks for reading CBS NEWS.
Create your free account or log in
for more features.