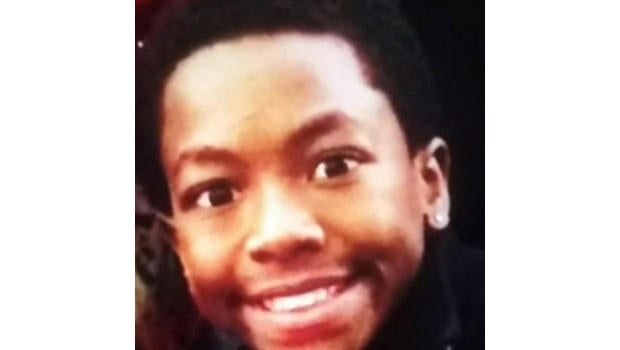 Family: "Likely" that 13-year-old was running away from Ohio police when shot
COLUMBUS, Ohio — The 13-year-old boy fatally shot by Columbus police last week was struck three times, according to findings by a medical examiner hired by the teen's family to evaluate the body.
"Based on the location and the direction of the wound paths it is more likely than not that Tyre King was in the process of running away from the shooter or shooters when he suffered all three gunshot wounds," wrote Dr. Francisco Diaz, a medical examiner from Michigan, who conducted the two-hour review of Tyre's body Sunday on behalf of the boy's family.
Police have said the boy was shot multiple times after he ran from an officer investigating a reported armed robbery and pulled out a BB gun that looked like a real firerearm. The official findings of the county coroner have yet to be released.
Diaz said he did not conduct an autopsy, but was hired to do an independent review of the gunshot wounds.
"I just evaluated, took measurements and made notations as to the characteristics of the wounds," Diaz told The Associated Press. Diaz, a medical examiner in Michigan's Wayne County and forensic pathologist at the University of Michigan, determined Tyre was shot three times.
Police cannot comment on Diaz's examination pending the release of the official coroner's report, said police spokesman, Sgt. Rich Weiner. The investigation is ongoing.
The coroner in Franklin County, home to Columbus, has said Tyre's autopsy was complete but she has not yet released details, including where he was shot. Dr. Anahi Ortiz did not immediately respond to an email request for comment about Diaz's findings.
Also on Monday, more than 100 demonstrators gathered outside Columbus City Hall to call for an independent investigation into the shooting and urge police to spend more on violence-prevention programs.
"I can only hope and wish that they take the time to understand that our children cannot keep dying, at the hands of anyone - whether it's police (or) regular street violence. Something has to be done," said Stacey Little, a 31-year-old Columbus resident and a member of the group People's Justice Project.
Tyre's relatives also want an independent investigation.
"We appreciate the support in the quest to find the truth here," family attorney Sean Walton said of the demonstration.
Authorities say the police investigation will be presented for a grand jury to decide whether charges are merited against Bryan Mason, the officer who shot the teenager. The head of the local police union says Mason did what he had to do in that situation.
Mason met or exceeded standards in a performance evaluation from May, according to records AP obtained Monday through a public records request. The evaluation notes that Mason maintains composure under stress and demonstrates "exceptional verbal skills" in defusing "potentially hostile situations."
Witnesses reported that a group of people - one witness suggested there were seven or eight - robbed a man of $10 at gunpoint Wednesday night east of downtown Columbus. Authorities say officers investigating the report spotted several males who matched the description of the suspects and tried to talk to them, and that Tyre and another robbery suspect ran.
That other suspect, Demetrius Braxton, told The Columbus Dispatch that he was with Tyre on Wednesday night and that the boy wanted to rob someone for money and had a BB gun that looked like a real firearm.
Braxton was interviewed then and released without charges, but he was arrested on a robbery charge Saturday afternoon near the Ohio State University campus, Columbus police said.
Braxton, 19, was to appear in court on Monday, but his defense attorney questioned the release of his client's juvenile records and successfully requested that a judge waive his initial court appearance. Braxton remained held without bond. Another hearing is set for Sept. 27.
Defense attorney Marcus Ross declined further comment about Braxton after Monday's hearing.
Police have said they're still looking for others who may have been with Braxton on the night Tyre was killed.
Braxton told the newspaper that he ran away with Tyre, and police told them to get down. He said they did, but then Tyre got up and ran and was shot.
Columbus police have refused to comment on how Braxton's recollection compares with officers' accounts.
Juvenile records show Braxton got probation in a case of attempted rape after a judge issued the juvenile-court equivalent of a conviction in 2011.
Thanks for reading CBS NEWS.
Create your free account or log in
for more features.