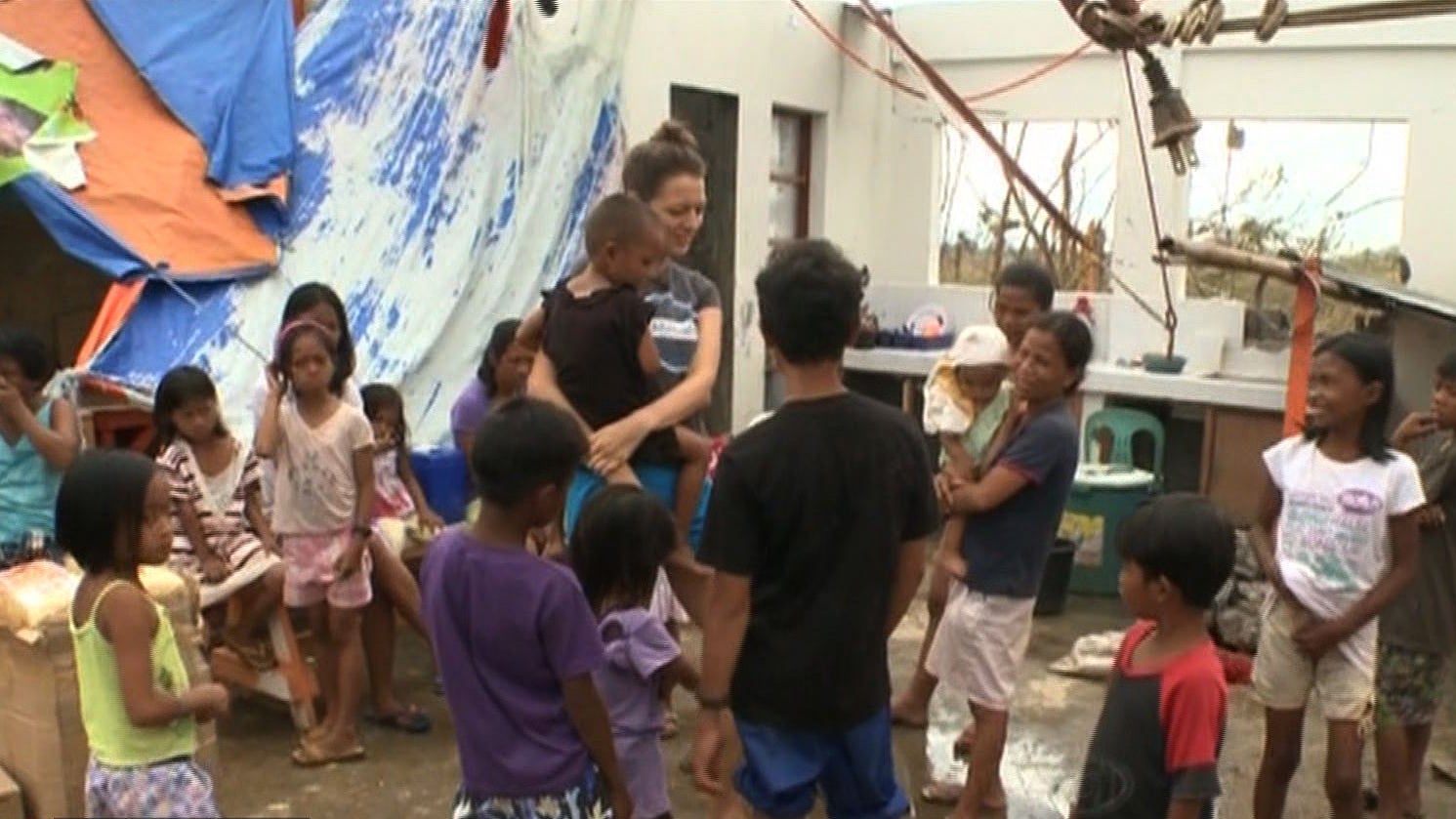 Typhoon Haiyan safe haven helped protect neighborhood's residents in Philippines
The official death toll from last week's super typhoon in the Philippines was approaching 4,000 Saturday.
Eleven hundred people are listed as missing. The United Nations estimates as many as 2 million people are homeless, but food, water and medical supplies are starting to make their way to the many in need.
CBS News' Seth Doane reports from the disaster zone that, with each passing day in Tacloban, more evidence of progress is seen on the ground. Streets are being cleared, bodies are being buried and food distributed.
U.S. Navy helicopters are flying relief missions off of the aircraft carrier USS George Washington, ferrying those relief supplies into remote, hard-hit areas, where people are very much still fending for themselves.
Daily routines resume amid the rubble as people try to grasp a new reality.
"If is this a dream, I should wake up," said Corazon Mabahin, who lives on the outskirts of a place called Palo Leyte, just a few miles from Tacloban.
Her house now is just a pile of bamboo. All that's left is a crib, some clothes and a handful of spoons after the typhoon tore through.
She thought she was going to die that day.
As the typhoon picked up, Corazon got a text message from an American, who encouraged her to flee to a community center she'd built next door.
Elsa Thomasma is that 24-year-old American. She grew up in Michigan but fell in love with the Philippines. She moved there this year to work and give back to this community often ravaged by floods and the 20 typhoons a year that hit this place.
"They need an evacuation center," she said. "Before, they used a school, which is, like, almost a mile away, and, I mean, imagine swimming 3-year-olds, 4-year-olds, babies all the way to that center in rushing floodwaters, and so I just thought an evacuation center right amongst all the houses would just be the perfect solution."
So with help from her church back home in Sturgis, Mich., she raised the money to build a community center that doubled as an evacuation point.
"The highest flood was 3.1 meters, so we wanted to make it taller than that," she said.
Haiyan's winds destroyed homes in Elsa's neighborhood of 300 people, but there was not a single death in the neighborhood. Many took refuge at the center.
"They created their own safe haven and their place to stay in the storm," said Elsa. "All I did was help facilitate it."
But she won't take credit for making it happen.
"It's just really overwhelming to think what would've happened to them if they didn't have it," she said.
When Elsa was raising money to build her center, along with her parents' church, they called it the "arc project," a nod to Noah's refuge.
Watch Seth Doane's report in the player above
Thanks for reading CBS NEWS.
Create your free account or log in
for more features.