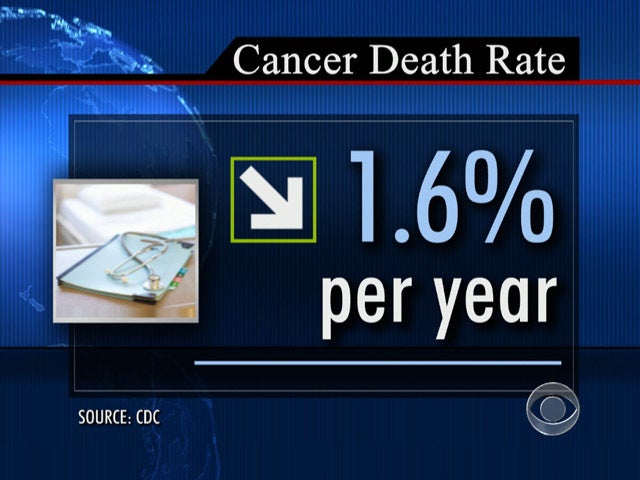 Two-thirds of cancer cases preventable, study finds
A new report came from the Centers for Disease Control that shows a lot progress against cancer. The cancer death rate has dropped more than 1.5 percent each year for four years, and it could fall even further.
"CBS Evening News" anchor Scott Pelley spoke with medical correspondent Dr. Jon LaPook about the CDC report that suggested two-thirds of all cancer cases are preventable.
"We know a third of cancers are caused by smoking," said LaPook. "And up to a third are caused by obesity and lack of exercise. So as many as two-thirds of cancers are potentially preventable. The ones linked to obesity are cancers of the esophagus, colon, kidney, pancreas, uterus, and -- in post-menopausal women -- breast."
Pelley then asked LaPook how could obesity causes cancer.
"All eyes these days are pointed towards the stomach," said LaPook. "Belly fat seems to increase the number of inflammatory compounds, increase the levels of hormones like estrogen and insulin. That can cause changes inside of cells that then lead to cancer."
Thanks for reading CBS NEWS.
Create your free account or log in
for more features.