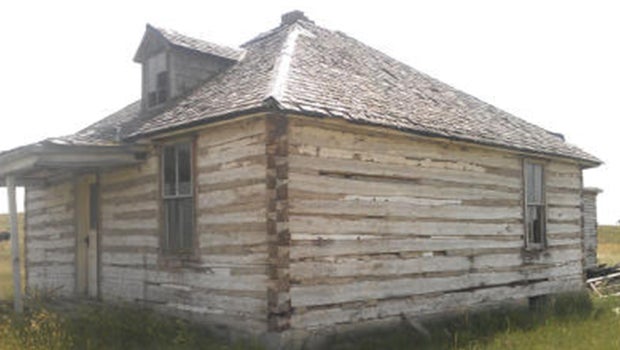 Twitter installing log cabins at headquarters
Employees at Twitter's headquarters in San Francisco will soon get to take their lunch break in 19th century log cabins.
It's a design feature that "makes them a little different than any other tech company," a company media relations representative told the Marin Independent Journal. The move highlights the unofficial race amongst Silicon Valley's most successful tech companies to provide one-of-a-kind workplaces where employees can tap into their creativity.
Having ping-pong tables in hallways, as Huffington Post employees enjoy, or beanbag chairs and video games, like the lounge at Etsy, no longer makes a tech space edgy. The giants are taking it much further from traditional.

The homesteader cabins to be installed at Twitter headquarters were salvaged from ranches in Montana by contractor Karl Beckmann and sold to the owner of an architectural firm helping to refurbish the Twitter offices, reports the Journal.

"You can see the hand of the original craftsmen who built them," Olle Lundberg of Lundberg Design told the paper. "It's kind of cool that cabins that were built sometime in the 1800s have now reappeared. The guys who built them are long dead, of course, but are sort of still here. I kind of like that."


He first learned of the cabins in a Craigslist ad posted by Beckmann, owner of Beckman Engineering and Design and Beckman Construction.

"We advertised them for a year and we pretty much got a lot of crackpot calls," Beckmann told the paper. "When you think about it, buying a 100-year-old log cabin that has been exposed to the elements is not a very practical idea unless you're doing something exactly like what is being done here."


Named Stanford and Belt in homage to the Montana towns where they originated, the log cabins should be in place within a few weeks. The office already features reception desks crafted from the wood planks of an old bowling alley, and blue Twitter logos made from vintage California license plates.
The plan is for the cabins to be placed within the larger open floor plan, as a way to break up the space. The contractors will build booths inside to serve as dining tables.
The space is just one of the many perks of working in Silicon Valley: the refurbished office will also feature a yoga studio, rooftop garden, arcade and other amenities not often found in traditional offices. It is all outfitted in refurbished wood, meant to help create the feel of a birdhouse fitting of the company's logo.
"We're very excited about this project, not only because it's beautiful, but also because it's another great instance of how we continue to re-use materials as we build out our presence," Jim Prosser of Twitter media relations told the Marin Independent Journal.


It's all aimed to keep employees content and creative, the same rationale that prompted Facebook to offer employees woodworking and print shops where they can escape their computers. There's also a cupcake store and BBQ restaurant, candy shop, taco stand, and a handful of other restaurants where meals are free or subsidized.


Other tech giants are planning equally enticing office spaces. A recent story in New York Times highlighted other ways Twitter and its cohort are trying to create spaces that reflect their images and products. Apple has a new ring-shaped headquarters on the way. Amazon's new space in Seattle will carry the same theme as its website design: utilitarian and functional, according to the Times.

At Facebook, the headquarters is said to be a place of constant change. Couches might be swapped out at any moment; employees are constantly shifting to new areas. The policy is even reflected in the company's jargon: when the Facebook homepage design changes, it's called "moving the furniture around." For the next expansion to its 11-building campus, Facebook has commissioned architect Frank Gehry.

Google takes employee satisfaction beyond activities and free food. Every employee gets a custom-fitted chair within weeks of starting at the company, and the chair goes with them even as they move to different workspaces. There's also a playground slide to take employees from one floor to the next.

Beyond the geographical limits of Silicon Valley, InfoSys has a bowling alley, Box has a series of oversized indoor swings, AirBnB designs conference rooms to resemble individual listings, Hearsay Social has an indoor turf soccer room, and Soul Cycle's headquarters in New York City gives employees access to spin classes throughout the day.

"The harder we work,"Anthony Ravitz, leader of Google Real Estate's "Green Team," told the Times, "the more important it is to have space to get away from the chaos for a while."
Thanks for reading CBS NEWS.
Create your free account or log in
for more features.