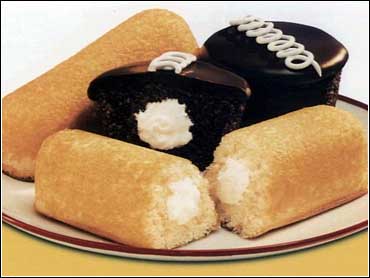 Twinkie Diet for Weight Loss: Is Professor Haub on to Something?
(CBS) What should you eat to lose weight? Lettuce? Bean sprouts? How about a Twinkie with a soda pop chaser?

Dr. Mark Haub, who teaches nutrition at Kansas State University, might say the latter. His working theory is that moderation, not the specific foods you eat, is the key to weight loss. After eight weeks of doing just that, he dropped almost 30 pounds, according to a report by KMBC Channel 9 in Kansas City.

Fatty and sugary foods are fine, as long as you count calories and document every bite that passes through your lips, he told the station. Haub limits his own daily caloric intake to 1,800 a day.
He takes a daily multivitamin pill, and supplements his Twinkies with celery stalks or a can of green beans, according to CNN.
Is Haub on to something?
His body mass index (BMI) went from 28.8, which is considered overweight, to a respectable 24.9. He reduced the level of triglycerides, a form of fat in the blood, by 39 percent. High triglyceride levels are associated with heart disease.
Haub also reduced his LDL cholesterol - the "bad" kind - by 20 percent. His HDL, or "good" cholesterol, increased by the same number.
That his health improved on his questionable diet does not surprise Dawn Blatner, a registered dietician and spokesperson for the American Dietetic Association.
"Weight is at the center of the wheel of health," she tells CBS News. Before, she points out, Haub said he was eating a healthy diet - but he was eating a lot. "It's important to look at both sides of the equation," she says. "You have to consider what you are eating and how much. It's not all or nothing."
What does Haub think of the diet? "I wish I could say it's healthy," he told CNN. "I'm not confident enough in doing that. That frustrates a lot of people. One side says it's irresponsible. It is unhealthy, but the data doesn't say that."
Thanks for reading CBS NEWS.
Create your free account or log in
for more features.